Well that fizzled fast…as predicted. Ex-Bucs baller AntonioBrown was rumored to be dating Keyshia Cole, however, he hopped on social media yesterday to let Keyshia - and the world know - how he feels about her in most disrespectful way possible. He's done dealing with her and now she's publicly picking up the pieces. More inside…
Embattled NFL star Antonio Brown continues to exhibit f*** boi behavior.
After bashing former NFL QB Colin Kaepernick's philanthropic work last week, former Tampa Bay Buccaneers wide receiver Antonio Brown turned his attention to Keyshia Cole.
Rumors that AB and Keyshia have been swirling for a few months after flicks and videos of the two hanging out together popped up online:
They also collaborated on a song titled "Don't Leave" for AB's rap album, Paradigm.
It didn't take long for the seemingly new couple to start trending online, mostly with tweets and commentary about the toxicity of their newfound coupledom, especially since Keyshia was on Instagram posting about how much she misses AB and he was posting flicks of himself laid up with other women, including model/producer Cydney Christine:
Oh. #AntonioBrown posts a pic of himself with model/producer #CydneyChristine. https://t.co/1hkTwtIDEcpic.twitter.com/4DGk8tRY8h

— YBF CHIC (@TheYBF) March 27, 2022
Over the years, AB has shown he takes pleasure in embarrassing women online. Remember when he was streaming on IG Live and threw a "bag of d**ks" at his baby's mother, Chelsie Kryss, as he cursed the police and her out in from of his kids? 
Well, Keyshia seemingly looked past all of that because she claims to really like him. Well, he showed her how he feels about her.
The former Steelers baller shared a video on Instagram that appeared to show video of Keyshia's lower back tattoo that features the initials "AB." He captioned the post, "You Ain't Pimpin Until You Hit An RnB Diva. #FreeAgent #KeepPimpin."
Check it:
Yikes. She tried to fix things between them by responding in his comments on IG, writing, "This the second time you posted this @AB but the captions changed. Don't be mad at me no more babe, I said I apologize."
Keyshia then changed up her tune, writing on IG Stories, "Yea I was big trippin.. smh I see it now. I have a 12-year-old. Like a 12 year old. Like that type disrespect for what… Nothing is worth that level of disrespect, especially when u don't deserve it. Had so much love, respect and admiration fa you. Guess that wasn't mutual either," the mother-of-two ended the post, which has since been deleted. 
Then, AB hopped on IG Live with a nasty message to the R&B singer.
"Keyshia Cole like you know like I'm a playa man, we don't want you Keyshia, stay outta my sh*t you heard," he said.
Trash.
The 33-year-old athlete also addressed his "haters": "And all you people who just be with the back and forth, I don't go back I go forth, don't play with me, play with your kids," he said. "There's been a lot of hate, a lot of distraction, you know on my name, they like to drag your name in the dirt when you on top of the clouds, you heard, but the dirt can't reach my face when you this high up."
Watch the disrespectful clip below:
The Grammy nominated singer hopped on Instagram Live with celebrity stylist EJ King to address the public humiliation of being embarrassed by someone she felt she love.
"It was a little harsh," Keyshia said to EJ about AB's IG post featuring her 'AB' tattoo. "Maybe he doesn't know that it was a little harsh for him to say that. Even me speaking to him, he was like, 'Do you want me to change the caption?' And I was like, 'No, no I don't want you to change the caption.'"
The "Let It Go" singer admitted she trauma-bonded with AB, revealing she was attracted to him because she saw he was going through it and she wanted to help him.
"I think he made it very clear that he didn't want to receive it. I think he made it very clear. He was like, you know, 'Baby I liked you at first, but now I don't' — it's like a no. So I think that's just maybe just what it is… I'm trying to figure it out."
Peep the clip below:
And here's another clip of Keyshia talking about how AB broke her heart below:
Keyshia's sister, Neffe, hopped on IG to react to AB's antics: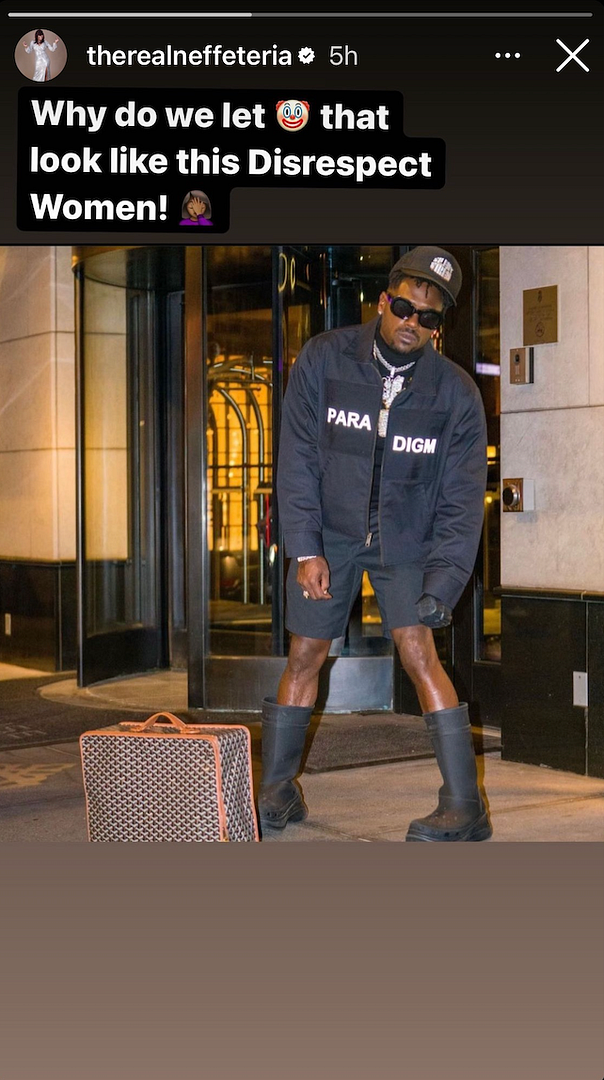 AB's baby mama Chelsie also responded to the drama: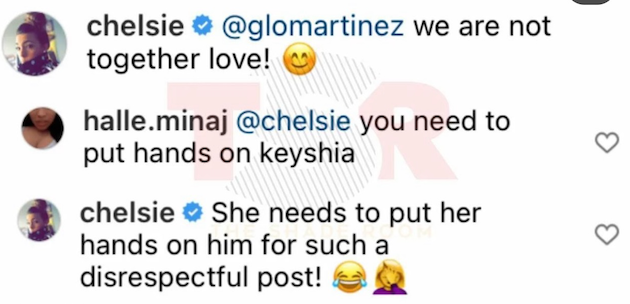 "@glomartinez we are not together love!," Chelsie responded to a fan, updating them on her relationship status. 
"@chelsie you need to put hands on Keyshia," someone wrote. 
"She needs to put her hands on him for such a disrespectful post! [laughing emoji, face palm emoji]," Chelie responded. 
NOW, SIS! Sit this one out! This man has publicly embarrassed you multiple times.
AB was dead wrong for what he did, but we can't say that we are surprised. As for Keyshia, we hope she takes her time to heal before getting involved with someone else.
Photo: Featureflash/Depositphotos/Andrew Mills/NJ Advance Media via AP