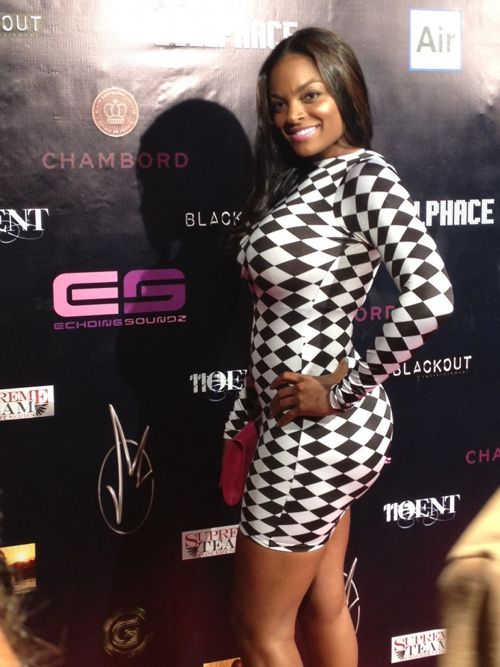 As we prepare for tonight's finale of "Basketball Wives LA" and part 1 of the reunion show. Brooke Bailey has let it all hang out exactly what she feels about all her castmates.  And NONE of it is pretty.  Find out how she blasted the cast for being fake ho*s inside, plus Stacey Dash's newest venture...
"BBW: LA" star Brooke Bailey called into Street Disciplez Radio and dished on Draya getting famous for smashing famous dudes like Chris Brown, and not being a real model.  And she also called Malaysia fake and revealed just how badly she beat Jackie's ass.  Oh, and she address Natalie Nunn (former "Bad Girls Club" star) about saying any of her body parts are fake--aside from her boobs.
 
ON WHETHER SHE'S STILL DATING VERNON MACKLIN:

"We're cool, but we're not dating anymore, no."

ON HER BEEF WITH BAMBI:

"She's delusional. I never had a situation with her, she had one with me, and she never really confronted me about it."

ON JACKIE CHRISTIE:

"I really beat her ass. It got so real to where I blacked out; I remember her kicking me. After that, I don't remember anything until security was trying to get me up off of her. But you know what, I have to give Jackie props because out of all the girls that I pressed and confronted about little sneaky sh*t or the shade they was trying to throw, she was the only b*tch that stood up and said 'this is what I'm saying.' She never backed down from what she was saying, so I kind of respect her for that."

ON DRAYA AND THEIR KING MAGAZINE COVER BEEF:

"I always felt that Draya was a fun girl. She's never been a model, she's never my competition in the industry. Whatever she does, that's her business, and I respect however she gets her money, that's cool. But what I can't respect is if you want to pop your collar, that's cool, but b*tch, don't try to un-pop mine."

ON DRAYA BEING A "FUN GIRL" AND NOT A MODEL:

"She's done modeling, but the basis of her career started from her f*cking Chris Brown. When you're dating a rapper, of course you're going to be in other people's videos or their videos because that's what you're around. It doesn't mean that you're a model, it doesn't mean that. She's never had to audition, she's never had to do the things that I've done to build my career. She didn't have to learn protocol. That's why when it came to business, she f*cked up."

ON MALAYSIA:

"She's fake as f*ck, and that's how I feel to this day."
Check out the full interview below:
Co-star Bambi caught wind of Brooke talking ish about her bestie Malaysia, and responded via Twitter today saying:
U can't call people fake if u not even trill enough to own up to the niggas u smashed! #YouFeelMe...Don't fuck wit my friends please ... Ever
Meanwhile, Stacey Dash is trying her damndest to stay relevant.  Here's a new trailer she released over the weekend for a new "scripted comedy" coming soon...somewhere.  Check out "Stacey Dash Is Normal" below:
The description:
Stacey Dash plays an over-the-top, conflicted version of herself in this new scripted comedy series. STACEY DASH IS NORMAL, coming soon.
Alrighty then...