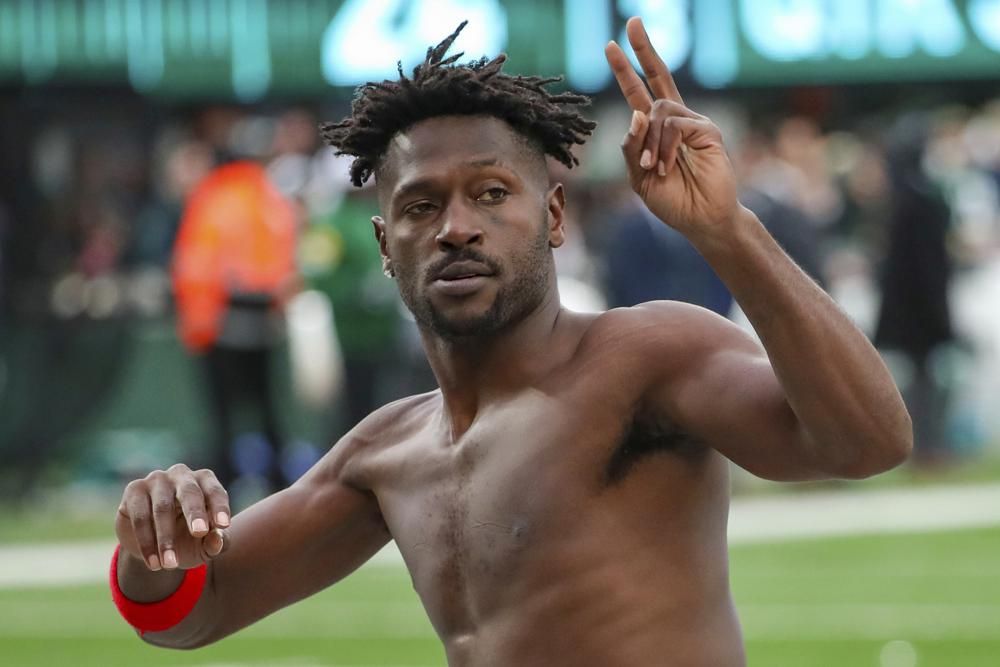 Antonio Brown has some unfiltered opinions about Colin Kaepernick that's sparking debate. Apparently, he feels like Kaepernick sold out by settling his collusion lawsuit against the NFL, calls him a "trash" quarterback that doesn't really want to play, and then he questions what the free agent's foundation has actually done for people "in the hood." All he said inside…
Embattled NFL star Antonio Brown is highly critical about NFL free agent Colin Kaepernick and he's sharing his unfiltered opinions with anyone who will listen. Over the last few days, the ex-Bucs baller has been speaking on Kaepernick's name in interviews, questioning his philanthropic efforts and his talents on the football field.
During a sit-down interview on "Cigar Talk," AB shared what he thought about Colin's ongoing battle with the NFL after he launched a silent protest in 2016 by kneeling during the National Anthem in an effort to raise awareness to police brutality.
It seems AB - who's currently working on DONDA Sports projects with Kanye West - feels like the former San Francisco 49ers quarterback sold out when he agreed to a settlement with the NFL in 2019 following his collusion lawsuit, which he filed October 2017. AB said folks shouldn't feel sorry for Kaepernick because he "took the money."
"He took a deal," the 34-year-old said. "We don't feel sorry for you. You took the deal. F*** outta here. Man, you on f***ing Nike, man. F*** outta here."
It was previously reported by the Wall Street Journal that Colin and his former teammate Eric Reid would split the less than $10 million they received in the settlement. In the case, Kaepernick claimed the NFL's 32 owners "colluded to deprive him of employment rights in retaliation for his leadership and advocacy for equality and social justice and his bringing awareness to peculiar institutions still undermining racial equality in the United States."
AB also questioned if Colin - who released his first children's book in October 2021 - is doing what he claims via his foundation. He doesn't believe the foundation is helping underprivileged people "in the hood."
"He built a foundation. What it do, though? I'm being real. What superhero he enforce? Who he put on? Who he help?," AB questioned.
The former NFL QB established the Colin Kaepernick Foundation, a non-profit organization with the primary focus of fighting oppression through education and social activism. The Million Dollar Pledge, a program in which Kaepernick vowed to donate $1 million to charity, has been a hallmark component of the organization. Kaepernick has donated to a large number of causes, including Mothers Against Police Brutality, School on Wheels and Youth Services, Inc.
In addition, Kaepernick has established the "Know Your Rights Camp," an enterprise fully funded by Kaepernick to raise awareness on higher education, self-empowerment and to instruct others on how to properly interact with law enforcement. 
Since being blackballed from the league, Colin has expressed he wants to play. He uses social media to post videos of his practices, making it known if someone from the NFL calls him up, he's showing up to practice.
AB doesn't believe Colin REALLY wants to play football. 
"You took the money, the commercials. We don't see you outside. We don't see him in the hood. He don't do nothing. Like, we cool. But, nah, we ain't even stan Kaepernick."
He continued, "He not even from the hood. He haven't even been in the trenches. We like Kaepernick and all, but we ain't really on that."
Whet?!  This coming from a man who literally LEFT a football game in the middle of the game?!
Check out the clip that's circulating below:
You can watch the full interview here:
That wasn't the only interview AB came for Kaepernick in…
AB also popped mentioned Colin in a recent interview with 50 Cent's This Is 50 network where he wanted to make it crystal clear that he should not be compared to the former NFL quarterback.
"We saw what happened to Colin Kaerpernick …" interviewer June Archersaid before AB cut him off.

"Colin Kaepernick not AB. Colin Kaepernick not even from the hood. He's not even from Liberty City. So, I don't even want to mention his name," he said. "AB is a valuable football player. AB had stats last year, touchdowns." 
He doubled down on his comments about why people shouldn't feel sympathy for Kap.
"He's been treated good," AB said. "He got (a) Netflix documentary. Don't get it twisted. See that's the wrong thing about the world. We think, 'Oh Kaepernick treated so bad because they don't let him play football.' Yeah, they didn't let him play football, they gave him commercials. They gave him money. I'm not trying to tell you what 'they' did, I'm telling you the reality of what happened."
AB said Colin isn't really "blackballed" because he was still able to sign contracts and still make money. He believes if the NFL really banned him, he wouldn't have received any contracts to anything. He then goes on to explain the difference between Colin being "banned" and how he has been treated.
"Kaepernick, I feel like he's a great guy. He stood for a great cause but he don't understand. He's not from Liberty City. He's not even built like that. Dudes like me, they ban you. They don't even give you contracts. They don't even want to deal with you. I'm not really an icon right now. You don't see them writing no books about me," Brown said.

"You telling me, yo Colin Kaepernick, what did he do? What's he at right now? Do you see him? I'm on the streets right now every day – people seeing me. They get excited. You know why? Because I make them feel good. They can relate. They know what's really going on. But they know I still put on a smile and overcome it.

"Colin Kaepernick created all commotion then went in the cut in the corner. I'm in the people's face every day."
AB is comparing apples to oranges. And, like when most men feel threatened, is making up ish to belittle the person he's threatened by. 
He would feel some kind of way if someone questioned his alleged "pro black" beliefs because he dates and procreates with white women, diminishing the "black wealth" he so often preaches about.  So he should probably not question the next man's blackness.
Thoughts?
Photo: Andrew Mills/NJ Advance Media via AP