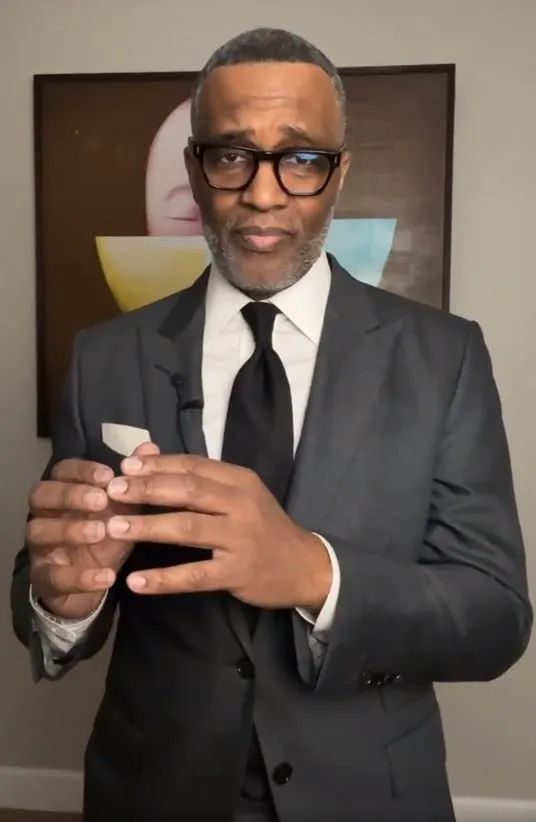 Rumors about the death of controversial YouTuberKevin Samuels had social media in a frenzy yesterday and well into the night. Today, his mother confirms he did, in fact, pass away. She says she found out about his death via social media. Tragic. More inside…
Since yesterday, there has been speculation that controversial YouTuber Kevin Samuelspassed away. There were several unconfirmed rumors, based on an alleged transcript from an alleged 9-1-1 call, that he died from a heart attack. While his official cause of death is unknown at this time, Kevin's mother has confirmed he did, indeed, pass away.  Industry insiders and a close frined of Kevin, Anton Daniels, also confirmed the news.
So I've now gotten confirmation from multiple sources that Kevin Samuels has passed away.

— Marc Lamont Hill (@marclamonthill) May 6, 2022
According to NBC News, his mother, Beverly Samuels-Burch, confirmed the divorced dating advisor died, but she declined to release details about what happened. Sadly, she revealed she learned of her son's death via social media.
"That was a terrible thing for social media to put that out. I didn't even know. I hadn't even been notified," she said in a phone call with NBC News on Friday. "All I'm doing is requesting that people pray for us."
The Atlanta Police Department revealed officers responded to an apartment Thursday morning "regarding a person injured." By the time police arrived, first responders were performing CPR on an unresponsive man later identified as Samuels.
According to the police report, Kevin was entertaining a woman named Ortencia Alcantara (who identified herself as a nurse) whom he met that night. She spent the night at his apartment. Thursday morning, Kevin began complaining about chest pain before falling on top of her, so she called 911.
More details on Kevin Samuels, per Atlanta Police

- A woman met Samuels and spent the night with him. She ID'd him as Kevin Samuels.
- Samuels complained of chest pain, fell on top of her, and she called 911.
-Officials performed CPR, he was unresponsive pic.twitter.com/Tlh2rZcFwG

— philip lewis (@Phil_Lewis_) May 6, 2022
He was reportedly taken to Piedmont Hospital. When contacted, the Fulton County Medical Examiner's Office said it could not confirm or deny any information. His cause of death still has not been revealed.
A Twitter user shared Kevin revealed he battled Stage 3 Hodgkin Lymphoma in college, which reportedly raises your risk of dying from a heart attack in later years:
He said he had battled stage 3 non Hodgkin's lymphoma in college. They say the radiation treatments from that triples the risks of you dying from a heart attack

— Juice (@Nation_at_Larde) May 6, 2022
A close friend of Kevin's also confirmed the news of his death:
With over 1 million Instagram followers and 1.4 million YouTube subscribers, his controversial attacks on Black women often spark outrage. The self-proclaimed "professional image consultant" gained popularity at the expense of black women as he often times would humiliate and insult black women when they joined his live sessions.
Not only that, he often times talked down on men like Future - men who procreate and spread their seed with several different women. While he condemns that behavior, in the same breath he blames black women for choosing to have children with men like that. He was highly criticized for the blame and energy never being equal, though.
What's interesting is that Kevin (who considered himself a high value man) was with a nurse. He very recently preached to his followers that high value men should stay away from women of certain professions, including nurses, and should never marry one.
Some of his controversial views would rile folks up on social media, sparking heated discussions between men and woman. After learning that Kevin may have died, some people rejoiced, while others condemned them for being happy about his death.
Unconfirmed reports have hit the net stating that YouTuber Kevin Samuels has died — and the delusional toxic black women are rejoicing as if their position in life or bank accounts have increased. You miserable diabolical heauxs are tired, sad and pitiful. I said what TF I said. pic.twitter.com/iujBMg92Dk

— HarrietEve9 (@HarrietEve9) May 5, 2022
1. Makes money out of holding women accountable, and telling black women the blunt truth

2. Not once incited any violence to anyone

3. Never happened

He's done more for the black community than all the women he talks to put together

— (@DavidoLFC) May 5, 2022
Kevin Samuels has made a career off of shamelessly disgracing Black women for profit.

He emboldened the most toxic individuals to project tired and harmful narratives about Black women.

Dead or alive, what a disgraceful life to live.

That's all I've got for that misogynist.

— Ernest Owens (@MrErnestOwens) May 5, 2022
Kevin Samuels called women over 35 leftovers and in less than a week his ass become a bag of bones

Which priestess is responsible?

I'm tipping today! pic.twitter.com/yXyqJIm4KM

— Shanise Talia Williams (@Shanise_Talia) May 5, 2022
kevin samuels made a career off of bashing women and upholding oppressive gender standards and y'all want us to take the high road when we find out he passed away

— mr. scrooged (@HoodWiitch) May 5, 2022
Kevin Samuels the same nigga that said not to not believe a child about sexual assault because kids "lie"

Ain't no way that's the nigga y'all having a moral high ground over man lmao

— Corie (@kingslayer253) May 6, 2022
All I can say about Kevin Samuels is if you spend your time disrespecting people in life, don't be surprised at people disrespecting you in death. No matter how cruel it may be, the legacy you leave behind will be known by the fruit you bore while you were here.

— Hoochie Whore (@ChimGAT) May 6, 2022
Our condolences go out to the family.
Photo: Kevin's IG