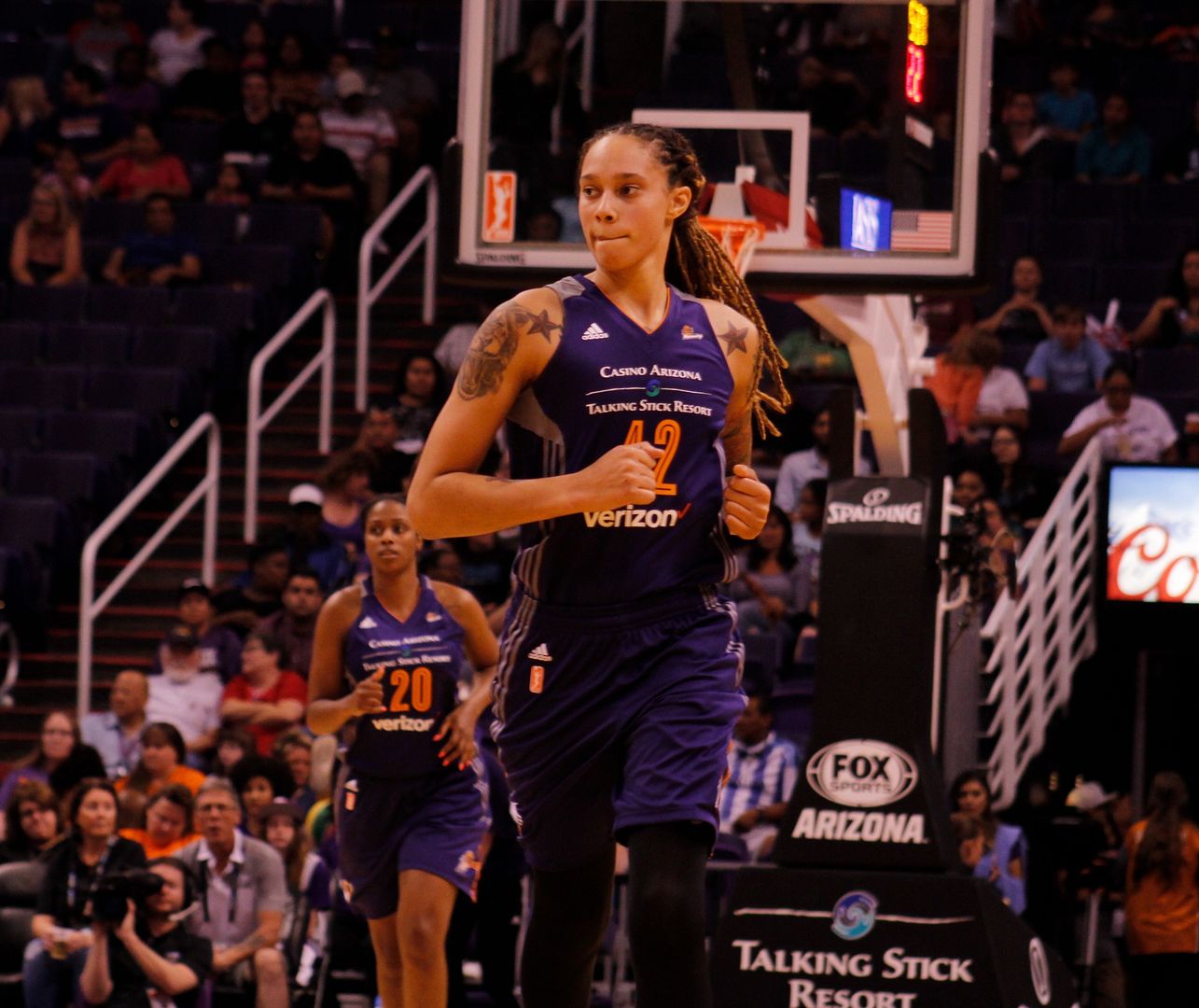 WNBA star Brittney Griner is still being detained in Russia, two months after she was taken into custody for allegedly carrying cannabis oil. The United States has officially declared she's being "wrongfully detained," which will launch more aggressive efforts to get her released.
Those deets, plus what the WNBA is doing to keep her name "at the forefront" inside….
WNBA star Brittney Griner, the star center for the Phoenix Mercury, is STILL in jail overseas.
In February, the WNBA star was arrested on drug charges after airport officials searched her luggage and allegedly found vape cartridges containing cannabis oil from. Reports that she was being detained didn't come out until reports about Russia launching a war against Ukraine were released. 
In March, Russia revealed Brittney's detention had been extended until May 19th. If convicted, she faces a maximum sentence of 10 years in prison.
Now, the United States has officially classified Brittney has being "wrongfully detained by the Russian government." With that, the U.S. plans to be more aggressive in its effort to secure the release of the WNBA star.
The State Department said it will continue to "undertake efforts to provide appropriate support to Ms. Griner."
"The welfare and safety of U.S. citizens abroad is among the highest priorities of the U.S. Government," a department spokesperson said in a statement Tuesday.
A source toldNBC News that Brittney is "doing OK" and that she has met with her Russian legal team multiple times a week.
The news comes on the heels of reports that American Trevor Reed, a former Marine who had spent three years in a Russian jail, had been freed. He was released in a prisoner exchange and returned to the U.S.
The former Marine was released in the prisoner exchange of Russia for Konstantin Yaroshenko, a convicted Russian drug trafficker who was serving time in Connecticut.
Cherelle Griner, Brittney's wife, reacted to the news of the former soldier's release:
A few days ago, Cherelle announced she's graduating from law school! She'll be graduating from The North Carolina Central University School of Law with honors (cum laude)! She shared the news on her Instagram page, including a video of Brittney rocking an "NCCU Law" sweatshirt, which you can check out below:
"I didn't just go to law school— I went to one of THE 6 HBCU law schools remaining!," Cherelle captioned."The way my ancestors are smiling #5daystilgraduation," she wrote. "Swipe left to see who wore it best, BG or ME! (p.s. This is clearly BG's sweatshirt! She has more school apparel than me! Lol I love the way you support my dreams babe)."
"Final grades dropped, I'll be graduating law school with honors (cum laude)! This was no easy feat, and truthfully I didn't even know if I could do it ! Best believe, i'll never doubt me again #thatgirl," she captioned.
Major congrats to Cherelle! It'll be bittersweet when she accepts her diploma being that her wife will likely not be there to witness her walk across the stage.
Meanwhile...
The WNBA plans to acknowledge the importance of Phoenix Mercury center Brittney Griner to the league, paying homage to the star player until her return. During the 2022 season, which tips off on Friday, May 6th, Brittney's initials and jersey number (#42) will be featured along the sideline of all 12 WNBA courts.
"As we begin the 2022 season, we are keeping Brittney at the forefront of what we do through the game of basketball and in the community," said WNBA Commissioner Cathy Engelbert in a press release. "We continue to work on bringing Brittney home and are appreciative of the support the community has shown BG and her family during this extraordinarily challenging time."
Above is the image that'll appear on all 12 courts.
Also, the Phoenix Mercury has been granted both roster and salary cap relief so that it can carry a replacement player until Brittney, who will be paid her full salary, returns home and is ready to get back on the court. Nice!
Photo: Keeton Gale/Shutterstock