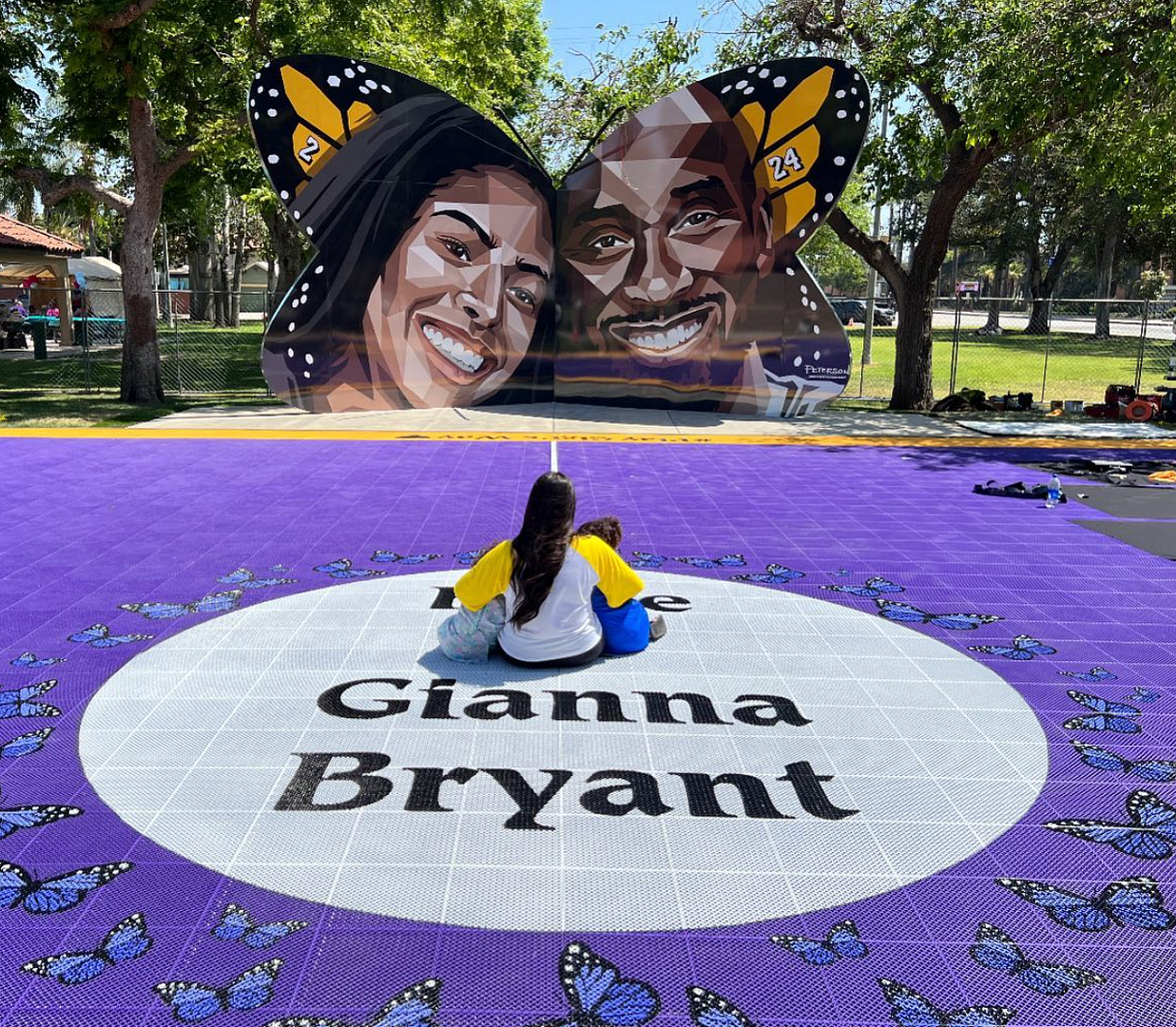 Paying tribute to a life lost too soon, NIKE released the "Mambacita Sweet 16" shoe, designed by her mother Vanessa Bryant, in honor Gianna "Gigi" Bryant on what would have been her 16th birthday. The company also released a 60-second ad and took out a full-page ad for a beautiful "Dear Gianna" letter. Get it all inside…
May 1, 2022 marked Gianna "Gigi" Bryant 16th birthday, and her mother, Vanessa Bryant, made sure to celebrate her daughter's legacy.
Yesterday, NIKE released a special edition shoe in honor of Gigi's "Sweet 16." The shoe company released the Kobe 6 Protro 'Mambacita Sweet 16' shoe, which features a #2 (her jersey number) and a snakeskin pattern that represents "Gigi's Mambacita Mentality," according to a personal note that comes with the shoe from Gianna's mother, VanessaBryant, Kobe Bryant's widow."It reminds us all to focus on the process and to always trust in the work that we do," the message continued. 
Check out the new sneakers below:
The Kobe 6 Protro Mambacita Sweet 16 honors the life of Gianna Bryant. The shoe features a black & white textured upper. Gold letters display "Kobe" and "Gigi" on the heel. The number "2" on the lateral heel pays respect to the basketball legacy of Gigi. https://t.co/FXOZJwoqerpic.twitter.com/slfImPDBKR

— ShoePalace.com (@ShoePalace) April 29, 2022
"I'm so happy with the way these Mambacita shoes came out in honor of my daughter, Gigi. Thank you @nike #Mambacita #2 #Forever #BabyGirl #16 #SweetSixteen #5106 #PlayGigisWay I love you Gigi!," Vanessa wrote in the caption of a carousel of photos and videos of Gigi's new sneakers.
Vanessa Bryant unboxes the "Mambacita Sweet Sixteen" Kobe 6 Protro, which honors her and Kobe's daughter Gianna and will be the first shoe released to continue the family's partnership with Nike. pic.twitter.com/KXqq5fdHyI

— Complex Sneakers (@ComplexSneakers) April 29, 2022
The special-edition sneakers have already sold out:
The Mamba & Mambacita Sports Foundation announced Gigi's Sweet 16 sneakers sold out in just two hours. The proceeds will benefit the foundation. 
On January 26, 2020, Gianna, her father/NBA icon Kobe Bryant and seven others were killed in a helicopter crash in Calabasas, California.  They were traveling to a teen basketball tournament at the former NBA star's Mamba Sports Academy near Thousand Oaks.
It was never about what she got from basketball. It was always about what she gave back. Gigi gave inspiration to her teammates, her mentors, and the next generation. #PlayGigisWay#mambamambacitasportspic.twitter.com/u7R3EnknqP

— Nike (@Nike) May 1, 2022
In addition to the 60-second ad marking Gianna's 16th birthday, NIKE put out a full-page ad that features the extended love letter from "Basketball" that'll have you choked up. The love letter - narrated by Vanessa - is modeled after Kobe's Oscar-winning animated film, Dear Basketball.
"From the first time you imagined winning a WNBA championship, I knew one thing was real. You were special," the tribute read."You came from greatness, but it was never about what you inherited.  It was about what you gave to others. When someone stands up for gender equality, I see you fighting alongside of them."
Check it out above and below:
On what would have been Gianna Bryant's 16th birthday, Nike took out a full page ad for this beautiful "Dear Gianna" letter. pic.twitter.com/Uth1B6a3Qo

— Arash Markazi (@ArashMarkazi) May 1, 2022
To further celebrate Gigi's Sweet 16…
Brand new Kobe and Gianna Bryant mural tribute at Pearson Park basketball court in Anaheim pic.twitter.com/apFW6IDK2Z

— Kobe & Gianna Bryant Murals (@kobemurals) May 2, 2022
Vanessa's Mamba & Mambacita Sports Foundation and Nancy Lierman's Charities donated a new basketball court and mural at Pearson Park Dream Court in Anaheim. And it opened on what would have been Gigi's 16th birthday.
The back pic.twitter.com/zEaf2ymTnC

— Tout Wrangler (@lakeshow26) May 2, 2022
Former WNBA player Nancy "Lady Magic" Lieberman helped Kobe's daughter Bianka Bryant spin a basketball on her finger:
Moments like this

Vanessa Bryant shared this video of @NancyLieberman teaching Bianka how to spin a ball on IG and we are obsessed. #WNBATopShotThis

(c/o - vannessabryant/IG) pic.twitter.com/1M7kZymODP

— WNBA Top Shot (@WNBATopShot) May 2, 2022
After the ceremony, the kids in the Pearson Park neighborhood hit the court to hoop it up:
The new basketball court and mural tribute to Kobe and Gianna Bryant at Pearson Park in Anaheim pic.twitter.com/3UIsF3zuSn

— Kobe & Gianna Bryant Murals (@kobemurals) May 2, 2022
Loves it.
On social media, Vanessa posted several birthday tributes to her daughter, including a montage of interviews Kobe conducted where he talked about how he passed on the basketball gene to Gigi and how much she reminded him of himself:
Girl Dad

Mamba and Mambacita Forever pic.twitter.com/zq1HVKIp6v

— Kobe Highlights & Motivation (@kobehighlight) May 2, 2022
HAPPY BIRTHDAY GIGI!
Photo: Vanessa's IG