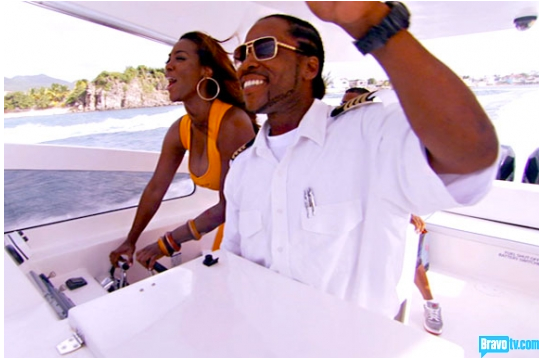 Just when we thought Kenya Moore couldn't offer up anymore disappointing surprises about herself, the "Real Housewives of Atlanta" took us to the gorgeous island of Anguilla last night for the couples' trip.  And it was a doozy.
We've got some things to discuss about Kenya's flirtations with married men, her thirst for marriage, and why this ish AINT ok.
Once again, we're shocked and awed about our beloved former Miss USA's behavior on this here "Real Housewives of Atlanta."  Kenya brought Walter--who everyone BUT Kenya knows has absolutely zero interest in marrying her--as her date for the trip.  While the other ladies, Phaedra, NeNe, Kandi & Cynthia, brought their men too.
But maybe it was al the Rum Punches that led the ladies to letting down their guard more than usual, but foolywangery ensued.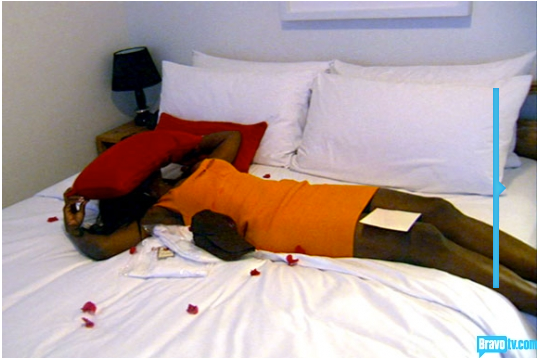 After "Let me take the wheel" Kenya's nightmare of a boatride to their villa concluded, she threw a tantrum about not having a proper "water closet" for the toilet and not having a bathtub in her room.  Her diva-tude was on 100...likely for the cameras.  But possibly not.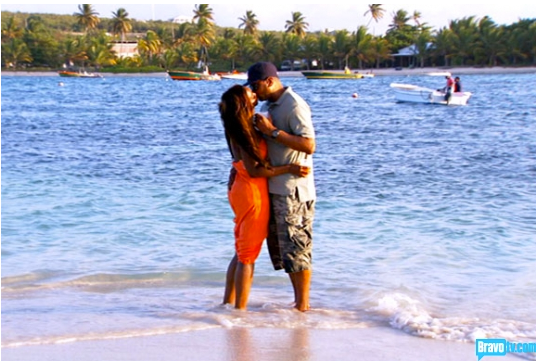 Then we got to the beggary of Kenya as she and Walter spent some alone time on Scilly Cay, another beautiful part of the island.  She threw out obvious hint after obvious hint that they should get married--even saying they should just elope right there in Anguilla because it would be "easier."
Oh girl.  Walter looked like he wanted to hop the next water skipper off the island--even if he had to fly that ish our himself.  Chick got shut down every time, and didn't even realize it.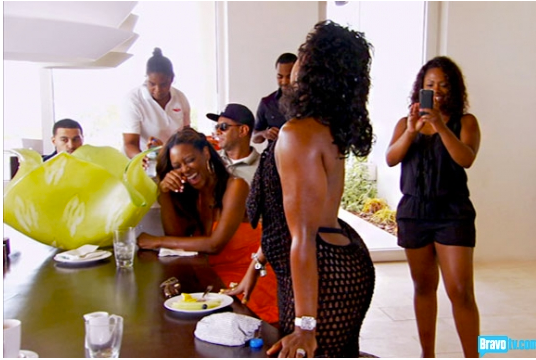 And after the major drama of her flirting with Apollo right in front of his wife, Phaedra, and Walter as well, Phaedra had to break out the big buns and show off her donkey booty in a mesh beach dress....with a black thong.  Chick said she is keeping all attention on her....by any means necessary.
So what did Kenya do exactly?  Well after dropping it like it's hot the night before in Cynthia's husband Peter's man parts, then basically throwing her coochie crack at the "tall drink of water" manager of the Viceroy hotel--right in front of Walter--she got Apollo to feel her up by the pool.
She playfully pushed him in the pool, knowing he would retaliate.  And Apollo retaliated by picking up a fully dressed Kenya and conveniently dropped his hands over her ASSets to jump in the pool WITH her.  Yes, the two were frolicking like this ish was a fantasy novel.
By the way, before all this, Kenya had the audacity to ask Phaedra which two of her friends she would bring into the bedroom with her and Apollo if he asked for it.  Clearly....hinting it should be Kenya herself.  Sigh.
Yes, Phaedra looked like she wanted to break out a taser gun for Kenya's ass.  But Apollo should have caught a couple near-fatal stings as well for this disrespectful mess.
But you be the judge.  Check out the clips below (including NeNe bragging about her Queen of the Strip Club days while dancing with the locals):
Is Kenya wrong for this ish...or simply having fun?  Speak on it...
BONUS: So Walter went on Frank Ski & Wanda's radio show this morning on V103 in ATL. And he revealed she asked him, before the show, to play her "boyfriend" on the show. But....they dated for 3 months, 3 years ago. And he says this whole stint of their's....IS FAKE.  Kenya is put on blast below (Shout out to Funky Dineva for the audio):