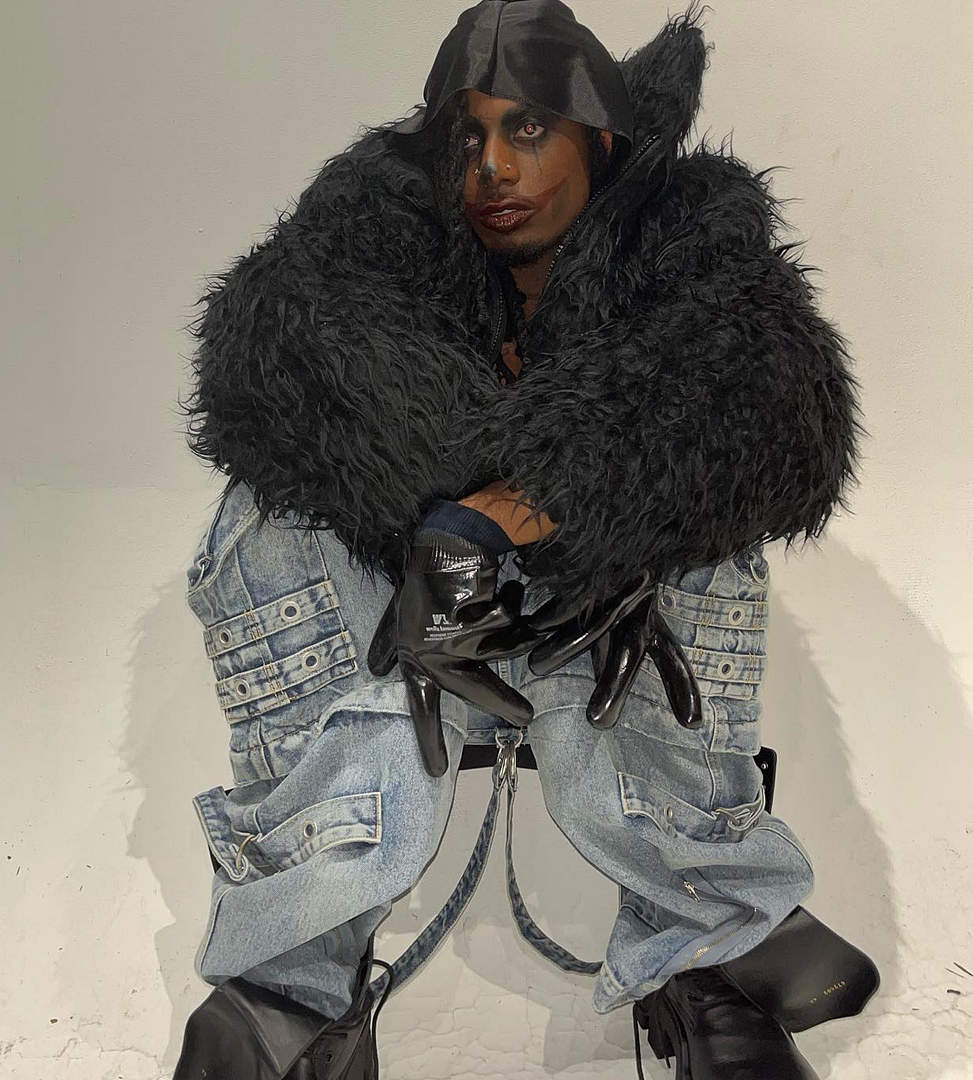 Comments Playboy Carti - who has gained extra attention for his new look - made in a recent XXL interview has fans asking if his comments about his dating preferences confirm he's a member of the LGBTQ+ community. Also, his baby mother Iggy Azalea wasn't too pleased about a comment he made about "taking care" of her. Details inside…
Playboy Carti usually keeps a low-profile on social media, but he has been gaining extra attention since his return a few months ago.
A few months ago, the "Sky" rapper made his social media return donning Joker-esque makeup backstage before his performance at Kanye West's DONDA 2 event in Miami. Posting up on social media is a signal to fans that he's gearing up to release something.
The 25-year-old rapper dad sat down with XXL to share some insight into his life and what he has going on right now. He was asked about his transformation since the release of his 2017 song "Magnolia," specifically about adopting facepaint to his aesthetic.
"I wouldn't give a f**k because it's like, I love everybody," he said. "I don't judge anybody. I have gay friends. I have trans friends, you know what I'm saying? I done dated…"
Dated who? Fans had questions, and not necessarily from a bad place but more of pro-live-your-life space, speculating if he's apart of the LGBTQ+ community or just an ally. Peep their reactions below:
damn dated who? would be cool to see a high profile rapper like carti talk about having dated trans women, or even men tbh but i guess that wasn't in the cards for this interview

— cass (@cahcd2) April 12, 2022
Me tryna figure out who Playboi Carti done dated pic.twitter.com/6aES5rqwGh

— Don Theking official (@Don_TheKiing) April 13, 2022
playboi carti on that xxl interview pic.twitter.com/HjX3kgAHQT

— mariano (@oscos) April 13, 2022
@playboicarti you done dated what? who? what were you gonna say? say it. pic.twitter.com/t3nKuii8P2

— tacooo (@TacooGatto) April 12, 2022
Mfs really shocked that Playboi Carti might have dated boys like this ain't the same Mf we're talking about: pic.twitter.com/oMhFZPq3gZ

— Saint Valentine (@StValentine888) April 13, 2022
Not who or where but done dated what ? I needs the answers @playboicarti

— cannorivas (@cannorivas) April 13, 2022
@playboicarti who you done dated

— kizzy (@iheartkizzy) April 13, 2022
In the interview, Carti also showed love to his son's mother, Iggy Azalea, although she wasn't pleased with everything he said about her.
"She's a great mom," he said about Iggy, the mother of his 2-year-old son, Onyx. "I love her to death. I'm single. She's single now. But that's one of the best mothers in the world. And that's what you got to put in the book, you hear me? I love her to death. She is the best mother in the world."
He continued, "I'm a father. You know what I'm saying? You know how it is having kids. I just got responsibilities. I pay a lot of bills. I take care of a lot of people. I take care of my mom. I take care of my family. I take care of my baby mom [and] I take care of my son. There's a lot of people I take care of. So, it's like, I gotta keep doing it."
The "Fancy" rapper didn't like that, so she took to Twitter to respond.
"Take care of me? Lmaoooo let's not get carried away now," Iggy tweeted.
"LMAODOD B*TCH I SAW THAT AN WAS LIKE WHAT," a user tweeted Iggy.
"I laughed. A lot," she responded.
She has been quite vocal about his alleged deadbeat dad ways, so we're sure his comments came as a surprise.
Another user tweeted, "he said so many nice things and that's [what] you stuck on."
"You've been mislead. I don't f*ck with a man I'm not remotely on good terms with claiming he pays my bills. I pay my bills. Secondly saying nice things for an interview sounds great but in real life he talks to me like sh*t so badly I had to stop all direct contact," she revealed.
Yikes.
Now, Carti is gearing up Now gearing up for his next album, currently titled Music. He praised fellow rappers KanyeWest and A$AP Rocky for being there for him.
"Kanye. Words can't describe...that's my big brother. That's my friend," Carti said. "I talk to Kanye every day. He's different and I'm different. I see myself in him a lot and I'm pretty sure he feels the same. I don't really have too many friends and that's really one of my friends. I love him. I love A$AP Rocky. What them two guys did for me is… I love them and I appreciate everything."
As for his "quiet" and "standoffish" nature, he said that's the Atlanta in him.
"Sometimes I feel like I don't know how to talk. So, I don't be wanting people to judge me based on how I talk, you know what I'm saying? I was never like that. Even when I get around my White friends and shit, I'm like, "What up, shorty?" You know what I mean? I don't switch it up. I'm just a product of my environment. I'm from Atlanta and I love Atlanta. This is me. Certain things you can't change. I can get my teeth done. I can get a skincare routine. I can go dress up nice, but I can't take that Atlanta out of me."
You can read the full interview here.
Photo: Playboi Carti's IG