After seemingly calling it quits earlier this year, TristanThompson made sure he was in attendance to party at his daughter TrueThompson's birthday bash to celebrate her turning four, hosted by her mother KhloeKardashian. Go inside the bash, plus highlights from a recent interview Khloe did that has everyone collectively thinking "duh!"
Despite the drama involving TristanThompson and KhloeKardashian's failed relationship, the celebrity parents were able to come together to celebrate their daughter TrueThompson's 4th birthday.
Over the weekend, the Good American honcho hosted a kitten-themed bash to turn up on a purrr-fect day with the Kardashian-Jenner Klan. For the bash, Khloe rented a huge bright pink inflatable slide, had a face painting station, a hair braiding station, REAL kittens to cuddle up with, and guests munched on custom M&M's with True's face on them, which her gifted to her by her uncle RobKardashian.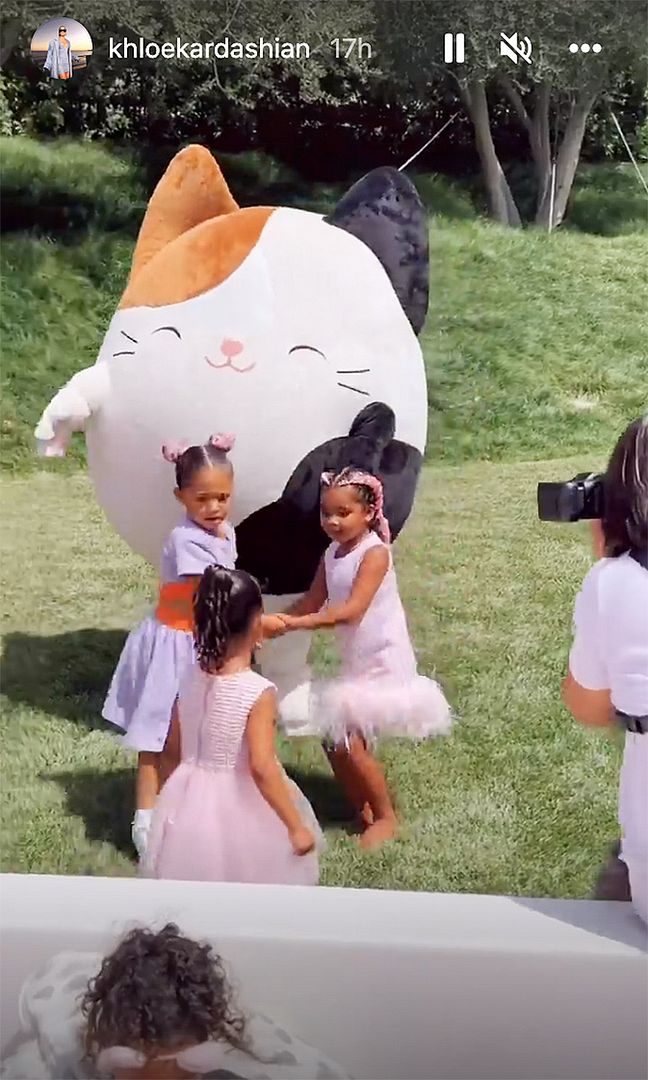 Looking adorable in a pink Dior dress in pink cornrows, little True ran around the bash filled with pastel pink, green, blue and purple balloons as she had fun with her closest cousins, including Dream Kardashian, Chicago West, and Stormi Webster.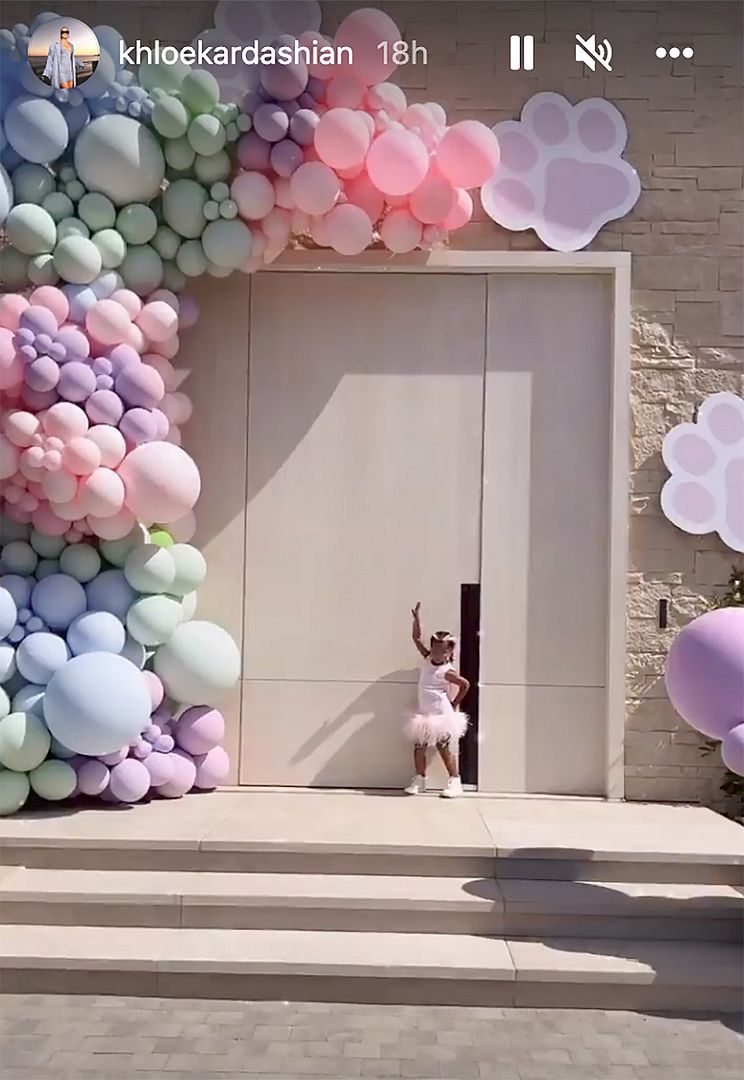 A source close to the Kardashian-Jenner Klan confirmed the Chicago Bulls center was there, dubbing him a "great day."
"Tristan shows up for every birthday and important event for True," an insider told PEOPLE."He is a great dad. He is very involved." 
Great dad. Horrible partner.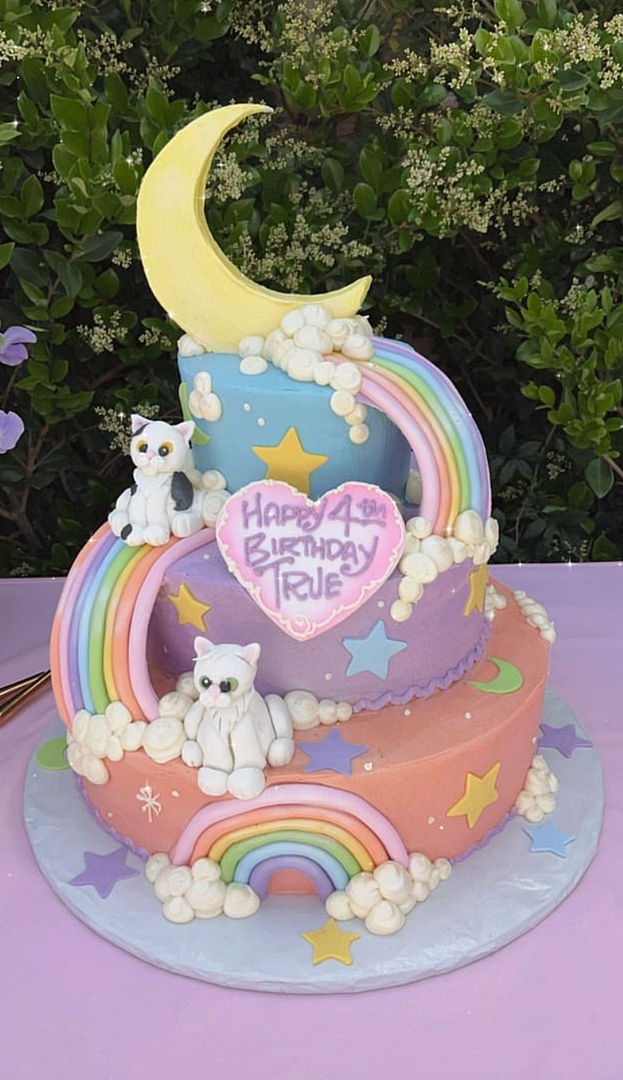 Go inside the kiddie bash below: 
At the beginning of the year, Tristan admitted to fathering a child with IG model MaraleeNichols, making her his third baby mama. And yes, he was STILL with Khloe when he conceived the child. Tristan & Maralee are currently involved in a nasty courtroom battle over child support and custody of their son, TheoThompson.
In early 2021, Khloe shared IG flicks of herself wearing a massive diamond ring on her ring finger:
#KhloeKardashian is hinting at something with this promo post about shoes where she's showing off her and a on THAT finger. #TristanThompsonhttps://t.co/P4QgHpWCsxpic.twitter.com/QvuMebjB2Y

— YBF CHIC (@TheYBF) February 21, 2021
In Maralee's paternity filing, it was revealed Tristan dropped $2 million on an engagement ring for Khloe. Maralee shared this information in court documents after blasting him in online reports, calling him a deadbeat dad who hasn't coughed up a dime or even took time out of his schedule to see his son. 
In May 2021, the Canadian native told Maralee that he and Khloe made plans to move out of the country together.
Even after Tristan publicly embarrassed her for the umpteenth time, Kanye West spilled some tea that Tristan & Khloe were still hanging around one another, which had fans speculating if they were trying to work things out, yet again.
We're sure Khloe and the fam will address the drama on their new reality series set to premiere on Hulu this week.
Also....
.@khloekardashian to @RobinRoberts on @RealTristan13: "I still think he's a great guy and he's a great dad, he's just not the guy for me."

Watch #TheKardashians NOW on @hulu: https://t.co/H4W96pO3wcpic.twitter.com/Xwa01pI5mJ

— Good Morning America (@GMA) April 8, 2022
During a recent interview with "Good Morning America's" Robin Roberts, Khloe opened up about the realization she had about her daughter's dad.
"I still think he's a great guy and he's a great dad, he's just not the guy for me," she said.
Maybe she finally learned her lesson.
Photo: Tristan' IG