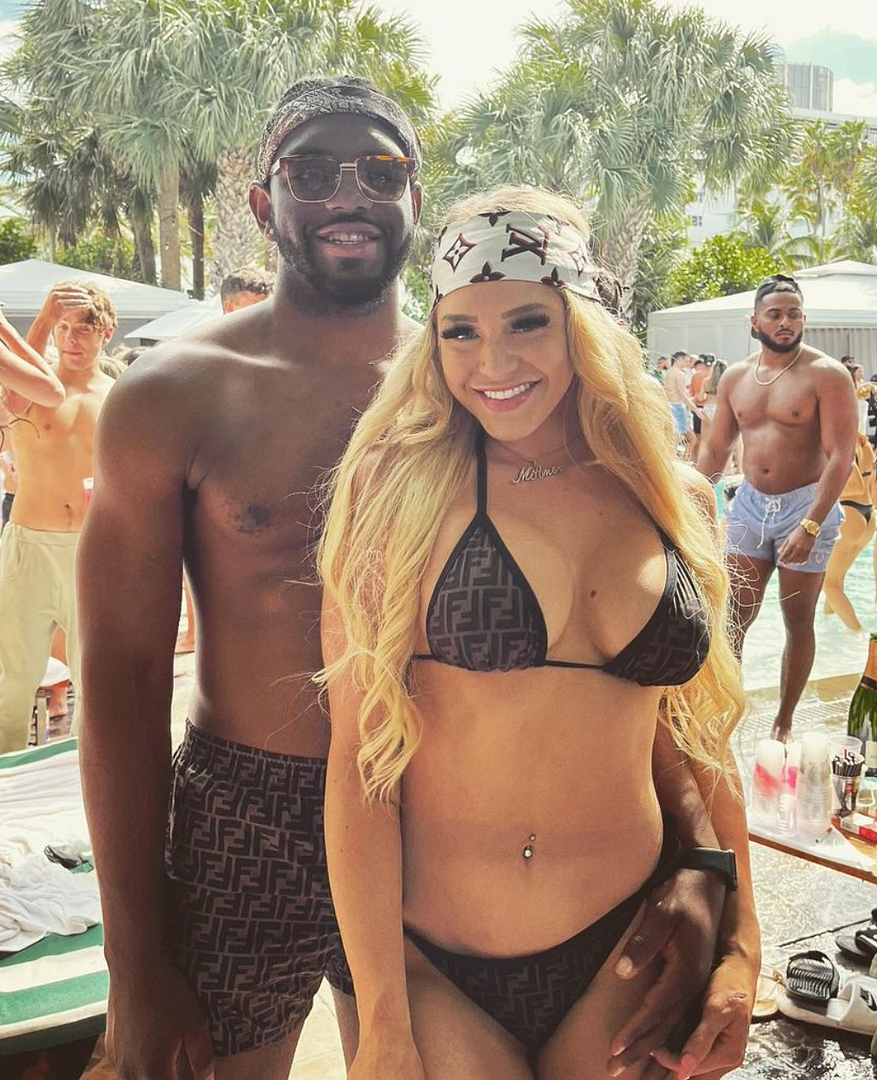 An interview featuring OnlyFans star Courtney Tailor saying she only dates "rich black guys" has surfaced. The clip was filmed one month before the murder of her black boyfriend, Christian "Toby" Obumseli, in their luxury Miami apartment. More inside…
Last Sunday (April 3rd), 27-year-old Christian "Toby" Obumseli was fatally stabbed inside the luxury apartment he shared with his girlfriend, Courtney Tailor (real name Courtney Clenney), in Miami. There's video of the bloody aftermath where the 25-year-old OnlyFans influencer is seen covered in blood while in handcuffs as she spoke to police (which you can view HERE). However, she has not been brought up on any charges. 
Now, another video has surfaced that features the social media influencer where she shares she ONLY dates dates "rich black guys."
On March 4th, We In Miami Podcast! featured an interview with Courtney and other OnlyFans influencers who have been raking in some major bags via the content subscription service. The 25-year-old influencer said she does OnlyFans full-time and has 2 million followers.
"You look like a girl that only dates rich guys. Is that true?," the interviewer asked.
"No, that's not true. I only date black guys," she responded. "Especially black guys. Let my clarify, I only date rich black guys," she said.
Courtney said she likes to be submissive in the bedroom, but she doesn't like people telling her what to do. She said she only wants to be told what to do in the bedroom.
When asked her preference of "rich black guys" she responded,"No dope boys. No politicians."
"Strictly athletes?" the podcaster asked.
"I mean…dabble here. Dabble there," she responded.
The podcaster asked if she dated any celebrities and she revealed she dated former NFL tight end JermichaelFinley.
Peep the clip below:
Miami officers responded to One Paraiso luxury high-rise building after Courtney placed a 911 call around 5pm EST Sunday. Once police arrived, they found Christian Obumseli with an apparent knife wound to the chest.  Some reports suggest he was stabbed in the shoulder, while other publications say the chest.
He later died at the hospital - one week before his 28th birthday. Officers said the murder was caused by a domestic dispute.
"We know that there was a physical altercation between them before he was stabbed," a Miami PD spokesperson said
The police have NOT formally charged Courtney in her boyfriend's death. Instead, she was sent to a mental ward over mental health concerns after making suicidal threats while in police custody. Interesting.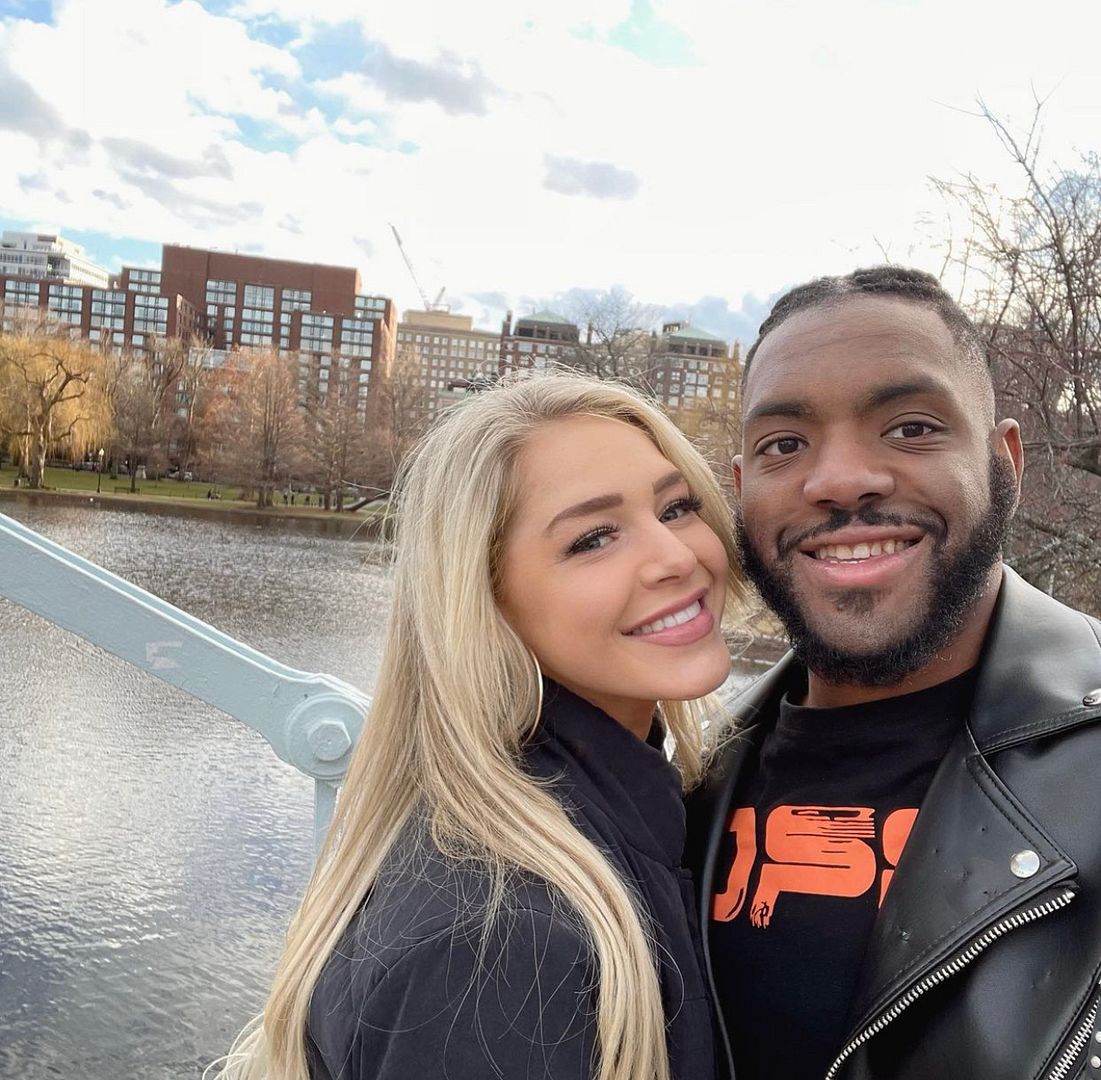 While in police custody, she allegedly threatened to kill herself, which led to an evaluation, causing her to be "Baker Acted." Florida's Baker Act law allows law enforcement, as well as doctors, mental health professionals and judges, to commit a person to a mental health treatment center for up to 72 hours if certain violent or suicidal tendencies are displayed, according to Page Six.
Witness: "There was blood all over the valet and he was bleeding out next to $300k Rolls Royce SUVs. This was a bloody murder with loud screams and blood everywhere." Neighbors say they have a long history of domestic violence: "She called police at least 7x in the last month." pic.twitter.com/UwP65j0E9d

— Because Miami (@BecauseMiami) April 6, 2022
It's interesting because Courtney said she ONLY dates "rich black guys," yet, his family created a GoFundMe account to fund his funeral expenses. At the time of this post, the family has raised over $68,000.
While the family mourns his death, social media users have been debating on problematic posts Christian posted aimed at black women.
"Oomf (which means one of my followers): 'black girls are born knowing how to shake they a**. Me: honestly idc they not my type," he tweeted.
"The way black girls disgrace themselves on Tv…," he wrote in another tweet.
So Christian Toby Obumseli was on social media passing around anti-black women propaganda and praising only white women only for a white woman to kill him and white police officers refusing to investigate his case…terrible story but crazy how the universe works sometimes

— (@itssmeclarine) April 7, 2022
Some black women have voiced that they are stepping to the side to allow the women he loved so much to organize and protest justice for his cold-blooded murder.
Apparently she has a history with the law too. Got arrested for drunk driving in Austin, TX back in 2020 https://t.co/6Mgi1wYbAt

— CA (@hairnailsbook) April 6, 2022
Thoughts?
Photos: Christian's IG