Former NFL lineman ChanningCrowder has doubled down on calling Super Bowl winning quarterback RussellWilson a "square." He also said Ciara only married him because he has money. Why does this man care so much? Let's discuss inside…
Why are some men SO threatened by RussellWilson?
Family Time

This book has brought so much joy to our family nights. @DangeRussWilson and I hope it does the same for you!! Grab a copy and share it with your loved ones: https://t.co/yyPKSCPSdi#WhyNotYoupic.twitter.com/ZQBLejvPV1

— Ciara (@ciara) March 31, 2022
This man bothers NO ONE, yet men love coming for him. He openly loves his wife Ciara, takes great care of his children (Sienna& Win), including Ciara's son FutureZahir, makes millions as an NFL quarterback (he was the highest paid player in the league in 2019), gives back tremendously to his community, owns several businesses, and most importantly, minds his OWN business.
A few days ago, we stumbled upon a clip from "The Pivot Podcast," which features former NFL players, Channing Crowder, Fred Taylor& RyanClark as co-hosts, that caught our attention the moment we heard it and shared it with you all on our Instagram page:
Seven minutes into the podcast, the guys started talking about Russell Wilson, who was just traded from the Seattle Seahawks to the Denver Broncos.
Now, they're talking about free agency in football, yet, Ciara's name and her former relationship with her rapper ex, Future, is brought up during the conversation.
"Russell and Ciara…Yeah, if Russell didn't have that bread, Ciara ain't gone be with him. Russell a square, Russell a square," Channing said.
We're not sure how he knows, but he claims CiCi has a "type" and it's not Russell.
"Ciara has a good situation, but you don't leave Future and get with Russell Wilson. It's a type. Everybody has a type. You're going to leave Future for Russell Wilson? He's so goddamn square and I love him on the field…he's a square. He's a f*cking square," Channing said.
Ryan Clark (who is also an ESPN analyst) then joined in the conversation and said Russell told him to his face that "God told him to save her."
Peep the clip above.
The famed father, husband, and NFLer is living rent free in their minds. How is a rich, successful, man who openly loves his wife and family a square? Make it make sense.
The clip went viral as other outlets continued to pick it up. Needless to say, people let Channing know exactly how they felt about his corny comments:
I don't dive into "celebrity lifestyle/gossip" topics b/c they're not of my interest,

But every month, Russell Wilson & Ciara pop up on my feed b/c dudes are mad

If you're upset by THEIR existence & happy union, go to fucking therapy to address YOUR insecurities and/or failures

— Adrian C. Jackson (@AdrianCJax) April 4, 2022
Grown ass men explaining why Russell Wilson ain't cool enough for Ciara even though she dropped future almost a decade ago and been happily married to Russ for 5-6 years now. pic.twitter.com/5tYsg48mCj

— Dee (@DeeRosaPhoto) April 3, 2022
This narrative of Russell Wilson being "soft" or "square" comes from what exactly? Like what do y'all really be saying? Why is it "lame" to be nice to women? More importantly, Why are nice men called simps?

— Lex (@iamlexstylz) April 3, 2022
There isn't a single thing Future has over Russell Wilson. Not looks, money, dress sense, cool. Not one thing.

These lame men keep comforting themselves with the idea that Ciara, herself a millionaire, is with Russell "only because he's rich".

— xT. Rankïn' (@AfroVII) April 3, 2022
Men keep talking about Russell Wilson being a square like the man ain't also fine . Ciara found herself a fine, stable, wealthy kang with no kids. Clearly y'all don't understand a grown woman's needs.

— #EndtheAnglophoneCrisis (@phyngyal) April 2, 2022
Russell Wilson aint done nothing but love a BW out loud and apologetically for years and that makes him a square or a lame in the eyes of men who are paid to make a mockery of Black culture that is palatable for Yt America

— Donatella - the high yella healer (@TheSydneyA) April 3, 2022
Russell Wilson waking up, every other week to "men" taking cheap shots at him unprovoked.

All he did was play football, love Ciara & kids, visit hospitals, open a school, start a charity & is a best selling author.

Russ is a reminder that some of y'all aren't man enough. pic.twitter.com/RgVsJbgMnz

— Jerome Trammel (@MrJeromeTrammel) April 3, 2022
Over the weekend, Channing doubled down on his comments about the NFL QB, sharing a picture of Russ and his ex-wife, AshtonMeem, sitting next to him when he was drafted in 2012:
— Channing Crowder (@OfficialCrowder) April 3, 2022
While Russ hasn't directly addressed the drama, he did seemingly shut it down in the most gentleman way possible by tweeting a Bible verse:
"But the fruit of the Spirit is love, joy, peace, forbearance, kindness, goodness, faithfulness, gentleness and self-control. Against such things there is no law."
Galatians 5:22-23 NIV

— Russell Wilson (@DangeRussWilson) April 3, 2022
"But the fruit of the Spirit is love, joy, peace, forbearance, kindness, goodness, faithfulness, gentleness and self-control. Against such things there is no law." Galatians 5:22-23 NIV," he tweeted. 
Russell Wilson fans created a meme that perfect describes why Channing is big MADT.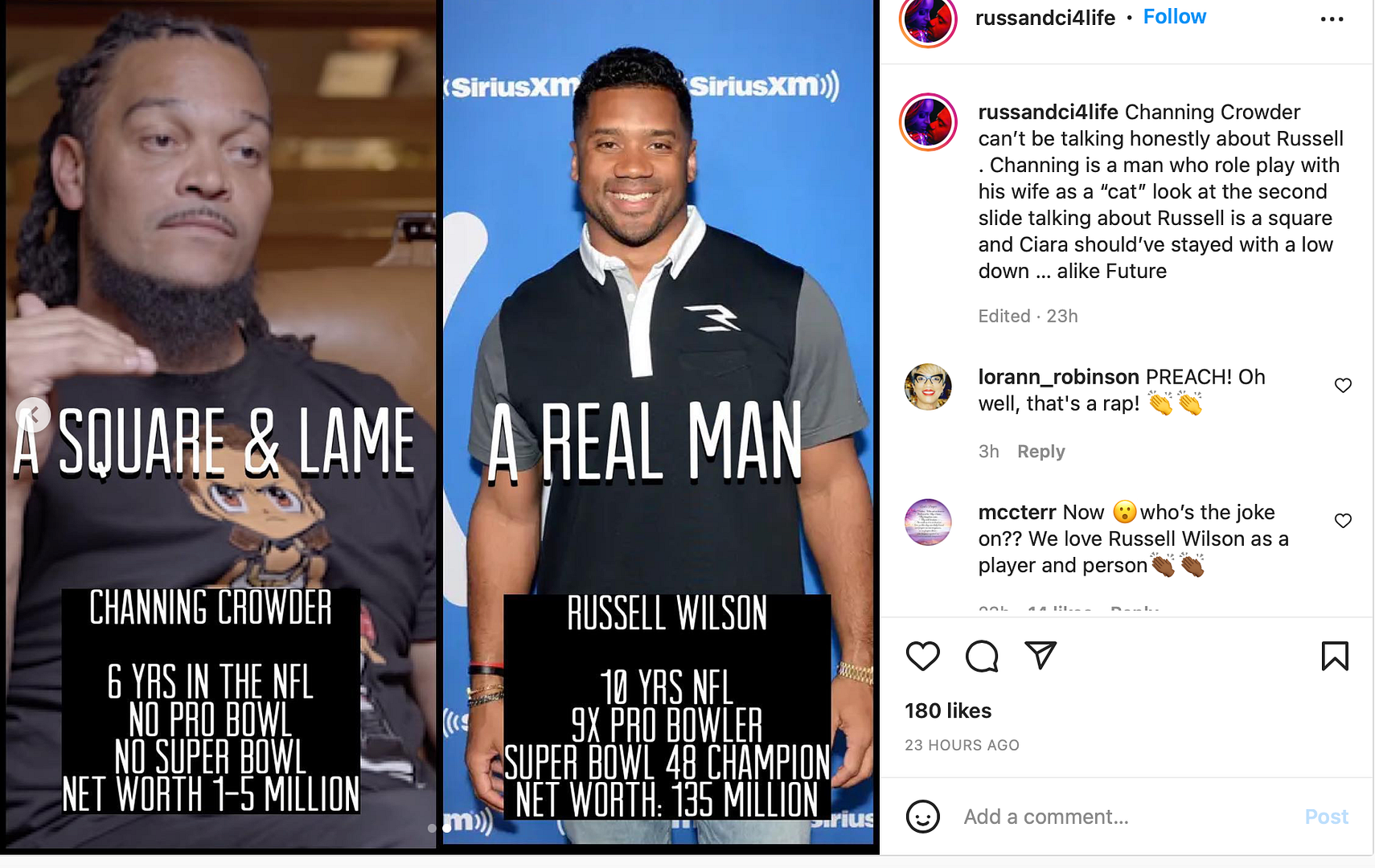 Bloop!
Photos: Tinseltown/Shutterstock