Several of your faves took home top awards at the 64th Grammy Awards last night. Go inside to find out who won what and take a peek at the pink & sparkly slayage on the red carpet inside…
The 64th Grammy Awards was broadcasted live from the MGM Grand Garden Arena in Las Vegas last night, celebrating the biggest and brightest stars in the music industry. Luckily, the ceremony went down with no drama.
"We're going to be keeping people's names out of our mouths," said Grammys host TrevorNoah during his opening monologue, addressing the Will Smith - Chris Rock Oscars slap.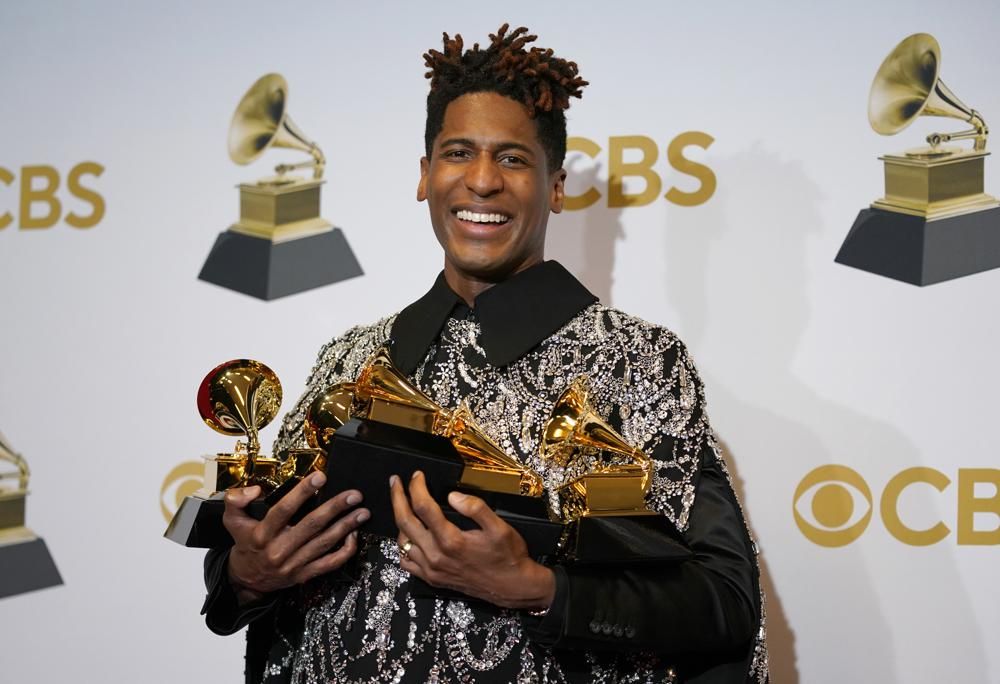 It was a HUGE night for singer-songwriter JonBatiste, who became the night's biggest Grammy star. The Louisiana native won FIVE Grammy awards after scooping up 11 nominations, more than any other act this year.
Nabbing the most prestigious award of the night, Jon was honored with the Album of the Year award for his eighth studio album, We Are.
What incredible blessings tonight pic.twitter.com/uDv2kx8X0N

— jon batiste (@JonBatiste) April 4, 2022
"I believe this to my core," Jon said during his acceptance speech for Album of the Year. "Best musician, best artist, best dancer, best actor.... The creative arts are subjective and they reach people at a point in their lives when they need it most. It's like a song or an album is made and it almost has a radar to find the person when they need it the most."
"I just put my head down and I work on the craft every day. I love music. I've been playing since I was a little boy. It's more than entertainment for me. It's a spiritual practice."
He concluded, "Every single artist that was nominated in this category, I actually love and have had experiences, out of body experiences, with your music. I honor you. This is for real artists, real musicians. Let's just keep going. Be you! That's it. I love ya, even if I don't know ya!" 
Watch his acceptance speech below:
In addition to Album of the Year, Jon won Best American Roots Performance for "Cry," Best American Roots Song 
for "Cry," Best Music Video for "Freedom," and Best Score Soundtrack for Visual Media for animated film, Soul.
Major congrats! 
Silk Sonic, the duo comprised of BrunoMars and Anderson .paak, opened up the Grammys with their electrifying performance of "777" before making a "clean sweep" at the awards show. The superduo won all of the awards they were nominated for, including Song of the Year, Record of the Year, Best R&B Performance and Best R&B Song.
"We are really trying our hardest to remain humble at this point, but in the industry we call that a clean sweep," Anderson .paak said while accepting Record of the Year for "Leave The Door Open."
"So all the other nominees, you all know we love y'all. We love y'all. Drinks is on Silk Sonic tonight. We getting drunk. I know a lot of y'all fans might be upset, so we're gonna get out of here before the Internet get to talking."
Watch their acceptance speech below:
As for another big winning duo...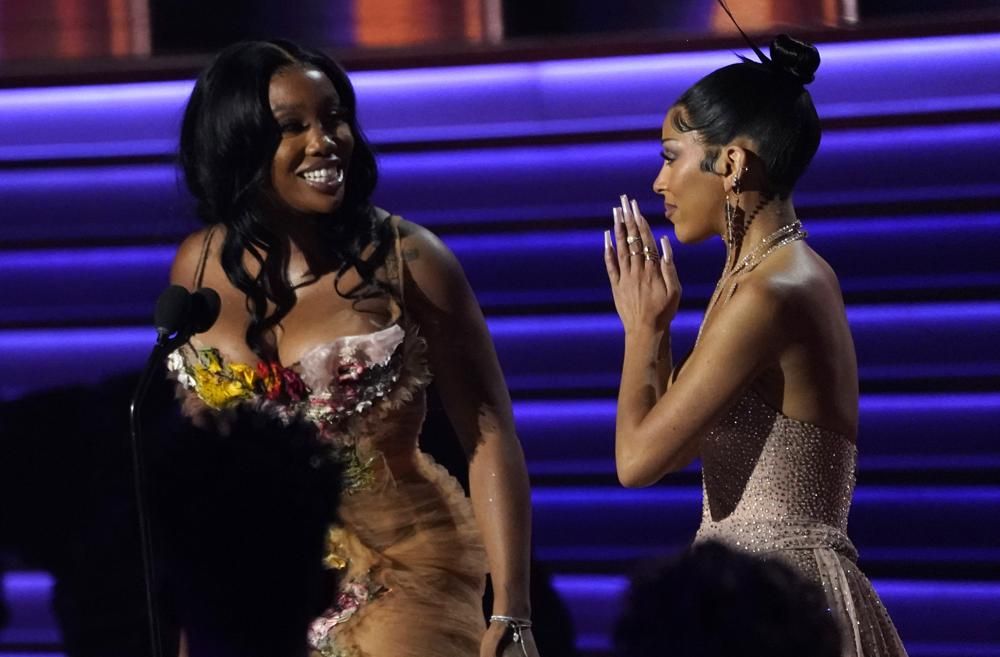 Doja Cat and SZA won the Grammy for Best Pop Duo/Group Performance for their hit collaboration track "Kiss Me More."
After Avril Lavigne announced the duo as winners, the camera cut to SZA - who was on crutches - hopping to the stage with no sign of Doja. Moments later, Doja popped up in the frame, rushing to the stage as SZA said, "Bro, you went to the bathroom for five minutes. Are you serious? Come on now."
"Listen. I have never taken such a fast piss in my whole life. Thank you everybody," Doja said to the crowd as she struggled to catch her breath.
"I'm glad you made back in time," SZA said before thanking her family, friends and colleagues.
"This is a big deal," the Planet Her singer said. "Thank you everybody, stay safe, take care."
The huge win comes on the heels of Doja making an announcement that she was quitting music after feuding with heated who were upset about a canceled performance.
Watch their acceptance speech below: 
As for SZA…
The "I Hate U" singer was hopping on crutches after she sustained an injury after falling out of bed.
TDE President Punch praised SZA for pushing through the pain to attend the awards show because she almost canceled.
Crazy day man. SZA twisted her ankle the night before the awards, really hours before. She almost cancelled. It was super inspiring to see her power thru and make it at the tail end of the red carpet and then go up on stage with crutches to get the trophy with doja. Salute.

— Punch TDE (@iamstillpunch) April 4, 2022
"Crazy day man. SZA twisted her ankle the night before the awards, really hours before," he tweeted. "She almost cancelled. It was super inspiring to see her power thru and make it at the tail end of the red carpet and then go up on stage with crutches to get the trophy with doja. Salute."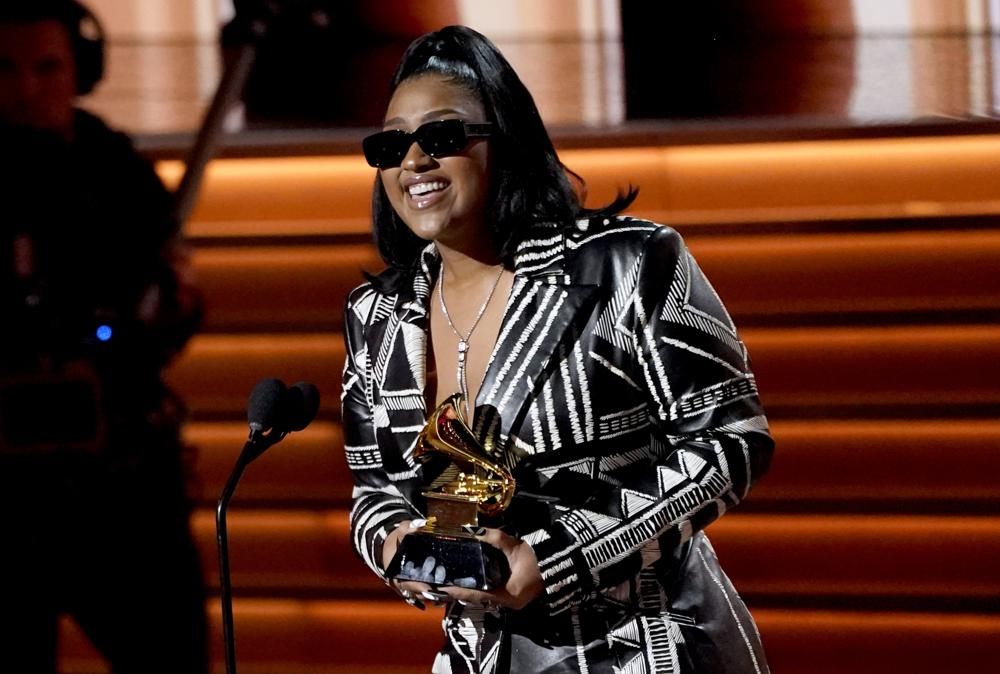 The underdog reigned supreme!
After 15 nominations, JazmineSullivan finally won a Grammy Award. Not one, but TWO Grammys actually!
Jazmine's album, HeauxTales, earned her the Grammy for Best R&B Album. "Pick Up Your Feelings" - a cut from Heaux Tales - earned Jazmine the Best R&B Performance Award, which ended up being a tie with Silk Sonic's "Leave The Door Open."
In her acceptance speech, she said she wrote Heaux Tales "to deal with my own shame and unforgiveness," but, "what it ended up being was a safe space for Black women to tell their stories, for us to learn from each other, laugh with each other and not be exploited at the same time."
Peep her acceptance speech below:
Love her.
Also...
The Philly native looked BOMB AF in a geometric Christian Siriano suit.
Speaking of Philly natives...
Fellow Philly native Questlove got another chance to shine after his Oscar win was overshadowed by the Will Smith - Chris Rock slap.  The talented musician's Summer of Soul documentary won Best Music Film, which he accepted alongside producers DavidDinerstein, Robert Fyvolent and JosephPatel.
Last week, South Asian producer Joseph Patel slammed Chris Rock for the way he announced their Oscar to "Questlove and four white guys." Missed that? Catch up HERE. 
Watch their acceptance speech below:
Before presenting Song of the Year to Silk Sonic, Questlove addressed the Oscars slap, saying, "I'm gonna present this award and I trust you people stay 500 feet away from me," and then added, "Just playing."
Baby Keem and Kendrick Lamar's"Family Ties" won Best Rap Performance. During his acceptance speech, the Las Vegas native thanked him family, Kendrick Lamar and his hometown, saying, "the women that raised me to shape me to become the man I am today." Aww. Peep his speech above.
Also...
Tyler, the Creator won the Grammy for Best Rap Album for his LP, Call Me If You Get Lost.. After winning, he took to social media to troll DJ Khaled, whom he has been feuding with over the last few years. Peep the clip above.
Kanye West - who was not in attendance - scooped up two awards, one for Best Rap Song for "Jail," featuring Jay-Z, and Best Melodic Rap Performance for "Hurricane," featuring LilBaby and TheWeeknd.
Congrats to the winners!
By the way, the ratings for the Grammys this year matched 2021's all-time lows. The live broadcast on CBS and live-stream on Paramount+ delivered 8.93 million viewers. Last year, the ratings were 8.8 million.
Below, we have all the pink and sparkly slayage that happened on the red carpet. Swipe below! 
Photos: AP Photo/John Locher/Chris Pizzello