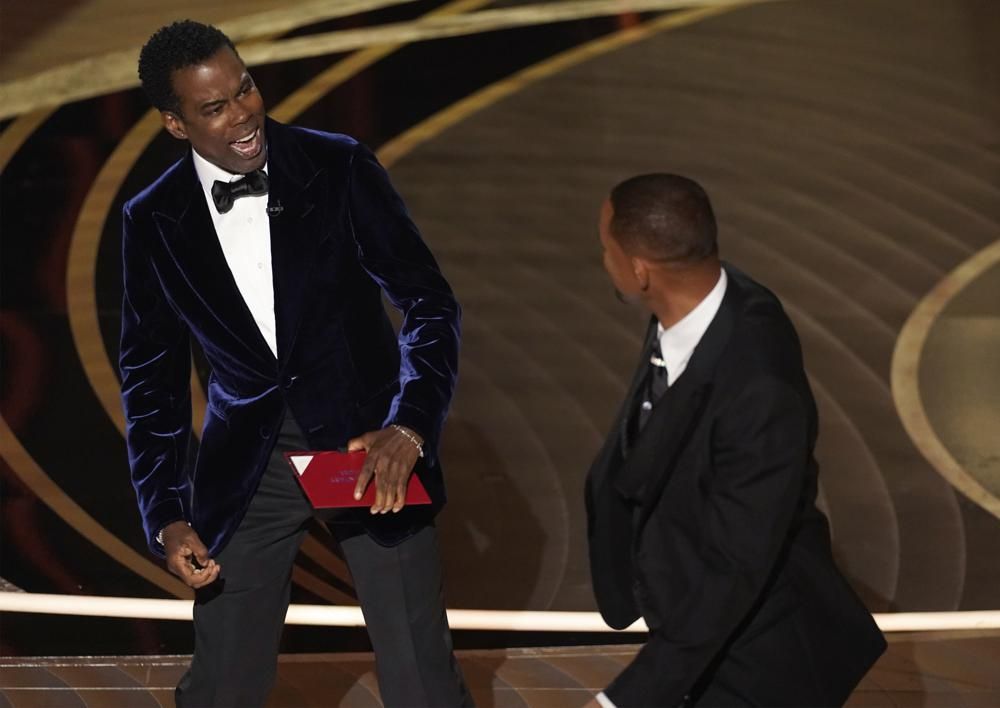 Will Smith has voluntarily resigned from the Academy, just weeks before his scheduled hearing. Also, Tony Rock - Chris Rock's brother, has responded to the Oscars clap (again) where he goes off on Will & Jada Pinkett-Smith onstage during a comedy show. Get all of the details inside…
The post-Oscars slap drama continues.
Yesterday, Will Smith officially and voluntarily resigned from the Academy of Motion Picture Arts & Sciences, just weeks before his scheduled hearing, following his Oscars night slap.
In a statement, the King Richard star said he is "heartbroken" over the incident, apologized to Chris Rock again, and said that he will accept any further punishment the organization believes is suitable.
"I have directly responded to the Academy's disciplinary hearing notice, and I will fully accept any and all consequences for my conduct. My actions at the 94th Academy Awards presentation were shocking, painful, and inexcusable," the 53-year-old actor said in a statement.

"The list of those I have hurt is long and includes Chris, his family, many of my dear friends and loved ones, all those in attendance, and global audiences at home. I betrayed the trust of the Academy. I deprived other nominees and winners of their opportunity to celebrate and be celebrated for their extraordinary work. I am heartbroken. I want to put the focus back on those who deserve attention for their achievements and allow the Academy to get back to the incredible work it does to support creativity and artistry in film. So, I am resigning from membership in the Academy of Motion Picture Arts and Sciences, and will accept any further consequences the Board deems appropriate.

"Change takes time and I am committed to doing the work to ensure that I never again allow violence to overtake reason."
Academy president David Rubin responded to Will's resignation. "We have received and accepted Mr. Will Smith's immediate resignation from the Academy of Motion Picture Arts and Sciences," Rubin said in a statement. "We will continue to move forward with our disciplinary proceedings against Mr. Smith for violations of the Academy's Standards of Conduct, in advance of our next scheduled board meeting on April 18."
So, what does it mean now that Will - who accepted the Best Actor award after slapping Chris Rock - has resigned?
Well, he can no longer enjoy the benefits that members are afforded, which include access to movie screeners and he loses his privilege to vote for potential nominees. Right now, it's unclear whether Will will be able to attend future Academy events, but that will be determined once the Academy board reaches a decision later this month. 
The Academy's code of conduct - which was revised during the wake of the #METOO movement - includes disciplinary measures that "may include private reprimand, public reprimand, temporary or permanent loss of privileges to attend and participate in Academy events or activities, temporary or permanent loss of eligibility to receive or hold or revocation of Academy awards or honors, temporary or permanent loss of eligibility to hold Academy service and volunteer roles, or other sanctions that the Academy in its sole discretion may deem appropriate."
Regardless of the punishment, Will Smith will still be able to keep his Oscar award. 
While presenting Best Documentary, Will Smith calmly walked on stage and slapped Chris after the comedian told an unvetted "G.I. Jane" joke about the actor's wife, Jada Pinkett-Smith. He made the joke in reference to Jada's bald head, not knowing she has been suffering from hair loss due to alopecia.
Later, the Academy released a statement (their 2nd one) where they said Will was asked to leave, but he refused. Will's camp DENIES anyone asked him to leave and said Oscars producer Will Packer urged him to stay. During an interview with "Good Morning America," Will Packer said he felt Will should stay at the request of Chris Rock, however, folks in Chris' camp say that's not the truth.
Watch his interview below:
EXCLUSIVE: #Oscars show producer Will Packer (@WillPowerPacker) talks about the moment that stunned the world. @TJHolmes reports. pic.twitter.com/983BgFIVKt

— GMA3: What You Need To Know (@ABCGMA3) April 1, 2022
A few days ago, Tony Rock - Chris Rock's brother - hopped on Twitter for his weekly Q&A with his fans where he responded to several tweets that asked questions about incident. He called the slap "foul," revealed he didn't approve of Will's IG apology, and said he had plans on responding to Will for putting his hands on his brother.
Well, he responded (again) during a stand-up show in Raleigh, North Carolina, days after Chris said he was "still processing" everything. He walked out to Tupac's"Ambitions az a Ridah" before he proceed to pop off about the Oscars slap.
"Oh, we on Pac for the rest of the year!, he yelled. "Let's set some ground rules tonight. If I say anything tonight anyone got a f*cking problem with, you got one motherf*cking option what you can do about it: Absolutely nothing! If you think you gonna to walk up on this stage, this ain't the motherf*cking Oscars!" Tony started off his show, warning folks in the audience.
"And if you walk your a** up here, you ain't nominated for sh*t but these motherf*cking hands! Oh, we going on Pac the rest of the year, n***a. Every time you see me do a show, Pac!"
The comedian then proceeded to disrespect Jada, which was totally unnecessary, especially since she didn't even do anything.
"I didn't want to start the show like that!," he continued, throwing his hands in the air. "You gonna hit my motherf*cking brother because your b*tch gave you a side-eye?"
"Oh, it's a lot of Rock brothers. It's ten of us, you gone have to see all of us. I just wanted to let y'all know that shit ain't gone ride. I don't have a to of shit to lose n***a."
Watch the clip below:
We def understand standing up for your brother, but why did he have to disrespect Jada to do so?
Tony Rock calling jada a "B*tch because his brother got slapped is so pussy. Failing to realize the disrespect is why he got slapped in the first place.

— Vibes w/ the Virgo (@OnlyTrustKay) April 2, 2022
It was all good a few years ago…
Photo: AP Photo/Chris