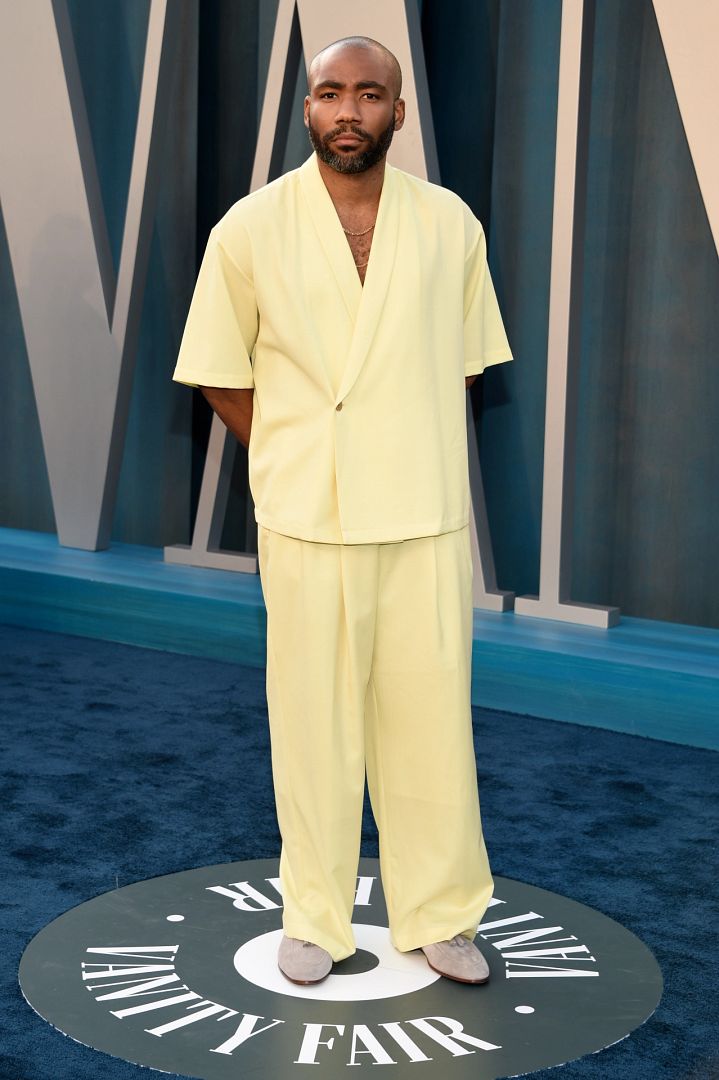 Donald Glover (aka ChildishGambino) is rocking a new look and he's also praising MaliaObama for lending her talents for his upcoming Amazon series. Yep, it's official. She's hired as a writer and he's super impressed. Deets inside…
New season. New look. New show. Who dis?
After a four-year hiatus, the third season of "Atlanta" finally premiered. For the new season celebration, DonaldGlover - the show's creator & star - debuted a new shaved head when he pulled up to the carpet of his FX series' Season 3 premiere in L.A.
Donald Glover rocks a shaved head to the #AtlantaFX Season 3 premiere: https://t.co/a3ylx2Po5U

— TooFab (@TooFab) March 27, 2022
The 38-year-old Black creative is entering a new stage in his life after inking a multi-year 8-figure overall deal with Amazon Studios. And he has hired some amazing talent.
The EMMY winner confirmed he hired Malia Obama - daughter of POTUS BarackObama& FLOTUS MichelleObama - as a writer for his upcoming series for the streaming giant.
In an interview with Vanity Fair, Donald praised the 23-year-old former First Daughter and let it be known she didn't get there because she's daughter of President 44.
"She's just, like, an amazingly talented person," Donald said about the Harvard graduate, who graduated last year. "She's really focused, and she's working really hard."
The "Atlanta" creator doubled down on her writing talent when TMZ photos caught up with him at San Vicente Bungalows in L.A. He said she has the potential to do anything! Watch the clip below:
Stephen Glover - Donald's brother who's also working on a new Amazon series - feels the same way about Malia.
"I feel like she's just somebody who's gonna have really good things coming soon," Stephen told VF. "Her writing style is great. Donald always says perspective is important, and people with different perspectives are important for a writers' room. And for sure, she definitely has a unique perspective on everything."
There aren't many details about the series yet, although it has previously been reported that the show may revolve around a "'Beyoncé-like figure." Interesting.
Mom and Dad at Netflix while she creates her own lane at Amazon.
On the late night TV scene…
The actor/rapper/producer/writer appeared on "Jimmy Kimmel Live!" To dish on a long list projects he has in the works. Of course, the Will Smith/Chris Rock Oscars fiasco was brought up. Donald was at the Vanity Fair Oscars party when Will stormed the stage and smacked Chris. After seeing it all go down and the responses, he said he doesn't desire to give his take on it.
"People are already tired of it," he laughed. "People are like, 'dang, I gotta read another article? It's been 8 articles already!'"
"Now don't slap me, but you're bald," Jimmy Kimmel joked.
"I'm not Earn [Atlanta character] anymore, I just took it all off," Donald responded.
He said he shaved if off himself and when he kids saw it, they weren't feeling it.
"My middle child says, 'daddy looks weird'… which I do, to him," he shared.
It be your own kids.
Peep that clip, plus more below:
BONUS:
On the fitness tip, Malia Obama was spotted taking a hike with her younger sister, Sasha Obama, recently. Swipe through the flicks above. 
Photo: Evan Agostini/Invision/AP