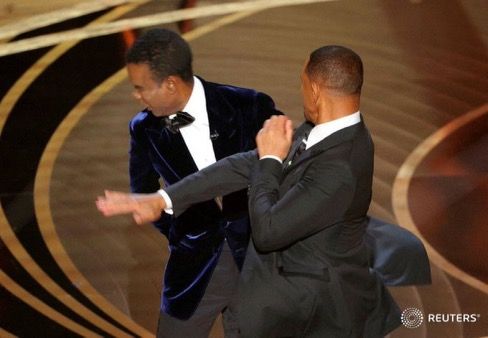 After the Oscars slap heard around the world, everyone is debating who was right and who was wrong. Some people feel like Chris Rock got what he deserved for cracking jokes on someone's wife. Others feel like Will Smith was out of pocket because it was a hired comedian doing his job.
See the reactions and tells us what you think inside….
It seems the Internet is SPILT on whether they're #TeamChris or #TeamWill.
Last night's Oscars took an unexpected turn after Will Smith smacked fire out of Chris Rock for telling a "G.I. Jane" joke about Jada Pinkett-Smith's bald head. Right after Chris said the joke, cameras panned over to The Smiths and Will was actually laughing. However, Jada didn't find it funny, so Will decided to do something about it. He got up out his seat, walked up on stage and slapped Chris with an open hand.
"Keep my wife's name out your f**** mouth!," Will yelled at Chris after returning to his seat.
Check it:
The Full Uncensored video of Will Smith's altercation with Chris Rock at the #Oscarspic.twitter.com/cGQ3plSEiz

— Movies (@moreoffilms) March 28, 2022
Sheesh! After winning Best Actor for his role in KingRichard, Will offered up an apology to the Academy and everyone else...except Chris. Missed it? Check out his very emotional acceptance speech HERE. 
— jackie42 (@jackie42x) March 28, 2022
Folks are torn on who was right and who was wrong. Someone people feel like Will did exactly what a protective husband SHOULD do. And Chris, of all people, should have been weary about doing a joke about a black woman's hair.
Good for Will bc I just KNOW the man who made documentary "Good Hair" should've known better than to try to make a joke about a Black woman's hair in a room full of white ppl. I just KNOW that pic.twitter.com/l7a0GiCAY6

— I'm Giving Bobby Brown (@LadyTheeBAP) March 28, 2022
"Good for Will bc I just KNOW the man who made documentary 'Good Hair' should've known better than to try to make a joke about a Black woman's hair in a room full of white ppl. I just KNOW that," a fan tweeted.
Rapper Nicki Minaj weighed in on the Oscars controversy, defending Will's actions:
"I love Chris Rock. I don't think he would've made that joke had he known what Jada recently shared- but between him & the whole team @ the #Oscars you mean to tell me not ONE of y'all heard this woman just share this heartbreaking story? #ComeOnSon …," she said. "Here's the thing… And this is such an AMAZING - EYE OPENING example of it…"
"The husband gets a front row seat to his wife's pain… he's the 1 consoling her… drying her tears behind closed doors when those cameras go off. Social media has made ppl feel that these 'husbands' won't ever run into them in real life. You just got to witness in real time what happens in a man's soul when he looks over to the woman he loves & sees her holding back tears from a 'little joke' at her expense. This is what any & every real man feels in that instant. while y'all seeing the joke he's seeing her pain."
"Imagine what it must feel like to be losing your hair to the point where you have to shave it bald. You think that's easy to deal with for anyone? You don't think she's cried about that many times? 2022 y'all gon have to see these men about those jokes you made about their wives," she tweeted.
Will Smith slapped Chris Rock and got Jiggy With It at the after party. What a move. pic.twitter.com/Pkh9eikgbs

— Barstool Sports (@barstoolsports) March 28, 2022
EMMY winner Tiffany Haddish weighed in on the slap controversy, swaying towards Will's side. During an interview with EXTRA, she said "sometimes, discipline needs to be administered." Peep the clip above.
During an interview with PEOPLE at the Governors Ball, Tiffany revealed she found the controversial moment "beautiful."
"When I saw a Black man stand up for his wife. That meant so much to me," she said. "As a woman, who has been unprotected, for someone to say, 'Keep my wife's name out your mouth, leave my wife alone,' that's what your husband is supposed to do, right? Protect you."

"And that meant the world to me. And maybe the world might not like how it went down, but for me, it was the most beautiful thing I've ever seen because it made me believe that there are still men out there that love and care about their women, their wives."

"If she wouldn't have been hurt, [Will] probably wouldn't have said nothing," said Tiffany. "But you could see he was clearly… And they exploited it. They exploited her, so 'I have to do something'… He protected his wife. To me, I went up to her and said, 'You better suck his d*ck from the back, girl!' You better put that in your magazine! That's what I told her."
Lordt.
On the flip side, others were taking up for Chris Rock:
Everybody huggin' and consoling Will?? …can somebody go check on Chris?? A seat filler or somebody??

— Eric Benét (@ebenet) March 28, 2022
"Everybody huggin' and consoling Will?? …can somebody go check on Chris?? A seat filler or somebody??," Eric Bennett tweeted.
Wait... Chris Rock makes a bad joke about Jada Pinkett's appearance. Will Smith walks onstage hits him in the face shouts out obscenities & later in tears accepts an Oscar saying "Love makes you do crazy things" to a STANDING OVATION?!? WTF Hollywood. That's not WOKE. That's WEAK

— Paul Stanley (@PaulStanleyLive) March 28, 2022
It seems Chris & Will's "beef" goes WAY back. In 2016, Oscars host Chris Rock cracked jokes about Jada and Will boycotting the awards show due to the lack of diversity.
"Jada boycotting the oscars is like me boycotting Rihanna's panties. I wasn't invited," he joked. "I understand you're mad. Jada's mad - her man Will was not nominated for Concussion," he continued.
Watch at the 2:44-minute below:
Peep more reactions below:
SOMEBODY TAKE TAYE DIGGS' PHONE NOW! IMMEDIATELY! pic.twitter.com/ogETAtrEXb

— Mégan M. | SQSP Web Design for Lifestyle Brands (@MeganDeniece_) March 28, 2022
If Chris Rock just said "if that's how mad he gets in March, imagine how pissed he is in August"

He prolly coulda won that round.

— i. adan (@Imman_Adan) March 28, 2022
Will Smith apologizing for slapping Chris Rock during his Oscars acceptance speech pic.twitter.com/Yo4Qkyg84h

— Josiah Johnson (@KingJosiah54) March 28, 2022
everybody moving past the altercation between chris rock and will smith on live tv #Oscarspic.twitter.com/3GQkt1oJMZ

— RCE (@moreofmaur) March 28, 2022
will and chris rock #Oscarspic.twitter.com/fkTJpVD38k

— (@chunsversace) March 28, 2022
Chris Rock After The Oscars! pic.twitter.com/HHC8KZcgby

— Desi Banks (@iamdesibanks) March 28, 2022
There's TONS more. Swipe through our gallery of memes and everything in between below!
Who do you think was more out of pocket? Will or Chris?!
Photos: Reuters