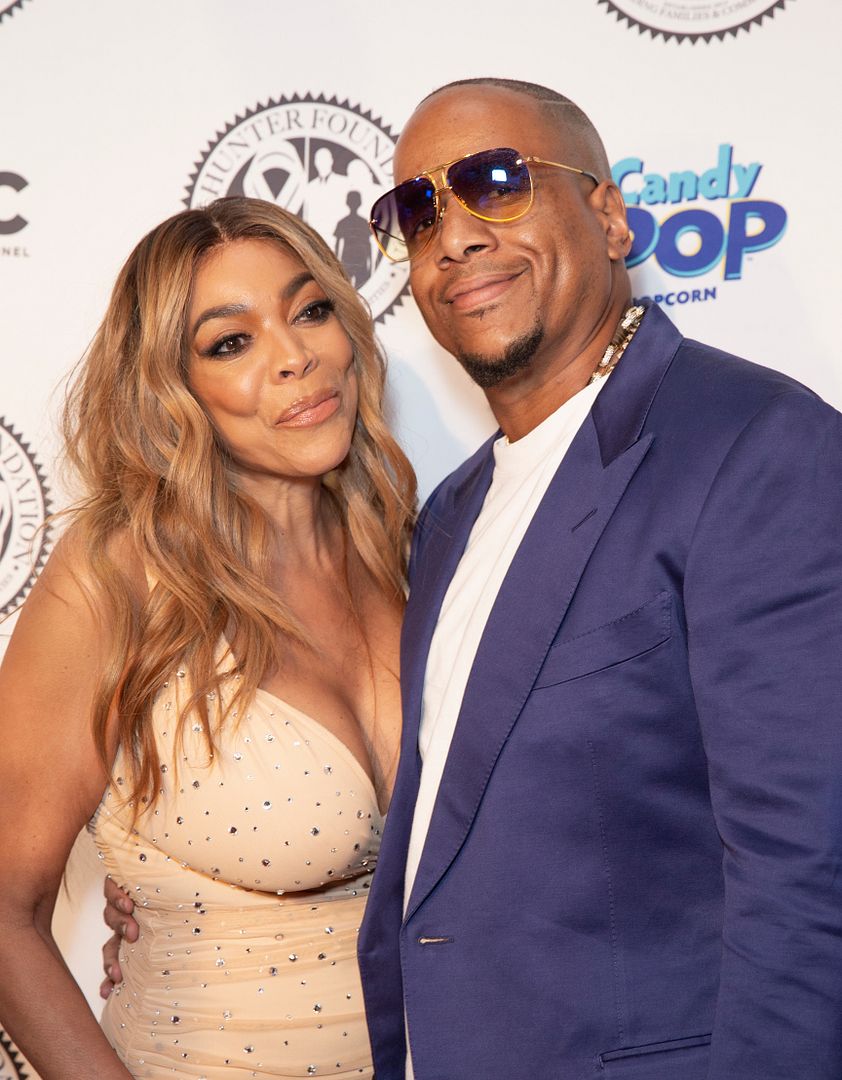 Kevin Hunter Sr. - Wendy Williams' ex-husband - is speaking out for the first time since the cheating and divorce drama popped up and went totally left. In an hour-long IG Live, the former "Wendy Show" exec producer says he doesn't regret having an affair and a baby outside of his marriage, and shares interesting updates about Wendy and the lawsuit he's filing.
Highlights inside…
As Wendy Williams' world seemingly spiraled out of control before our very eyes, her now ex-husband Kevin Hunter Sr. remained silent about what was happening the behind-the-scenes.
Now, he's ready to share his side of the story…at least, he's "being as forthright as he chooses to be." And the timing of him speaking out is, well, interesting.
The former "Wendy Williams Show" executive producer hopped on Instagram Live via his business page after trying to do a live from his personal account. He was having technical difficulties, but worked it out.
In the beginning of the clip, Kevin praised Wendy for her accomplishments and said he was proud to help the career of one of the most polarizing and prolific talents we've ever seen. Immediately after, he started talking about how sometimes when "you do things in the trenches" that karma has a way of coming back on you. Hmph.
It was weird watching him try to downplay his infidelity during his marriage to Wendy that lasted over two decades. We know now that he had a mistress, Sharina Hudson, for at least a decade during their marriage. He said he doesn't regret his affair with SharinaHudson, nor does he regret having a baby with her.
"I'm sorry that the emergence of life…how I decided to bring it, hurt her and the whole stereotype of what happens when a man does that. I understand that you can't make everyone happy in that instance. But I do not regret what happened. I was not trapped into what happened. As a matter of fact, and again I am profusely apologetic for the impact it cause. I realize that."
He alluded Sharina suggested she get an abortion when she found out she was pregnant.
"As a matter of fact, the mother of my child, when we discovered that she was like… she was the first one to try to suggest an alternative and I actually said no. And that's because of the joy that I needed to have in my life at the time," he said. "There were a lot of things I couldn't control. But yeah, I could have controlled my actions better if I chose to, but until you've been in my shoes wholeheartedly to understand exactly what I was dealing with, you can't tell me nothing. I don't know too many men who could have did exactly what I did."
He claims Wendy was "going through stuff" before the "baby situation." So add more "stuff" to what she's already going through?! Make it make sense. 
Kevin said he "fought" for "family" for many days because he wanted to keep his family together. "Family wasn't a priority like it should have been," he said insinuating Wendy was chasing her dreams and put family on the back burner. He said she put her career before anything and that started to deteriorate their marriage.
Kevin mentioned he wanted his son, Kevin Hunter Jr., to have a "blood sibling" in this world, which almost seems like SHADE to Wendy being that she suffered several miscarriages in the past, so it's not as if she didn't TRY. Ugh, men.
In 2019, Kevin was fired as an executive producer of the "Wendy Williams Show" after Wendy filed for divorce. He claims he was wrongfully terminated, so he's SUING Debmar-Mercury (which distributes the Wendy Show). He feels HE's responsible for the show's success and claims they owe him. Hmph.
"My job was stripped from me because who I choose to be with," he said during the Live.
He filed the wrongful termination suit March 1st after the talk show terminated him "on the basis of his marital status, which is barred by the New York City Human Rights Law," according to documents obtained by E! News. He claims his termination notice didn't give any reasons for his firing that were based on his performance or decisions made on the job.
Per the court docs, Hunter said that he has suffered between $7 million to $10 million in "economic loss" as a result of his firing.
After he left, Kevin said people around Wendy tried to discredit all of the hard work he put in over the years as her manager and producer of the daytime talk show. Their divorce was finalized in 2020.
Even after their divorce, Kevin Sr. said he tried to protect Wendy and blasted her management team for being "enablers." Not only that, he accused her team of allegedly putting her in "a life and death situation" and denying medical coverage and care for her.
Kevin Sr. said his 20-year-old son saved Wendy's life when he threatened to call 911to let first responders do a welfare check on his mother because he team wound't allow it. He said Wendy had to have "two blood transfusions" afterwards, although he did not further explain why. Kevin Sr. also mentioned Wendy's friend, DJ Boof, called him when she was having a hard time filming her show in her NYC apartment during quarantine.
The proud dad also set the record straight about his son's scary situation with experimenting with the synthetic drug, K2. He claims he took Kevin Jr. (who was 14 at the time) to Honduras to be "healed" by Dr. Sebi and then gave credit to the "mother of my child" for helping him through that process, alluding Wendy didn't help at all because she was already under pressure from the show.
"In hindsight, she [Wendy] probably needed to be there the most," he said. "I couldn't put that pressure on someone who was already dealing with immense pressure. I tried to do the best I can at the weakest moment in my life because I thought my son was going to die."
Wow. Men can be something else. 
Take a listen below:
Earlier this week, Wendy was seen hopping on a flight from Newark, NJ to Miami, FL with her son, Kevin Jr., where she was overheard telling fans she was in the process of getting her show back. She said the same thing during a telephone interview with "Good Morning America" last week.
"This is what I would love to say to my Wendy watchers: Keep watching because I'm going to be back on the Wendy show bigger and brighter than ever," she said during the interview.
The 57-year-old talk show queen also shed light on her legal drama with Wells Fargo Bank after they froze her accounts for two months, which she revealed prevented her from fulfilling her financial obligations, including mortgage payments and employee payroll.
In the legal court documents, Wells Fargo froze her accounts and requested a hearing for temporary guardianship where they referred to the popular daytime talk show host as an "incapacitated" person. According to the TV host, that's not the truth.
Last month, producers of "The Wendy Show" confirmed the show would end after 14 seasons. Guest co-host SherriShepherd - who became a fan favorite - will take over Wendy's time slot with her own self-titled talk, set to premiere this fall.
Photo: lev radin/Shutterstock