Wendy Williams was reportedly overheard telling fans she's in the process of getting her show back after touching down in Miami. Deets on her trip to South Florida, plus Wendy's ex-husband Kevin Hunter says he has a message about "ungodly things." More inside…
Less than a week after giving her first interview since her daytime talk show was canceled, Wendy Williams is back in the headlines.
The 57-year-old daytime talk show host was spotted hopping on a flight out of Newark Airport headed to Miami with her son, Kevin Hunter Jr.TMZ photogs noted Wendy didn't use a wheelchair, which fans have seen her use over the last year or so as she struggles with Graves' disease and a thyroid condition.
Wendy Williams & her son spotted at an airport headed to Miami pic.twitter.com/gvcYZYBMpV

— GlockTopickz (@Glock_Topickz) March 22, 2022
After arriving in Miami around 12:30AM, sources told TMZ that Wendy was overheard telling a fan she was in the process of getting her show back and that she's working things out with her money.
You'll recall, Wendy appeared on "Good Morning America" (via telephone) for an interview where she told her Wendy Watchers she's ready to get BACK to work - just give her a few months to work on some "private things."
"Give me about three months," she said in the phone interview. "There are private things that I have to deal with and then I'll be ready to come back and be free and ready to do my thing."
Last month, producers of "The Wendy Show" confirmed the show would end after 14 seasons. Gust co-host SherriShepherd - who became a fan favorite - will take over Wendy's time slot with her own self-titled talk show, "Sherri," set to premiere this fall. 
Amid her health and career struggles, the media personality was also dealing with a legal battle with Wells Fargo Bank after they froze her accounts for two months, which she revealed prevented her from fulfilling her financial obligations, including mortgage payments and employee payroll.
"They say that I need somebody to handle my account. And I don't want that," she explained. "I want all my money. I want to see all my money that I've worked hard for my entire life. My entire life. I don't lie, I don't cheat and I don't steal. I am an honest, hard-working person."
In the legal court documents, Wells Fargo froze her accounts and requested a hearing for temporary guardianship where they referred to the popular daytime talk show host as an "incapacitated" person. According to the TV host, that's not the truth.
"I want to spend more time with my family," Wendy said. "And you know, working out and waiting for the responses to my money situation and Wells Fargo. And they don't like that. I've worked hard every single day, even on days when you know, I might have a little cold."
It's official. Wendy Williams to film #RHOM Season 5. pic.twitter.com/mU3ZvvL9Y3

— The Slut Pig Podcast (@tsp_pod) March 22, 2022
Since Wendy jetted to Miami, fans are speculating if she'll film for "Real Housewives of Miami." Last January, Wendy mentioned to Andy Cohen she would join the show as a "friend."
RT if you would like to see the iconic @WendyWilliams on #RHOM! #WWHLpic.twitter.com/O9Gm9HOcGF

— WWHL (@BravoWWHL) January 29, 2021
Yesterday, Wendy's ex-husband, Kevin Hunter Sr., hopped on social media, declaring he had an announcement to make about "ungodly and unjust" things happening. Seriously? Ungodly. Sir, take several seats.
Instagram wouldn't allow Kevin to get on Live. See below: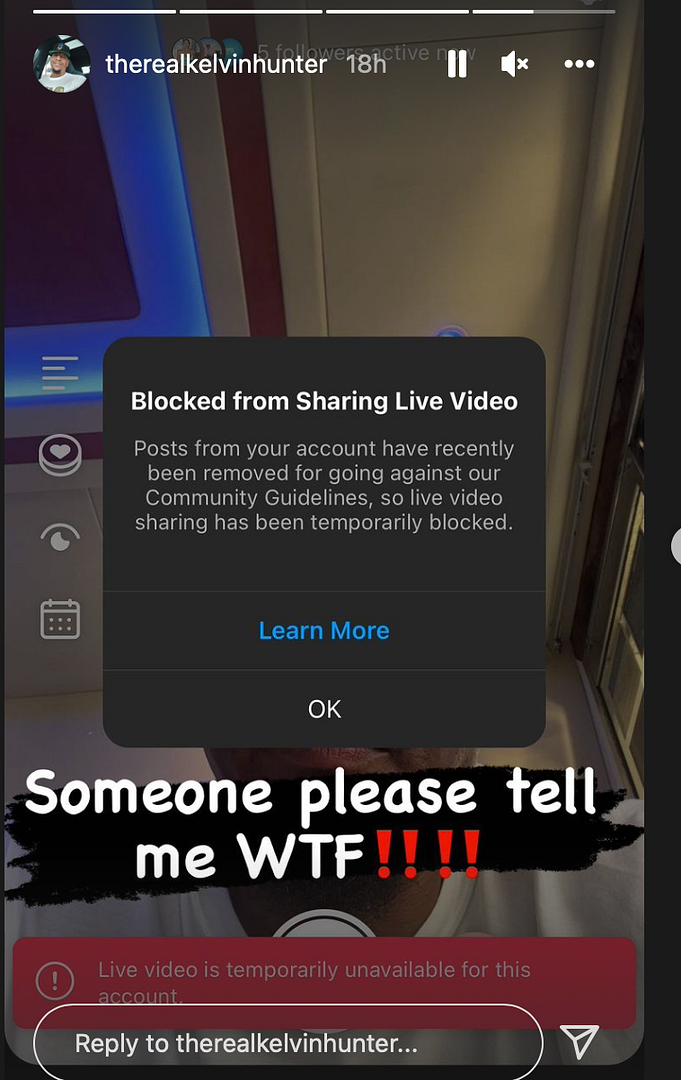 Hmm...we wonder what he was going to share.
Photo: lev radin/Shutterstock