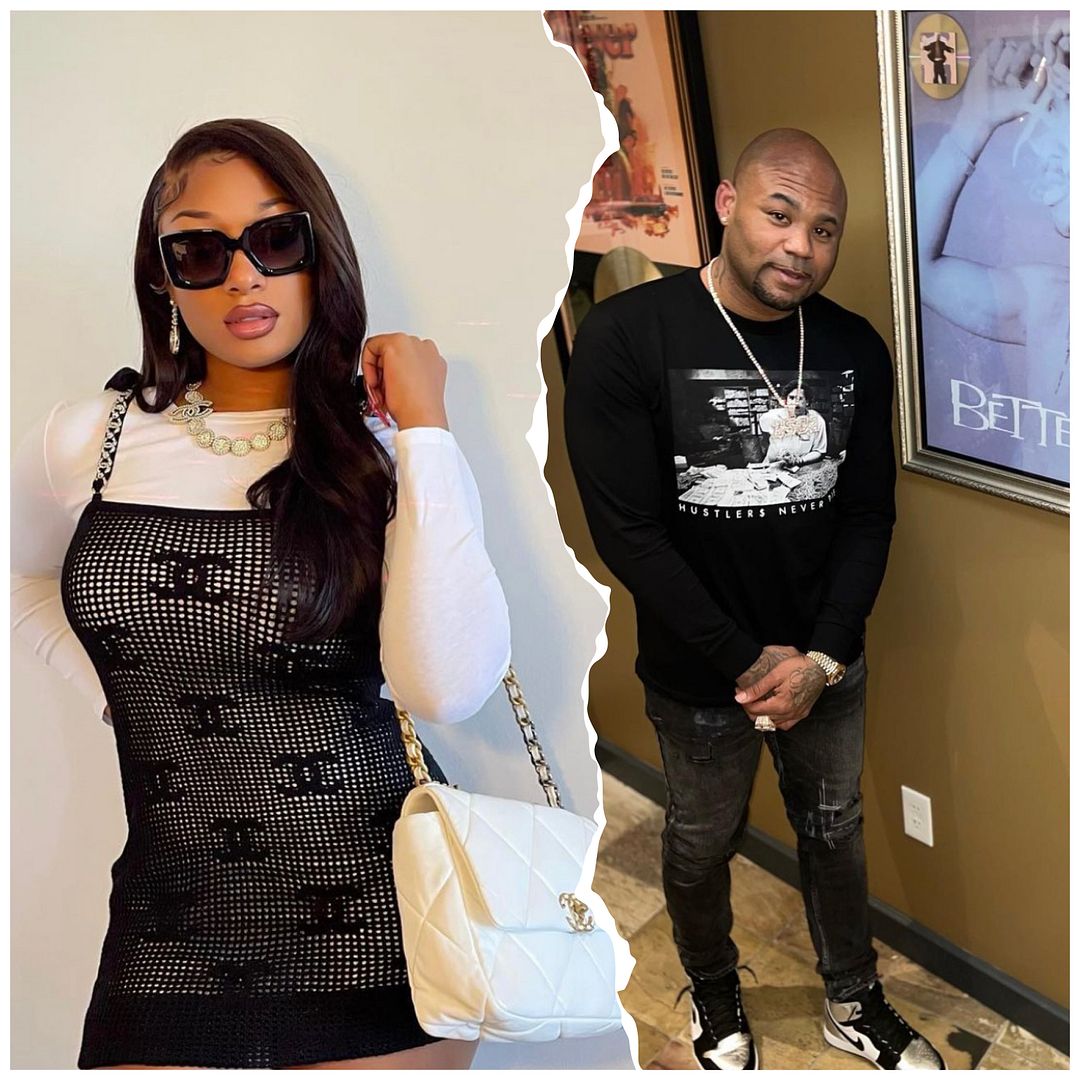 The court battle between Megan Thee Stallion and her record label continues. After 1501 Entertainment's Carl Crawford filed a lawsuit against Meg over her last album, the Houston Hottie hopped on Twitter to clear his a** out and she went in. Of course, Tory Lanez inserted himself.
More inside….
Megan Thee Stallion vs. Carl Crawfordcontinues!
1501 Certified Entertainment honcho Carl Crawford wants smoke with Megan Thee Stallion. And she's READY for him.
The Houston Hottie has reportedly been countersued by 1501 Certified Entertainment, claiming her last "album" wasn't an album at all. And since they hadn't deemed it as such, they claim Meg still owes them. The record company claims Meg's "Something For Thee Hotties" wasn't an actual album after she SUED them back in February to declare the project fulfilled her contract.
The record company claims "Something" was nothing more than a "compilation of old, previously-released material made up of 21 recordings, which includes spoken interlude recordings on which MTS does not appear as well as several previously-released recordings." They claim there's only 29 minutes worth of new music on the musical offering and that isn't enough for an "album."
TMZ reports:
In the suit, the label says Megan is well aware any album she makes must include at least 12 "new master recordings of studio performances," and they have to be previously unreleased. Most importantly, 1501 says it has to approve all the tracks ... and it claims that didn't happen when Megan put together "Something for Thee Hotties."

Now, 1501 Certified Entertainment wants the judge to declare, once and for all, that 'Something' doesn't count as an album under her contract. If that's the case, she would owe the label 2 more albums. The label also wants a full accounting of what Megan's made from "collaborations, sponsorships, endorsements, and side engagements" ... because she would owe the label a cut of that revenue. 1501 claims she's never revealed those numbers, and believes its share of those deals could exceed $1 million.
After news hit that Carl was countersuing Meg, the former MLB player hopped on social media to troll her.
"Stop playing the victim @theestallion u haven't paid for 1 show since 2019 hiding behind #Rocnation," Carl wrote on Instagram. "U can keep that bullsh*t a** mix tape and send over that straight drop whenever u ready."
Tired of staying quiet, the "SAVAGE" rapper went IN on Carl via in a series of tweets, questioning why is he holding her hostage at his label if he claims she doesn't make him any money. She also spilled tea about a contract he signed with Kevin Liles' 300 Entertainment and that Carl needs to hit Kevin up about his money.
"First the man over my label said I don't make him any money … now he counter suing trying to keep me on his label because he wants to make more money lol if I ain't making you no money why not just drop me?," she started off tweeting.
"Greedy a** men. My lawyers asked him for an expense report(money 1501 supposedly has spent on ME)… why this grown ass man put his jewelry and chains on there… lord free me from this joke a** label. I choose not to say nothing back abt court and address shit online but im getting tired of being painted the BAD GUY 2/47 the last girl on 1501 mad at this man too !"
In the midst of her Twitter posts, a fan tweeted, "At this point Megan Thee Stallion is going to have to show us the bullet wound or something.."
Meg savagely responded, "B*tches like this have ACTUAL C*M FOR BRAINS. D*ck eating a** b*tches. My hospital records are public record the DA has made a statement… yall choosing to be dumb at this point. You better hope a man never assaults you and nobody especially women believe you!"
She continued:
"Carl I don't wanna be signed to yo pill popping ass! You talking abt I ain't paid for a show and you sound slow. Im the artist I don't pay you directly maybe fight with THE MAN YOU SIGNED TO AND YOU MIGHT SEE SOME MONEY YOU FUCKING POWDER HEAD! You hiding behind JPRINCE. Carl you got a wholeeee contact with 300 and talking sh*t to me like I got yo f*cking money! You are ATTACKING ME ..why? Bc you want to be FAMOUS NOT RICH. Ask KEVIN LILES WHERE YO MONEY AT STUPID," she wrote.
"Also, how can I owe you any of MY money out side of music when your team can't even provide ACTUAL statements of what i owe… you also haven't PAID ME since 2019. Your team signed off on SOMETHING FOR THE HOTTIES to count as an ALBUM now it's not? Jokes. People love bringing up roc nation like hell yeah my team is great am I supposed to have a bad one?… and what abt it b*tch. Bye im not speaking to nobody else on here ..see y'all in court," she concluded.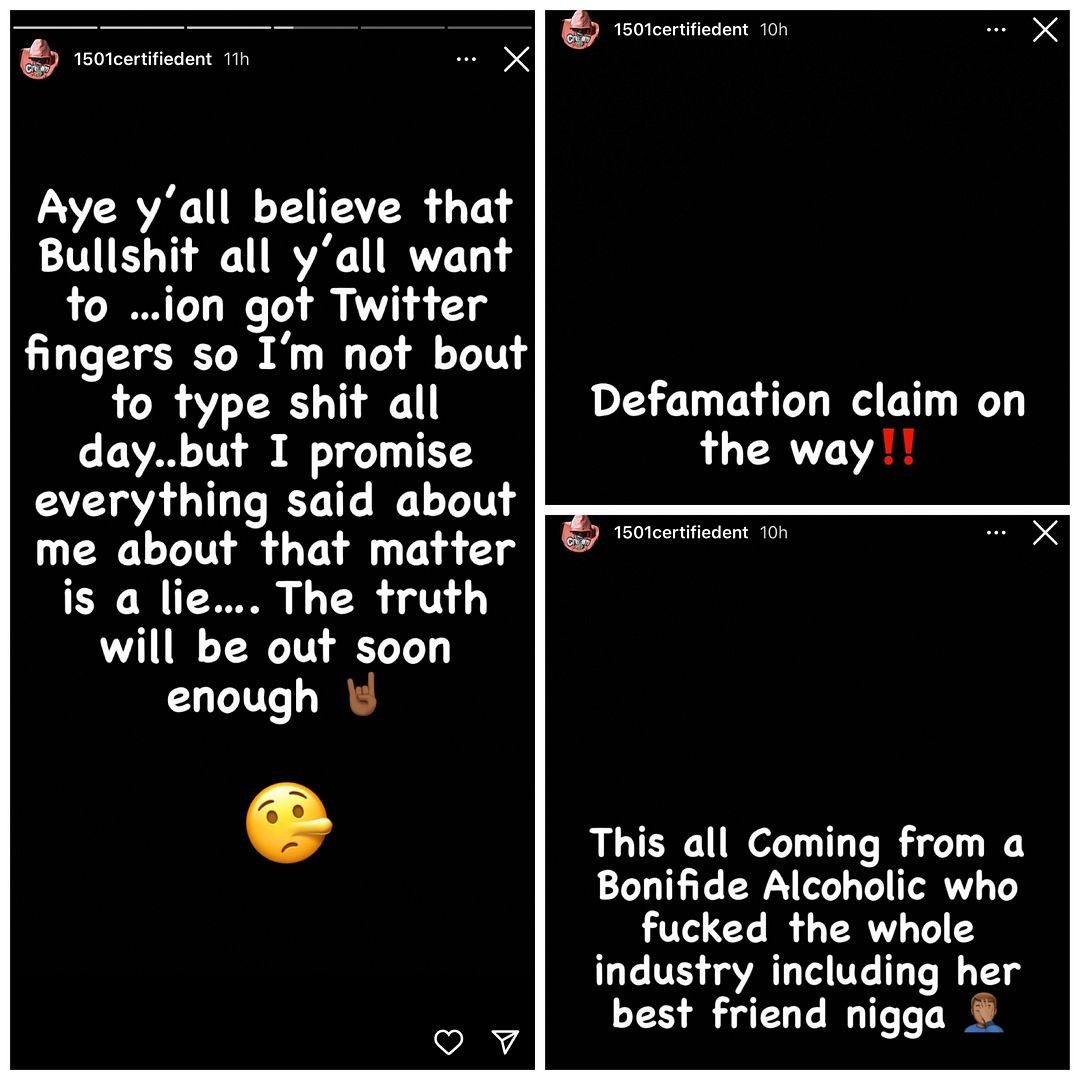 Carl popped back:
"Aye y'all believe that bullsh*t all y'all want to…ion got Twitter fingers so I'm not bout to type sh*t all day…but I promise everything said about me about that matter is a lie… The truth will be out soon enough," he wrote on IG Stories. "Defamation claim on the way! This all coming from a bonifide alcoholic who f*cked the whole industry including her best friend n*gga."
Defamation claim when you're posting defamatory claims yourself? Make it make sense.
Of course, Tory Lanez inserted himself:
"Protect black men," Tory tweeted. I don't care what y'all have to say … WE ARE BLACK MEN … AND WE MATTER… don't wait till we are all lynched, lied on and character assassinated to realize they have removed all of our legends and role models from the conversation," he tweeted.
BOY….
Last month, Meg & Carl engaged in a round of social media post exchanges about their pending lawsuits against one another. Former 1501 Certified Entertainment signee K'ona Lisa is seemingly having the same money issues with Carl as Meg is.
#FREEMEG!
EXTRAS:
1. A Southern California private school is offering up an apology to parents after a teacher shared a video last month of her leading preschool students in a chant denouncing President Joe Biden. STORY
Photos: Meg's IG/Carl's IG