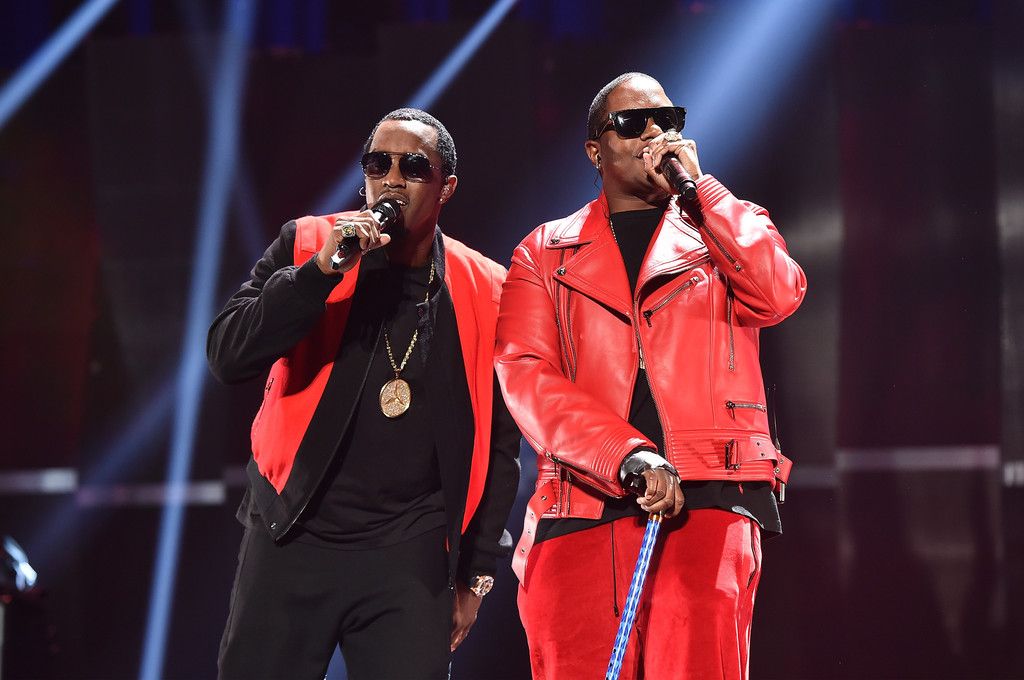 Mase said he can't sit back and watch Diddy continue to ruin people's lives, so he's speaking out. Find out what the rapper-turned-pastor (who still raps) said about why he isn't letting up on his former record label boss and more inside...
Over the last few years, Mase has been blasting Diddy after he attempted to buy back his publishing for $2 million.
A few days ago, the Harlem rapper slammed Diddy on a new track titled, "Oracle 2: The Liberation of Mason Betha." It's clear who he's calling out without actually dropping any names. On the track, Mase questions the Hip Hop mogul's NYC roots and accused him of exploiting his artists.
"Since Cain killed Abel, I'm able to kill Cain/Love don't steal, my n***a, change your name," Mase raps, referencing Diddy's name change.
"Yeah, I'm just a Harlem n***a reppin' down a Vegas strip with my own Suge/You from Mt. Vernon, n***a, go and rep your own hood," he raps. "I'm not hating on your Billi worth/Right now, I'm only saying what you really work/You ain't no architect/You just a n***a who know how to market death. Go pay his mother what she really worth, n***a."
Take a listen to the track below:
Following the release of the diss track, the rapper-turned-pastor further explained why he chose to call out Diddy on wax during a recent Instagram Live.
"When I see the hurt and the pain of other people on Bad Boy, that motivates me to say something," he said during the Live.

"So I don't be deemed as a person who just made a bunch of money and turned a blind eye. I'm not going to be like the rest of the people around Puff that don't tell him he's wrong. I'm not gonna be like the yes men around him that see him ruining people lives and never tell him he's wrong. More people on here will tell me I'm wrong, but won't say anything to him. They'll judge my beliefs, they'll judge my Christianity and they'll say nothing to Puff."
The former Bad Boy artist - who joined the label over two decades ago - said Diddy hosted a benefit concert for late rapper The Notorious B.I.G. and his own daughter - T'yanna Wallace - couldn't even get in.
"They'll say nothing about a concert for Biggie and Biggie own daughter couldn't get in. They don't say nothing about that. But all of his friends got 50 and 60 tickets. We're done with your games."
Take a listen below:
Wow. That's messed up.
Over the last few years, Mase has been bashing Diddy for his shady ways. In 2020, Mase revealed Diddy rejected his $2 million offer to buy back his music publishing, which the Hip Hop mogul allegedly purchased for $20,000 in 1996.
#Mase had time and a few things to get off his chest about his (former?) friend #Diddy. He says Diddy has been preaching black excellence while "enslaving" his own people, and had plenty more to say as well. https://t.co/1vkEm9PwHXpic.twitter.com/jFWFCFotWK

— YBF CHIC (@TheYBF) January 31, 2020
Mase speaking out against Diddy comes on the heels of several former Bad Boy artists calling him out.
Rapper Freddy P slammed Diddy in a series of social media posts, saying the Hip Hop mogul was the reason he hated life. So much so, he contemplated suicide a couple of times. As you may remember, Freddy P was 1/6 of Da Band, a rap group fans watched Diddy create on MTV's "Making the Band 2."
"A lot of people don't understand what I've been through. This year alone, I've contemplated suicide two or three times," Freddy said. "I done pictured my brother walking in, finding me dead. I cried a few times thinking about leaving my son, because you just gets tired of life. It's like, no matter what you try to do, you just gotta keep battling. Nas got they foot on your neck, nas wanna see you fall. It's these n*as like Puffy, he my main motherfuckin' reason why I really hate f*ckin' life, dog. People don't even understand."
Peep his videos below:
Also…
Da Band's Babs Bunny addressed Diddy's shady business practices during a recent interview MRECKTV following Freddy P's social media posts.
"Each of us had our own situation when we left Bad Boy," she said at the 3:30 mark in the video above. "A lot of the stuff I agree with him with. A lot of the stuff, it's not that I don't agree [but] I might say I can't really relate, you know what I mean? But we all went through the same process, we all had the same contracts, we all was in the same house, we all was on the same stage. And so—at the end of the day—we all had that same situation happen as far as when it comes down to business."
Another "Making The Bad" alum also called out Diddy on social media recently. Former Day 26 singer Willie Taylor shared a post (then deleted) about how none of the groups Diddy formed were created for longevity.
"Making The Band was [an] experience for sure," he wrote. "But the platform and contracts were all set up for the failure of hungry talents."
In the caption, he wrote,"Learning Experience, you gotta Understand that People will do whatever you allow them, so don't let your passion drive you to the wrong destination #MTB4 Day26/Danity Kane are talented groups but the situation in which we met was designed to fail."
Several Bad Boy artists are coming down on Diddy, however, the Hip Hop mogul has yet to address any of it. Maybe he's too busy frolicking on the beach with City Girls rapper YungMiami.
Thoughts?
Photo: Getty