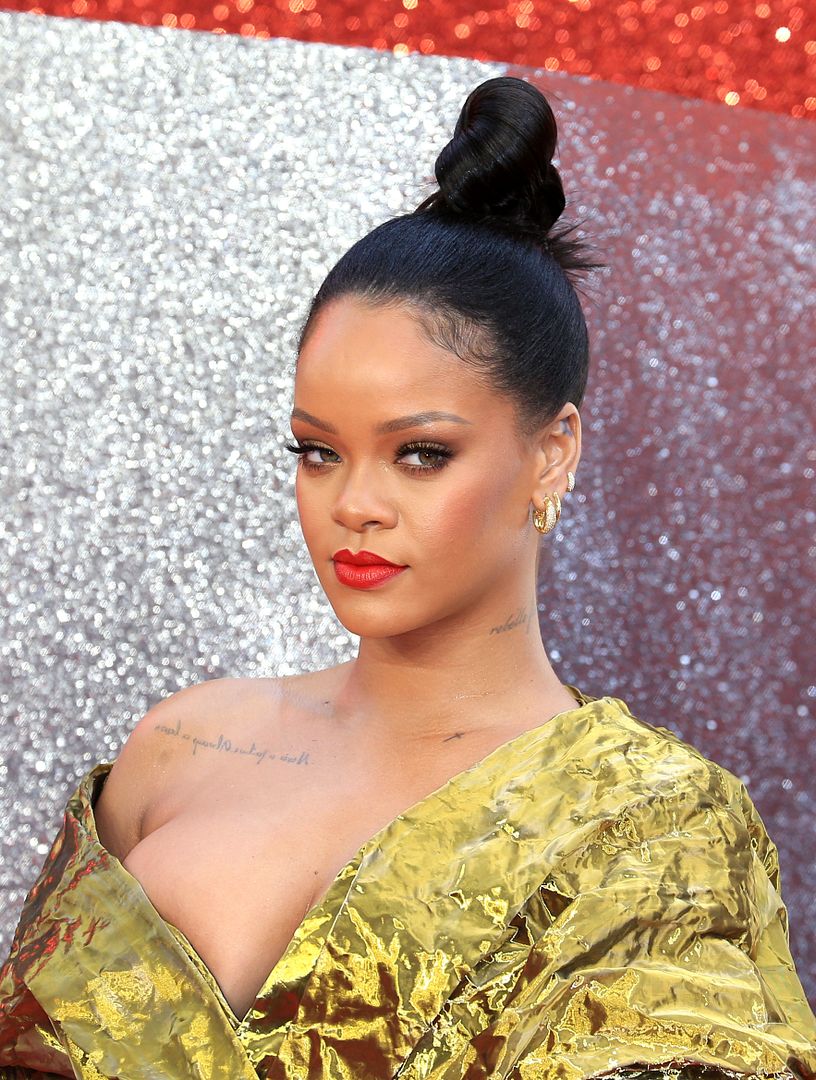 The Fenty Brand is growing! And if the reports are correct, you will be able to OWN a bit of Fenty. Rihanna is reportedly set to offer an initial public offering that could value her Savage x Fenty lingerie company at $3 billion. Oh yes, the billionaire babe is doing it BIG. Deets inside…
If you're a Rihanna fan and you love lingerie, it's likely you have a Savage x Fenty piece in your wardrobe, so in a sense, you own some Fenty. However, you don't really OWN Fenty, but that's all going to change soon.
According to business news platform Bloomberg, RiRi is working with a team of advisors to take Savage x Fenty to the next level as they collaboration on an initial public offering (IPO), which values the lingerie company at $3 billion. Sheesh!
An IPO is the process of a private corporation to a public in a new stock issuance. The IPO allows the company to raise capital from public investors, further growing the company. Shareholders are then considered owners of the issuing company.
As of right now, the Fenty honcho and her team have not made a final decision on the IPO and news about the IPO has not be confirmed. However, the company is reportedly working with Goldman Sachs and Morgan Stanley to make the listing available on the stock market later this year.
In January 2022, the company raised $125 million in a funding round led by Jay-Z's Marcy Venture Partners, Neuberger Berman with participation from prior investors, L Catterton, Avenir Growth Capital, and Sunley House Capital Management, as reported by Bloomberg.
Listen, this isn't financial advice, but RiRi has been telling us Fenty is the future, and clearly, the mom-to-be meant it. Gather your coins! It seems we'll all be able to invest in the Fenty Brand soon.
Over the weekend…
rihanna is truly a work of art pic.twitter.com/apiWlZ1u4B

— . (@RihVengeance) March 13, 2022
After shocking us all with pregnancy news, Rihanna told us she was NOT going to buy maternity clothes and she's single-handedly reinventing the pregnancy fashion game with oversized coats over her bare belly, thigh high boots, cut-out jumpsuits, sheer lingerie, and CROP TOPS!
After slaying at Paris Fashion Week, the Bajan beauty bumped along to celebrate the launch of Fenty Beauty at ULTA Beauty in Los Angeles on Saturday (March 12th). Yup, the brand will no longer be exclusively sold at Sephora.  Now our Ulta Beauty points can get run up too!
The hot mom - who is gearing up to welcome her first child with her rapper boyfriend A$AP Rocky - pulled up to the event in a silver long-sleeve crop top paired with a sparkly maxi-skirt custom made by Coperni and a Messika diamond body chain. 
"[Pregnancy's] a long nine to 10 months. You have to enjoy it," Rihanna previously told Entertainment Tonight. "Fashion is one of my favorite things, so, you know, we're defying what it even means to be pregnant and maternal. It can get uncomfortable at times and so you can dress the part and pretend."
That #DIAMONDBOMB glow is real!! It's the shoulda shimmy for us, @rihanna! pic.twitter.com/M1nTcWTmyb

— FENTY BEAUTY (@fentybeauty) March 13, 2022
Check out more flicks and videos of the Grammy winner and her bump celebrating Fenty Beauty below:
oh Rihanna is so gorgeous pic.twitter.com/4VrLOtbv5p

— Fenty Cop (@FentyCop) March 13, 2022
RIHANNA SERVING FACE pic.twitter.com/yfGEGbwIoH

—  (@rihnavvy) March 13, 2022
Rihanna ATE this look up pic.twitter.com/bYMPPKmFCx

— Fenty Cop (@FentyCop) March 13, 2022
rihanna tonight pic.twitter.com/mYnv2gCYKG

—  (@RihannaData) March 13, 2022
That night...
Nah Rihanna is the BADDEST pic.twitter.com/TqmnkWlnQv

— Fenty Cop (@FentyCop) March 13, 2022
The "Diamonds" singer stepped in one of her most skin-baring pregnancy looks yet, wearing an Alexander Wang diamond bra, leather jacket, and mini skirt, paired with Amina Muaddi boots and Coperni x Gentle Monster sunglasses.
"Right now I'm really into pushing the idea of sexy," Rihanna told Refinery29 last month. "When women get pregnant, society tends to make it feel like you hide, hide your sexy, and that you're not sexy right now [but] you'll get back there and I don't believe in that shit. So I'm trying stuff that I might not have even had the confidence to try before I was pregnant. The strappiest, the thinnest, and the more cut-outs the better for me."
Rihanna's day and night style is top tier pic.twitter.com/HOIZXPaKEz

— Fenty Cop (@FentyCop) March 13, 2022
These maternity looks live rent free in our minds. Want more? See more of her trendsetter maternity lewks HERE and in the gallery below. 
Photo: Cubankite/Shutterstock