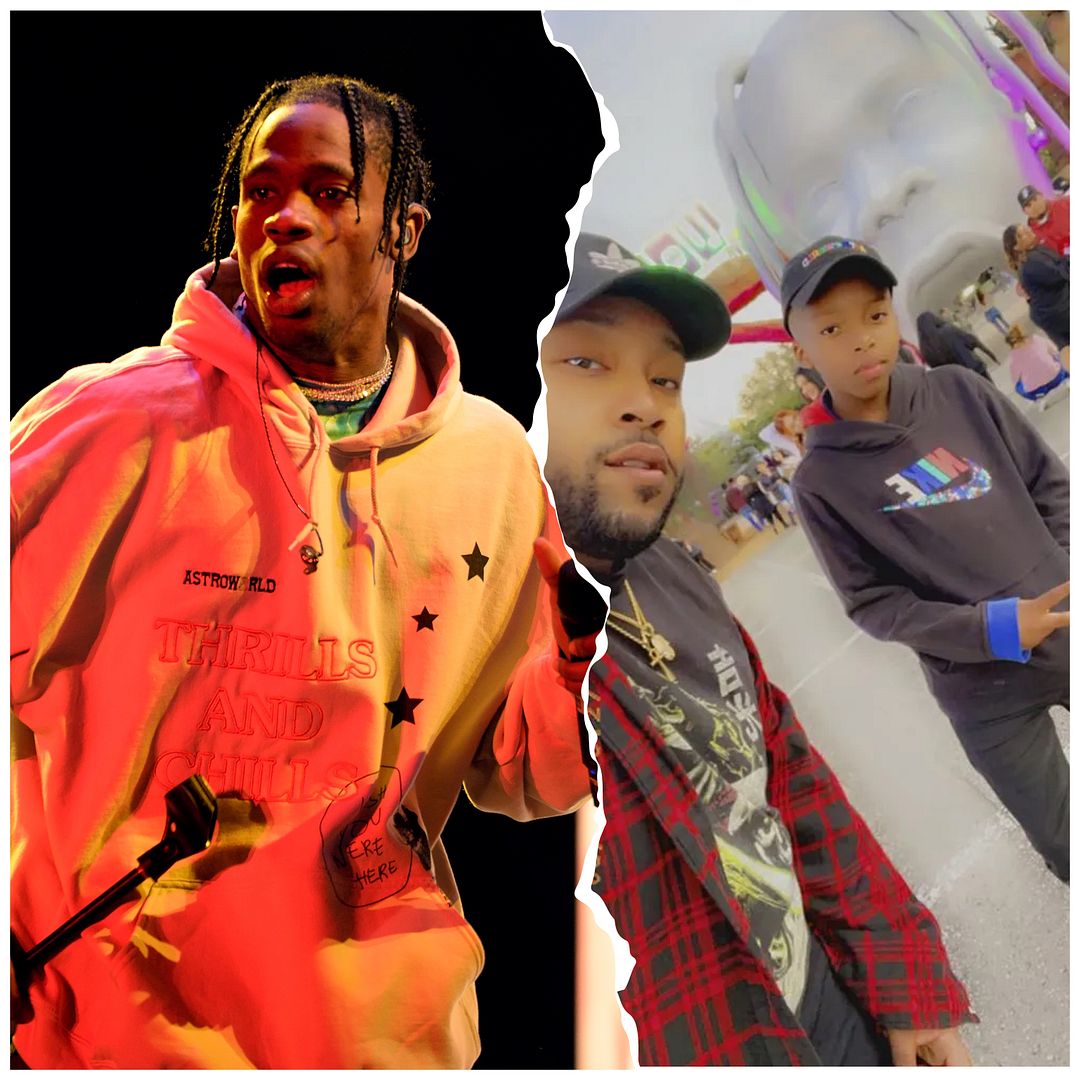 The grandparents of Astroworld victim Ezra Blount are blasting Travis Scott after he announced his new safety initiative, Project HEAL. They believe the project is a PR stunt and they also believe he violated the gag order placed on the massive number of lawsuits filed against him over the tragedy. Details inside…
On Tuesday, Travis Scott announced his new safety initiative, called Project HEAL. While the comments on his Instagram are praising him for it, the grandparents of one Astroworld victim calls BS.
9-year-old Ezra Blount died from his injuries nine days after after he was trampled at Travis Scott's annual Astroworld Festival on November 5th. The young boy was on his dad's shoulders when his dad passed out from the crowd surge and dropped little Ezra. He was laid to rest on November 23rd.
Tericia and BernonBlount, the grandparents of the 9-year-old victim - want everyone to know that the SICKO MODE rapper is using his celebrity to potentially taint the jury pool. Tericia told Rolling Stone she was left cold when she found out about Travis' $5 million philanthropic and safety initiative includes funding for the U.S. Conference of Mayors Task Force on Event Safety and a "tech-driven solution" to address safety challenges at large-scale events.
"It's a PR stunt. He's pretty much trying to sway the jurors before they're even assembled," the Texas grandmother told the publication. "He's trying to make himself look good, but it doesn't look that way to someone with our eyes. What we're seeing is that he's done wrong, and now he's trying to be the good guy and trying to give his own verdict on safety."
The grandparents are not parties on the case, but their son/Ezra's dad, TrestonBlount, did file a suit against the Houston rapper. Little Ezra became a Travis Scott fan due to his collaboration with the Fortnite video game, so his dad took him to the festival to see his favorite rapper. Tragically, Ezra was one of ten people who died from compression asphyxia following the crowd surge.
Treston Blount's lawyer - RobertHilliard - filed an emergency motion Wednesday (March 9th) writing Project HEAL may have violated the gag order in his case. He said it appeared "designed to gain goodwill and prejudice Blount and the other plaintiffs' ability to obtain a fair trial in this case."
"Blount and the other plaintiffs herein do not have the high profile ability to sway public opinion as defendant Scott — an international music star — and his sophisticated media team do," the emergency motion reads. Mr. Hilliard is asking a Texas judge to "immediately clarify" whether the gag order applies "equally to lawyers and parties."
The judge did not immediately rule on the emergency motion.
According to Rolling Stone, Judge KristenHawkins signed the gag order February 15th, which restricts lawyers from making public comments that involve topics such as the "character" of potential witnesses or information that likely would be "inadmissible as evidence in a trial."
A spokesperson for the rapper - StephanieRawlingsBlake - said Mr. Hillaird's motion is "shameful and beyond cynical" that he "would accuse Mr. Scott of violating a court order when he has done nothing of the kind."
She continued, "It is also disappointing that Mr. Hilliard would attack Project HEAL, a series of philanthropic gestures designed to give students and young people a leg up. Project HEAL is a continuation of Travis Scott's longstanding work, including academic scholarships and creative design programs for underprivileged students. Mr. Hilliard's outburst holds no merit and is just a publicity stunt when the court expressly prohibited the very same actions that Mr. Hillaird has engaged in," Blake added.
The new dad again - who welcomed a son in February - announced his new safety initiative Project HEAL on his Instagram.
"Over the past few months I've been taking the time and space to grieve, reflect and do my part to heal my community," he wrote. "Most importantly, I want to use my resources and platform moving forward towards actionable change.  This will be a lifelong journey for me and my family.

"While it's easy for corporations and institutions to stay in the shadows, I feel as a leader in my community, I need to step up in times of need.   My team and I created Project HEAL to take much needed action towards supporting real solutions that make all events the safest spaces they can possibly be. I will always honor the victims of the Astroworld tragedy who remain in my heart forever.

"Giving back and creating opportunities for the youth is something I've always done and will continue to do as long as I have the chance.  This program will be a catalyst to real change and I can't wait to introduce the rest of the technology and ideas we've been working on. See you all so soon."
The Houston rapper apologized and offered to pay for the funerals of the victims. Many of the victims' families rejected his offer. 
Photos: Christian Bertrand/Shutterstock/Instagram