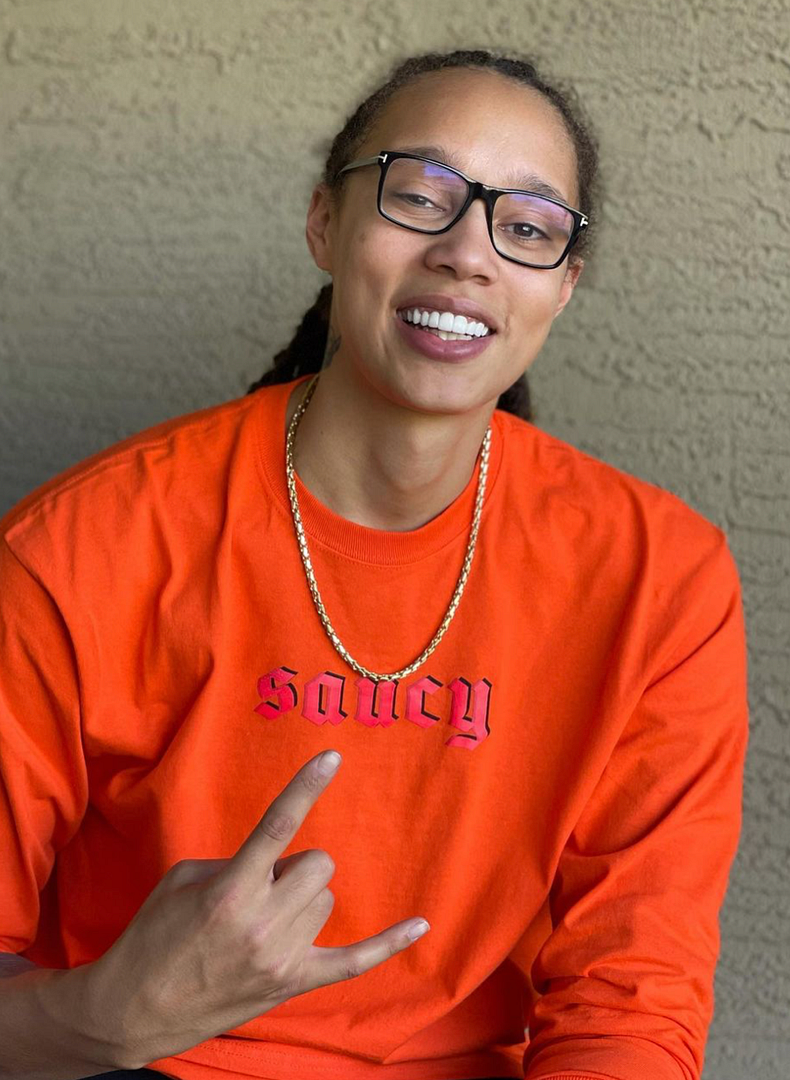 As fear and uncertainty grows, Russian State TV has released the first photo of WNBA star BrittneyGriner since her arrest three weeks ago in a Moscow airport. Brittney's wife - Cherelle Griner - shared another emotional post about how she and their family are missing her. More inside…
WNBA All-Star Brittney Griner was pictured for the first time after she was detained and then arrested in Russia after customs officials reportedly detected cannabis oil in her luggage at an airport near Moscow last month. The timing couldn't be worse as the world is in crisis mode as Russia invades Ukraine.
The booking photo of the two-time Olympic gold medalist was pictured on Russian State TV over the weekend as reports of her arrest started to surface. It's the first photo of the basketball player since news of her arrest last month.
The 31-year-old b'ball player was pictured standing against a wall, holding up piece of paper with words that appeared to be her name. Check it out below:
We previously showed you video of Brittney going through customs, which you can check out again below:
WNBA All-Star Brittney Griner was arrested in Russia last month at a Moscow airport after a search of her luggage revealed vape cartridges. Footage released Saturday shows the WNBA star going through security at a Moscow airport, and her luggage being searched. pic.twitter.com/Tuubab8Oko

— CBS News (@CBSNews) March 6, 2022
A criminal case has been opened and filed under "large-scale transportation of drugs." Such charges carry a sentence of 5-10 years in a Russian prison. It's still unclear when Brittney was officially arrested because the customs service will not relay that information. However, we do know she has been in custody for three weeks.
Right now, Brittney's whereabouts are not publicly known. CNN reported they reached out to the Russian Foreign Ministry for comment but has not heard back.
During the WNBA's offseason, Brittney plays in Russia to supplement her salary from the WNBA. Several WNBA players were scrambling to book flights to get out of Russia following Putin's invasion of Ukraine. Brittney has played for the Russian team Ekaterinburg in the Euroleague since 2015. Several WNBA stars were scheduled to play in Russia and Ukraine this winter. All of the WNBA players were able to escape, except Brittney due to her being detained.
When news broke over the weekend that Brittney had been detained, her wife, Cherelle Griner, took to Instagram to thank everyone who reached out and she asked that fans honor their privacy as she desperately works on getting Brittney back to the States safely. Yesterday, Cherelle shared a family photo with Brittney, sending her well wishes and letting her know that she and their family are missing her terribly.
"We love you babe! People say 'stay busy.' Yet, there's not a task in this world that could keep any of us from worrying about you," Cherelle wrote. "My heart, our hearts, are all skipping beats everyday that goes by. I miss your voice. I miss your presence. You're our person! There are no words to express this pain. I'm hurting, we're hurting. We await the day to love on you as a family."
We can't even imagine.
"We are aware of the situation with Brittney Griner in Russia and are in close contact with her, her legal representation in Russia, her family, her teams, and the WNBA and NBA," her agent, Lindsay Kagawa Colas, said Saturday. "As this is an ongoing legal matter, we are not able to comment further on the specifics of her case but can confirm that as we work to get her home, her mental and physical health remain our primary concern."
Fears that Russia will use Brittney as a "high-profile hostage" continue to grow. It's not a far fetched thought knowing Putin's usual motives of operation.
"If we want her out of jail, Russia is going to have some terms," said Evelyn Farkas, who served as the U.S. Deputy Assistant Secretary of Defense for Russia and Ukraine from 2012-15. "It could be a prisoner swap. They also could use it as an implicit threat or blackmail to get us to do something or not do something. Either way, they find it useful." 
Fans have been sending Cherelle love and support via social media. The comments on Brittney's account have been turned off.
We're keeping our fingers crossed she's able to be released and returned to her family and friends here in the States unharmed.
Photo: Brittney's IG