If "dumb thief" was a person. TikToker Chozen Terrell-Hannah danced his way into a federal prison after he was hit with some serious robbery charges. Thanks to his growing online account, the FBI was able to track him down by his sneakers! Details inside…
If you're going to participate in crimes, it might be smart to get rid of the clothing you do your dirty work in, especially if you have a huge online presence.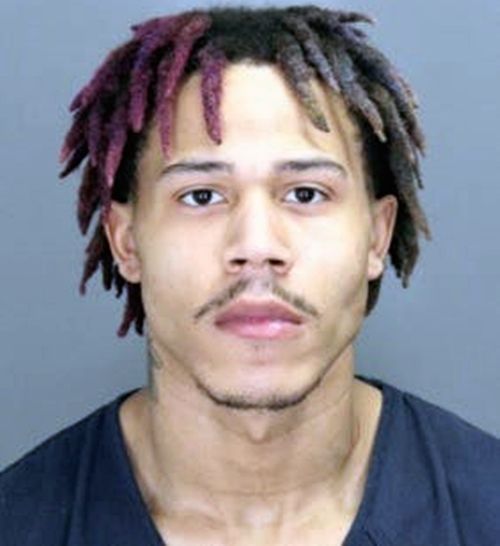 Detroit native Chozen Terrell-Hannah was recently arrested after sneakers he wore in several of his TikTok videos linked him to four separate crime scenes. According to Detroit News, the 22-year-old was arrested by FBI agents after an investigation into a string of robberies. The TikToker (@ChozenWrld) - who has more than 148,000 followers and 1.6 million likes - confessed to robbing four convenience stores over a three-month period.
Federal agents investigating a series of armed robberies across Metro Detroit have arrested a popular TikTok personality after he was spotted dancing in what investigators described as his stick-up shoes https://t.co/nvdgWuCKa0pic.twitter.com/0coFoJY76w

— Robert Snell (@robertsnellnews) February 25, 2022
Authorities were able to connect a pair of white Nikes with red spots (seen in the clip above) directly to the scene of one of the crimes. Law enforcement alleged he held up a 7-Eleven convince store in Commerce Township TWICE. He was also accused of robbing a Marathon gas station and a Novi tobacco shop. The robbery spree started in December 2021 and ran until Feb. 2022.
The publication reported:
"A search of [his] residence led to the seizure of items believed to be used in the armed robberies, including a black Glock handgun, a black backpack with a floral pattern, a skeleton full body suit and white Nike tennis shoes," the FBI task force officer wrote.

Terrell-Hannah later talked with investigators. "[He] admitted to committing all four of the above-described armed robberies and acknowledged using the black backpack with a floral pattern in all four of the armed robberies," the officer wrote.
Turns out, an anonymous tip was sent in directing police to his TikTok videos, which led to his arrest. The TikTok star has been charged with robbery affecting interstate commerce and possessing a firearm during a violent crime. If convicted, he faces more than 20 years in prison.
Play stupid games, win stupid prizes. 
EXTRAS:
1. A Mardi Gras reveler visiting New Orleans from South Carolina died after being caught up in crossfire between two cars in a hotel parking lot. STORY 
2. Five people were stabbed outside of a popular venue during a Mardi Gras celebration. STORY 
Photos: TikTok/Oakland County Sheriff's Office