A pre-trial hearing in Tory Lanez's felony assault case that involves the 2020 shooting of MeganTheeStallion was pushed back to April 5th. After court, blogger DJ Akademiks tweeted false rumors about what occurred in court, so Meg checked him for it, which then led to Tory joining the chat.
After some back-and-forth, Meg's boyfriend, PardisonFontaine, hopped online and called Tory out. Get the latest inside…
A social media showdown between Megan Thee Stallion, ToryLanez, DJAkademiks and PardisonFontaine had fans glued to their phones to watch everything unfold.
A pre-trial hearing in Tory Lanez's felony assault case involving the shooting of Megan Thee Stallion (real name Megan Pete) was postponed to April 5th. Before the hearing started, blogger DJ Akademiks tweeted (then deleted) no DNA evidence was found on the on the weapon used to shoot the "WAP" raptress in July 2020.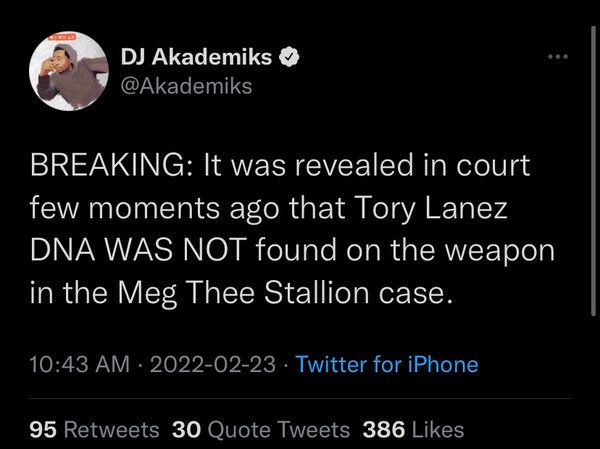 "BREAKING: It was revealed in court few moments ago that Tory Lanez DNA WAS NOT found on the weapon in the Meg Thee Stallion case," Akademiks tweeted.
Not long after he shared tweet, REAL journalists began to check him and then he deleted it.
FAKE NEWS ALERT: Any reports of Tory Lanez's DNA not being found on the weapon in the Megan Thee Stallion case are FALSE. Today's pre-trial hearing was just postponed to April 5 and that fake news tweet was sent out before the hearing even started. #megantheestallion#torylanez

— Eileen Reslen (@EileenReslen) February 23, 2022
"FAKE NEWS ALERT: Any reports of Tory Lanez's DNA not being found on the weapon in the Megan Thee Stallion case are FALSE. Today's pre-trial hearing was just postponed to April 5 and that fake news tweet was sent out before the hearing even started," said Eileen Reslen - senior reporter for Page Six & The NY Post.
Akademiks' tweet pissed Meg off, so she hopped online to set the record straight with facts.
"Court ain't even started so why yall ready to start lying?" Meg wrote on her IG Stories.
"I know some of yall blogs on payroll but please dont get sued trying to create a hate campaign. Be a real journalist and post FACTS," she wrote. "And to my haters…keep making yourself look stupid idc."
The 27-year-old Grammy Award winner continued:
"Yall got breaking news 15 minutes before court started and nobody has even been called in yet?? Yall tryna win a social media campaign this is MY REAL LIFE! Yall tryna get retweet's SPREADING FALSE NARRATIVES! @iamakademiks Why are you lying? What did you gain?" Meg asked.
"What's eve more f**** up is this sh*t is all public record and nobody even cares to read. Only thing that happened in court today was it got pushed to April 5th…but yall will get a lie trending..Imagine how I feel..reliving this sh*t everyday publicly. It hurts im so tired," she wrote.
According to Rolling Stone, Tory's attorney - Shawn Holly - said in court, "We are in the process of actually retaining an expert with respect to DNA. It is our hope that we will be able to review & confirm the LAPD's analysis, which from our standpoint was favorable."
As Meg and AK went back-and-forth, Tory Lanez (real name Daystar Peterson) then entered the chat with his version of events. He claims he was having sex with two best friends (Meg & her former friend Kelsey) and got caught and that's the reason for everything that's happening.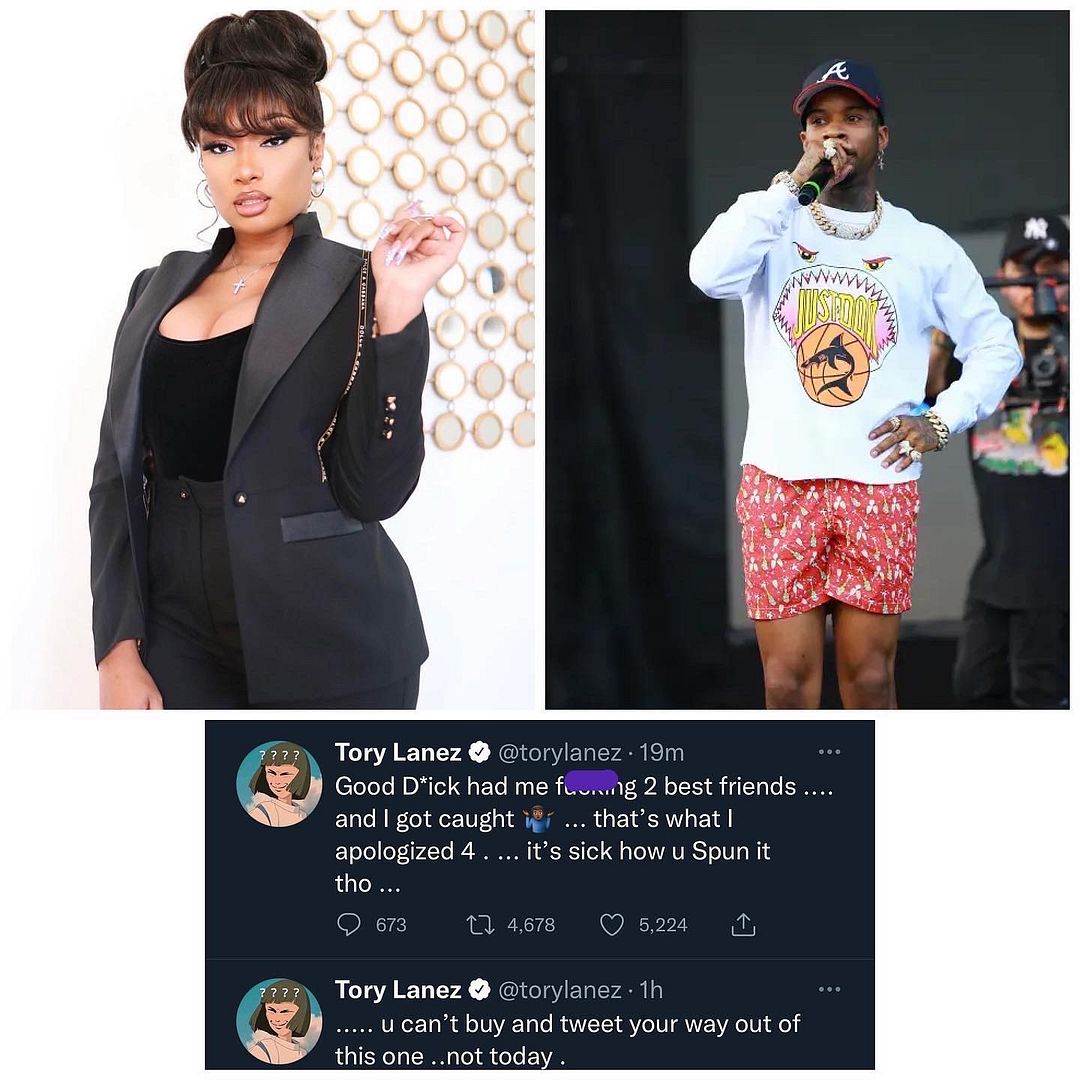 "Good D*ck had me f*cking 2 best friends," he tweeted."And I got caught. That's what I apologized 4 … it's sick how u spun it tho."
In another tweet he wrote, ".... u can't buy and tweet your way out of this one.. not today."
In response, Meg revealed a screenshot of text messages she received from Tory after the shooting that read,
"Meg, I know u prolly never gone to talk to me again. But I genuinely want u to know I'm sorry from the bottom of my heart. And I was just too drunk. None the less shit should have never happened and I can't change what I did. I just feel horrible."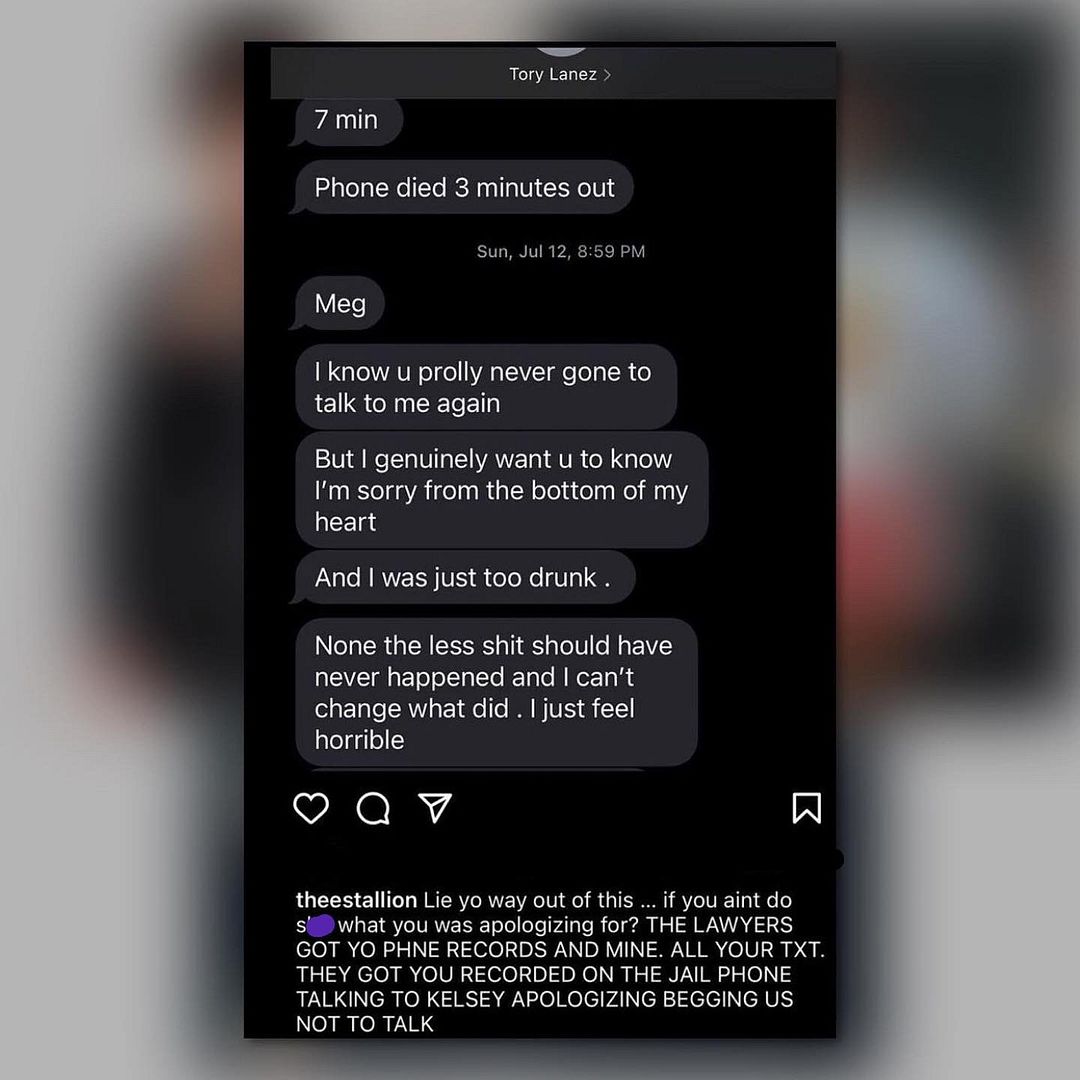 In the caption she wrote, "Lie yo way out of this … if you ain't do sh*t what you was apologizing for? THE LAWYERS GOT YO PHNE RECORDS AND MINE. ALL YOUR TXT. THEY GOT YOU RECORDED ON THE JAIL PHONE TALKING TO KELSEY APOLOGIZING BEGGING US NOT TO TALK."
You'll recall, she first shared details about these same text messages in September 2020. You can catch up HERE. 
The SAVAGE star also reacted to Tory's tweet about sleeping with best friends:
"F*cking two best friends…n*gga you SHOT ME YOU KNOW WHATS WHAT YOU WERE APOLOGIZING FOR. YOU KEEP PUTTING A NARRATIVE OUT THAT ME AND MY FRIEND FEEL OUT ABT YOU AND THATS NOT TRUE! WHY ARE YOU SKIPPING OVER THE SHOOTING JUST ADMIT YOU SHOT ME! BC SHE DEFINITELY AINT DO IT AND I AINT SHOOT MY DAMN SELF."
She continued,"YOU THINK ITS OKAY TO SHOOT ME THEN HARASS ME ONLINE AND MAKE IT LIKE THIS WAS SOME WEIRD CAT FIGHT WHAT THE ACTUAL F*CK IS WRONG WITH YOU."
Akademiks was also still tweeting at and about Meg:
"UPDATE: Tory Lanez trial just adjourned until April with Tory's lawyer telling the court they have completed DNA results from the prosecution which is very pleasing to his client (I saw this doc myself .. it literally says it was inconclusive in finding TORY DNA on the gun or magazine)," he tweeted.
"Now one of y'all finna tell me my eyes deceived me. I ain't Trasha K. Stop playin wit me. Meg gotta call the DA and ask em if its true. I dont know why she up here tagging me in post like I just be making sh*t up."
"Btw…Meg can get the same document that they referenced in court today.. Hopefully she's entitled to see what the DA will be using against Tory being that she's the victim. Its part of discovery. Ask the DA what the completed DNA test said… then come back & apologize to Big AK," Akademiks tweeted.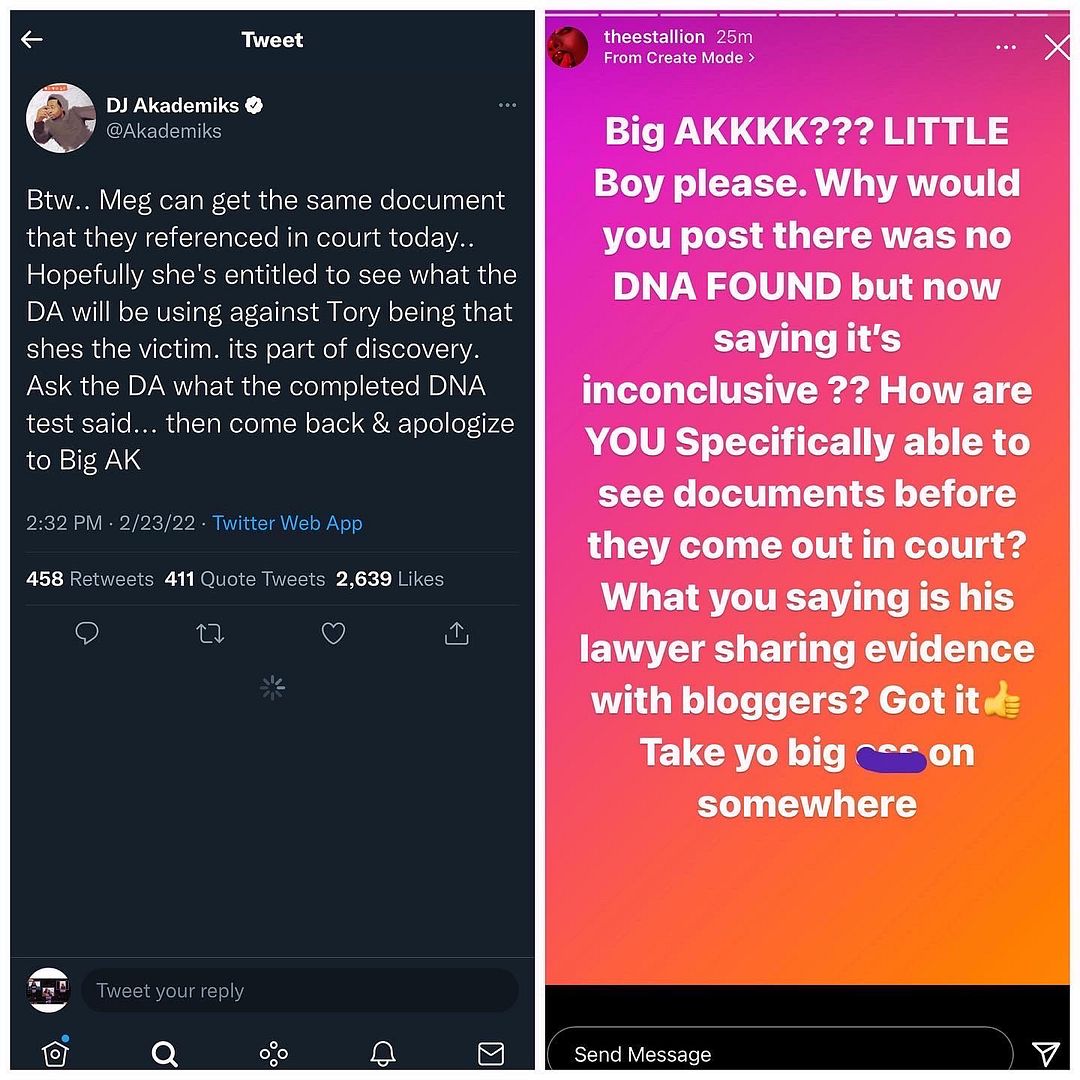 Meg responded: "Big AKKKK??? LITTLE Boy please. Why would you post there was no DNA FOUND but now saying it's inconclusive?? How are YOU Specifically able to see documents before they come out in court? What you saying is his lawyer sharing evidence with bloggers? Got it. Take yo big a** on somewhere."
Now, Meg's boyfriend - PardisonFontaine - has entered the chat and wants all the smoke with Tory.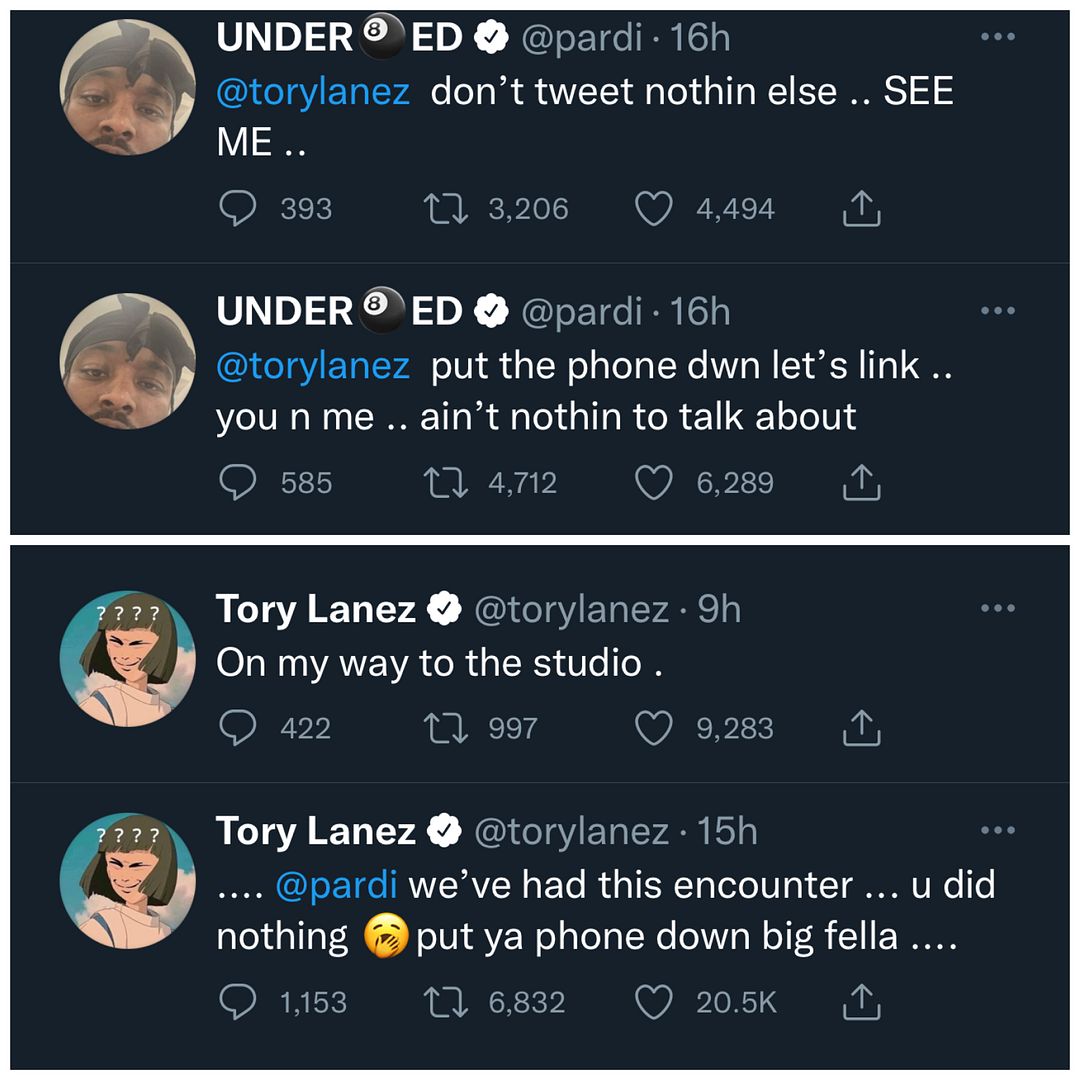 "@torylanez put the phone dwn let's link .. you n me .. ain't nothing to talk about," Pardi tweeted.
"…. @pardi we've had this encounter … u did nothing. put ya phone down big fella," Tory responded.
"don't tweet nothing else. SEE ME," Pardi said.
A mess!
In October 2020, Tory Lanez was charged with a felony count of assault in the shooting of Megan Thee Stallion. If he's convicted, he faces a possible maximum sentence of 22 years and 8 months in prison. He has pleaded not guilty.
On a brighter note...
YouTube Music has partnered with Meg for the latest edition of YouTube's Artist Spotlight Stories, which just went live on her official YouTube channel, Megan Thee Stallion: Artist Spotlight Stories. Check it out above.
Photos: IG/Shutterstock