Someone on the VERZUZ team thought it would be a good idea to make viewers PAY to watch Anthony Hamilton and Musiq Soulchild's battle, but they quickly learned that was a huge mistake, so they made it free again.
Deets on the "pay-per-view" VERZUZ fiasco, plus the best moments from last night's special V-Day battle inside…
So check it….
VERZUZ Battles have been FREE.99 since it launched in 2020 during the COVID-19 pandemic. Co-founders SwizzBeatz and Timbaland said they wanted to create something musically that would provide fans "some live, love and happiness" during the pandemic since we all were stuck in the house.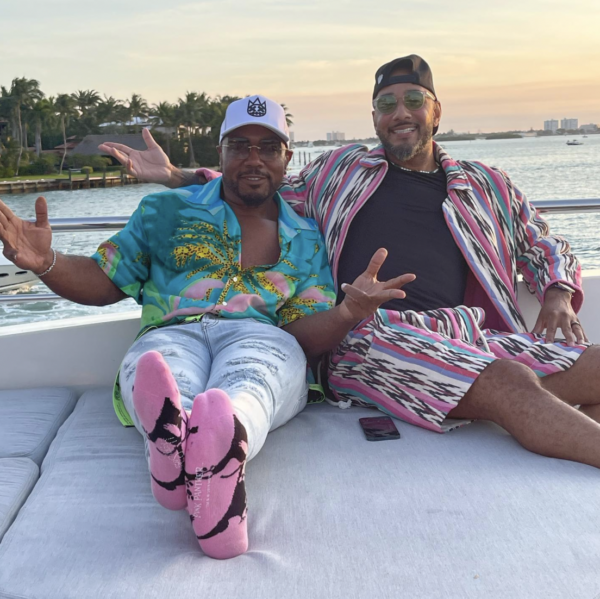 Well, before their 2022 Valentine's Day special VERZUZ Battle between Anthony Hamilton and Musiq Soulchild, the VERZUZ team decided they would randomly CHARGE fans to watch the live show which was held at the Avalon Hollywood in Los Angeles (which was sold out).
On February 14th, VERZUZ posted an updated flyer, which explained fans would have to sign up and pay to see V-Day special with the R&B crooners.
"To watch, sign up NOW for the #TrillerVerzPass (14-Day trial* included!! DON'T WAIT!!) LINK IN BIO!," the advertisement read.
It didn't take long before the backlash started to pour in!
- pay for Verzuz? during Black History Month? pic.twitter.com/mOODQOKajO

— Rob Milton (@therobmilton) February 15, 2022
"Pay for Verzuz? during Black History Month?," one fan questioned on Twitter.
Peep more reactions below:
Nobody:

Musiq Soulchild tonight: #VERZUZpic.twitter.com/e3lMDb1BH6

— Mark (@markdenny_jr) February 16, 2022
Them niggas higher than Rue if they think I'ma pay to watch #VERZUZpic.twitter.com/NoLUmW5SVv

— Certified Loki Variant (@VandaYacht) February 15, 2022
#VERZUZ passin around a collection plate now y'all. Be easy! pic.twitter.com/ZMF9zlXied

— JaBria are you smart? (@DejayJoanz) February 15, 2022
The evolution of Verzuz is quite literally a crash course on how capitalism slowly sucks the soul out of everything https://t.co/42SaoRs0Xe

— Jiikae (@Jiikae) February 15, 2022
Verzuz wants us to pay for a Valentine's Day edition that's dropping the day after Valentine's Day. RIP Verzuz. But I hope the 1,386 ppl who watch this tomorrow enjoy it https://t.co/OekxvdtfnN

— America Is Musty (@DragonflyJonez) February 15, 2022
We're fighting inflation and #Verzuz expects us to pay for a battle that's been free for 2 years? During Black History Month?? Please hang it up. pic.twitter.com/dShrDrNsZC

— Shantae (@ShantaeB) February 15, 2022
Well, the VERZUZ team got the message and Swizz announced it would be free again:
The superproducer shared in the caption he was unaware of who announced the change since he was out of the country. Mmhmm.
"See y'all rite here tomorrow on insta," he wrote. "I was out the country don't ask me who did it. It's fixed. Bless up. Love y'all."
With that drama out of the way, the show went on as originally planned - free for the fans and live from Hollywood.
The evening was a love fest of R&B classics from Anthony Hamilton & Musiq that we love, including "B.U.D.D.Y.," "Love," "Comin' From Where I'm From," "Girl Next Door," "Charlene," and more.  And despite an mostly offkey night from Musiq (chile...), we were here for the hits.
Famed producer Jermaine Dupri flexed his talents on the 1s & 2s, serving as Anthony Hamilton's DJ for his entire set.
Hitting the stage for the first performance, Anthony Hamilton opened up with "Mama Knew Love," to pay tribute to all the mothers in celebration of V-Day.
Once Anthony started singing, Twitter began to hilariously cut up:
If Anthony Hamilton's voice was a picture #VERZUZpic.twitter.com/EyVwmrO2cw

— Mal (@JemalJL) February 16, 2022
I just knew Anthony Hamilton was gonna pull out the biggest hat in his arsenal for this #VERZUZpic.twitter.com/M1wCTz8VKt

— philip lewis (@Phil_Lewis_) February 16, 2022
Anthony Hamilton voice got segregation in it, it just hit different #VERZUZ

— . (@MurraySoccerule) February 16, 2022
Anthony Hamilton's voice #VERZUZpic.twitter.com/lOkF5O64pr

— BUCK (@BoldlySpeaking) February 16, 2022
That Man Sings Straight From His Soul… #AnthonyHamilton Is Different.. #Verzuzpic.twitter.com/nIq2iOJZA6

— IG: @BigBrotherBiz (@BigBrotherBiz) February 16, 2022
There were several surprises during the VERZUZ concert.
Musiq brought out singer Lucky Daye out onstage for a bomb performance of "Over," which samples Musiq Soulchild's "Halfcrazy." Peep the clip above.
"Thank you for having me @musiqsoulchild @verzuztv" Daye captioned a clip from his performance.
Anthony Hamilton brought out several guests, including Nappy Roots frontman Big V, Leela James, Kevin Ross, Eric Roberson and RaheemDeVaughn. Musiq gave nostalgia feels when he brought out R&B crooner DonnellJones and the mother of his son, 702's Kameelah Williams.
Never did Musiq baby momma aka Kameelah from 702 press him about bringing her out on stage tonight. Lol what in the ghetto love #VERZUZ

— Kesha Brooks (@Xclusivekesh) February 16, 2022
At the end, Musiq, Anthony and friends hit the stage to perform "B.U.D.D.Y" with a west coast twist.
Watch the clip below:
Ending the #Verzuz with the timeless classics "Love" by Musiq Soulchild then "Charlene" by Anthony Hamilton, it gets no better. Then a bonus of "B.U.D.D.Y". Yeah, this was a good battle. Everyone won! #VerzuzTV#VerzuzBattlepic.twitter.com/ZxdW2ks5st

— WellTheTruthIs (@truth_well) February 16, 2022
Peep more VERZUZ reactions below:
does musiq sound a little off to yall? #verzuzpic.twitter.com/iEdjz2UcD7

— philip lewis (@Phil_Lewis_) February 16, 2022
Me when Musiq started to "padubadubadarubadu" #VERZUZpic.twitter.com/4C4EIPQVnk

— Priscy Not Priscilla (@itsprisshunny) February 16, 2022
This how I'm pulling up to the Anthony Hamilton & Musiq Soulchild verzuz pic.twitter.com/XRsNNl2wdd

— Almighty Cho (@DOGFOODDEGREE) February 10, 2022
Did Musiq not warm up before the show? #VERZUZpic.twitter.com/5o4AmEqnHN

— Mr. Greene (@iam_thechoir) February 16, 2022
ANTHONY HAMILTON WHEN HE RECORDED CHARLENE.... #VERZUZpic.twitter.com/UkDmy5O0Zq

— Daddy Robux (@Imakemyownshit) February 16, 2022
Anthony Hamilton won point blank PERIOD. He understood the ASSIGNMENT!!! Musiq got hits but the audience was singing for him smh imagine having to pay for this VERZUZ skskskskskskksk#VERZUZpic.twitter.com/z1rFgK5MNm

— Shyenne (@Shy30kiss) February 16, 2022
Want more? Get your laugh on at our meme gallery below!
Photos: Getty