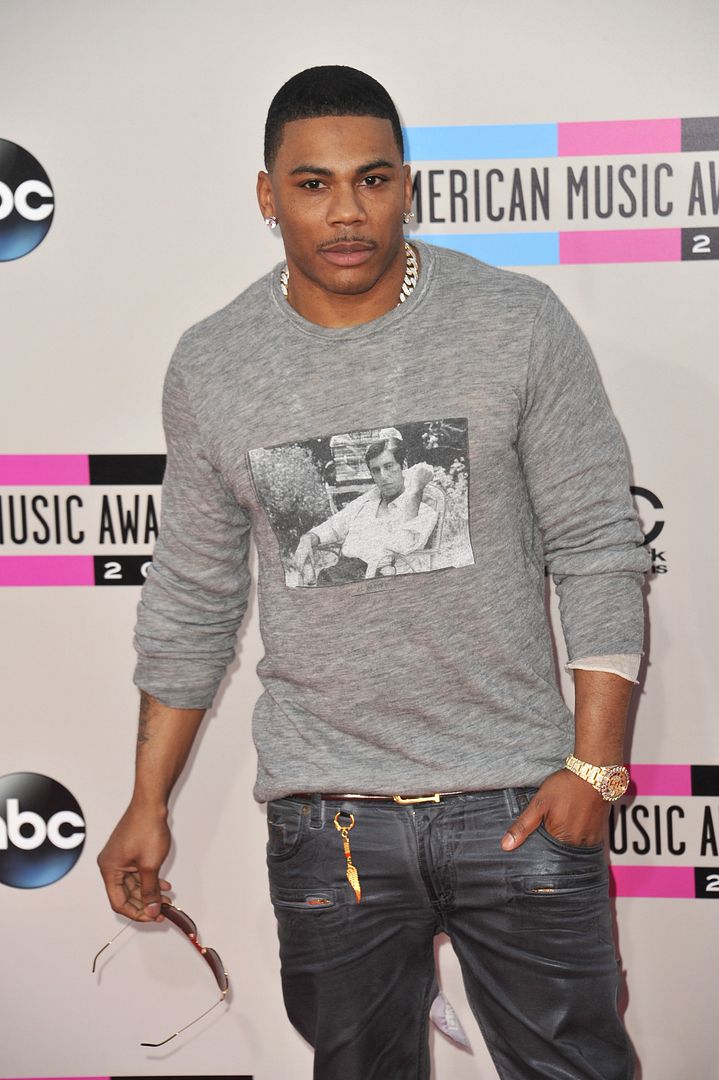 After Nelly's x-rated fellatio clip made its way to his social media, it went viral, sparking a conversation about package size. How big is big enough and what's considered "small?" Let's discuss inside…
Earlier this week, Nelly had the Internet in a frenzy after he allegedly posted a video by accident of himself receiving oral sex on IG Stories. The clip wasn't up long, but it was up long enough for people to screen record and share it elsewhere in these online streets. We can't post the x-rated clip here, but you can take a peek at it HERE (for research purposes, of course).
WARNING! It's not safe to view at work or around children. 
After the clip when viral, the "Hot In Herre" rapper issued an apology, stating the explicit video was "never meant to go public."
"I sincerely apologize to the young lady and her family. This is unwanted publicity for her/them," the 47-year-old said in a statement. "This was an old video that was private and never meant to go public."
Nelly's team shared they are concerned he may have been hacked and are investigating a breach that they fear could result in his financial information, personal documents and passwords ending up online somewhere.
It's interesting though.  The timing of this "leak" coincided with this week's premiere of the new season of "Real Husbands of Hollywood", which he stars in.
While his team works on that, the Internet has been busy sounding off about Nelly's penis size dilemma, sparking a debate about package size and what's actually considered "small."  Hey, we don't body shame either gender around these parts.  We just report what's being said.
When the clip hit social media, there were tons of reactions that shamed Nelly for having a...less than expected - we guess - package.  And folks had questions after all that moaning and carrying on he was doing.
Now Nelly… Y'all surprised Nelly thang little, cause I'm not. It's always the big buff niggas who got small medium we wees . #Nellypic.twitter.com/rETUe1iD5O

— bri (@b_r_i_speaks) February 8, 2022
So I watched the Nelly video.. his dick is small lol

— keisha (@itstheskin_) February 10, 2022
My sis said his dick small but he got money … lemme think about it.. #Nellypic.twitter.com/1V8j1rOYku

— (@armanivalore) February 8, 2022
So nelly dick small ….. WACK

— oh. (@SSshadali) February 8, 2022
Yall really finna let these ppl ppl convince yall Nelly aint a Lil Man. The shit small. The END!

Line that shit up with multiple sizes I guarantee you that shit fall on the small spectrum.

— Ken (@iamkenyaa) February 11, 2022
On the flip side, there are critics who feel Nelly's package is NOT small, and say it's average. Folks (men and women) were questioning why the women who called Nelly "small" feel that way since his penis size appears average size to them.
"To my eyesight, it was average size. It would do the job for me. That d*** would do the job for a lot of people," said "RuPaul's Drag Race" star Jasmine Masters. "Y'all talking about 'Oh, it's so small.' Well b****, what type of d***s are y'all taking? And do you have any walls?"
Jasmine also addressed Lil Fizz's "mushroom" penis. Missed that? Catch up HERE.
Nelly's penis is just fine .. I'm upset about this ... more to come

No pun intended

— Peter Rosenberg (@Rosenbergradio) February 9, 2022
HOT 97's radio host Peter Rosenberg tweeted in Nelly's defense, "Nelly's penis is just fine. I'm upset about this….more to come. No pun intended."
Below are more reactions:
Everybody calling nelly small i aint gone make it in this cold world

— Tony Stark (@MrStark_42) February 10, 2022
If you said #nelly is small, YOU don't have NO walls.

— (@_PrettyGalore) February 11, 2022
Some women be telling on themselves on social media They're talking about Nelly having a small d**k , how big is your p***y is what we should be asking pic.twitter.com/NcsmzVRdaI

— .. (@MalcomVex) February 10, 2022
Y'all really think Nelly dick small?

Seems normal size to me.

— bigboy Goku (@mrbevicious) February 8, 2022
y'all really are some size queens! lmao nelly's d*ck is not small, it's average! it even has girth to it. see y'all be wanting them 10-14 inch monsters that may cause problems with your bowels in 20 years

— TJ (@itsterrelljay) February 8, 2022
It's the " straight" men studying and calculating how long nelly dick is to prove that women ain't shit cause we sayin it's small

— (@GoddessBrya) February 11, 2022
And we'll just leave this here: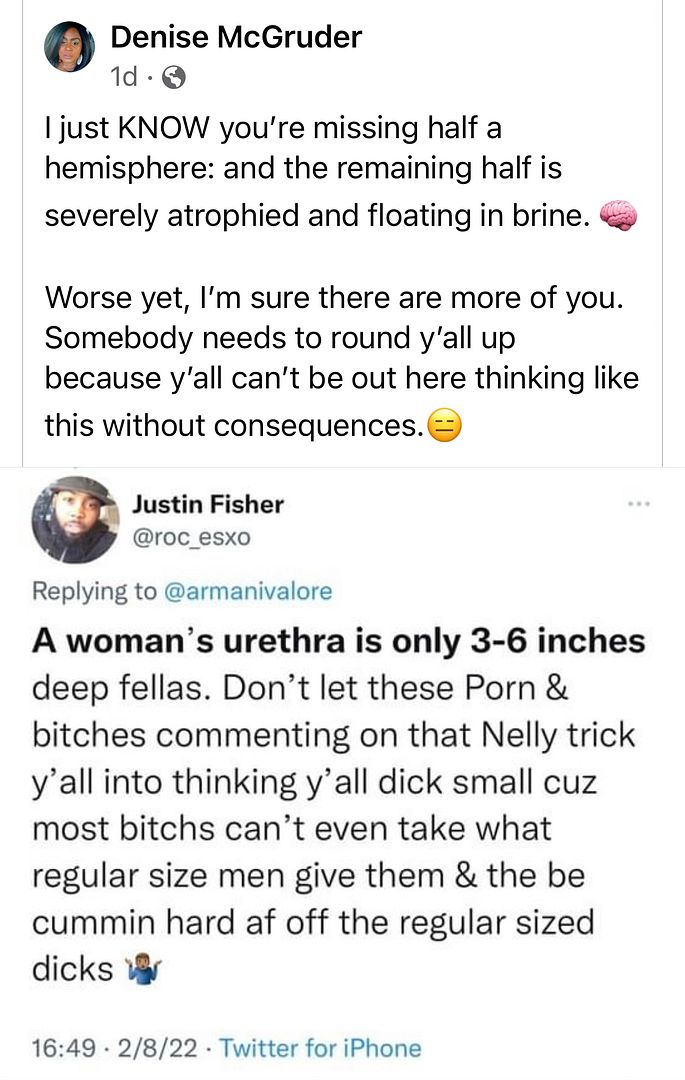 As you can see, package size is currently a trending topic on social media following Nelly and Lil Fizz's x-rated videos being exposed.
So tell us, is there a size that "measures up," or nah?
Photo: Featureflash Photo Agency/Shutterstock