Kanye West is threatening to cancel his Coachella performance if Billie Eilish doesn't apologize for shading Travis Scott during a recent performance. Before his latest social media outburst, he hosted an album release party and Kim look-alike Chaney Jones came out to celebrate. And so did Kim's sister Kendall Jenner.
All the deets inside…
Kanye West continues his social media showdown - now coming after artist Billie Eilish.
Ye is threatening to cancel his headlining Coachella performance if the singer doesn't apologize to Travis Scott and the Astroworld Festival victims after she shaded Travis during a recent performance.
During a recent performance, the 20-year-old singer stopped her show to help a fan who appeared that they couldn't breath.
"I wait for people to be OK until I keep going," she said to the crowd.
Now, Ye is calling out Billie, who is also slated to headline during Coachella 2022.
In an Instagram post, he said "no one intended" for the deadly Astroworld tragedy to happen and that "Trav didn't have any idea of what was happening when he was on stage."
He said Travis "was very hurt" by the incident and then he confirmed that the SICKO MODE rapper will be joining him on stage at Coachella.
"But now I need Billie to apologize before I perform," Ye concluded.
Check it:
Sighs. Funny how Kanye didn't threaten Coachella to NOT perform unless they let Travis perform despite organizers dropping him as a headliner in response to the Astroworld tragedy.  But he has so much smoke for the only female headliner who is less than half his age.
In 2019, BTW, Ye brought his Sunday Service to Coachella for Easter Sunday where he sold "church clothes" with an unholy price tag. 
Earlier this week…
Pelo visto o clima é de #mópaz entre Kendall e Kanye West. Em reportagem a Page six noticiou que a gata não só participou da listening party para o novo álbum do raper (DONDA 2) como marcou presença no after no clube Nice Guy em LA ao lado do Travis Scott que também compareceu. pic.twitter.com/zQ7zjHX4Bx

— Kendall Jenner Access (@accesskendall) February 8, 2022
Ye hosted an album listening party at Nobu in Malibu to celebrate the upcoming release of his DONDA 2 album where Travis Scott was in attendance. Oddly enough, Kendall Jenner - the younger sister of Ye's estranged wife Kim Kardashian - was also in the mix. Damn. No loyalty, eh?
There was a Kim K look-alike who snagged an invite…and it was her second time seen with Kanye recently.
Kanye West ontem com Chaney Jones

É incrível a semelhança e o estilo de se vestir igual a Kim pic.twitter.com/MbKTpdIQ3K

— kdashbrasil (@kdashbrasil) February 8, 2022
Model Chaney Jones popped up on the scene, dressed up in a signature Kim K outfit and even had her face beat like the reality star.
Chaney Jones >>>> Julia Fox pic.twitter.com/H4hQ4EHJ1p

— sarah (@viewbysarah) February 9, 2022
Ye likely dressed her too since we all know he loves dressing up his women with the same aesthetic.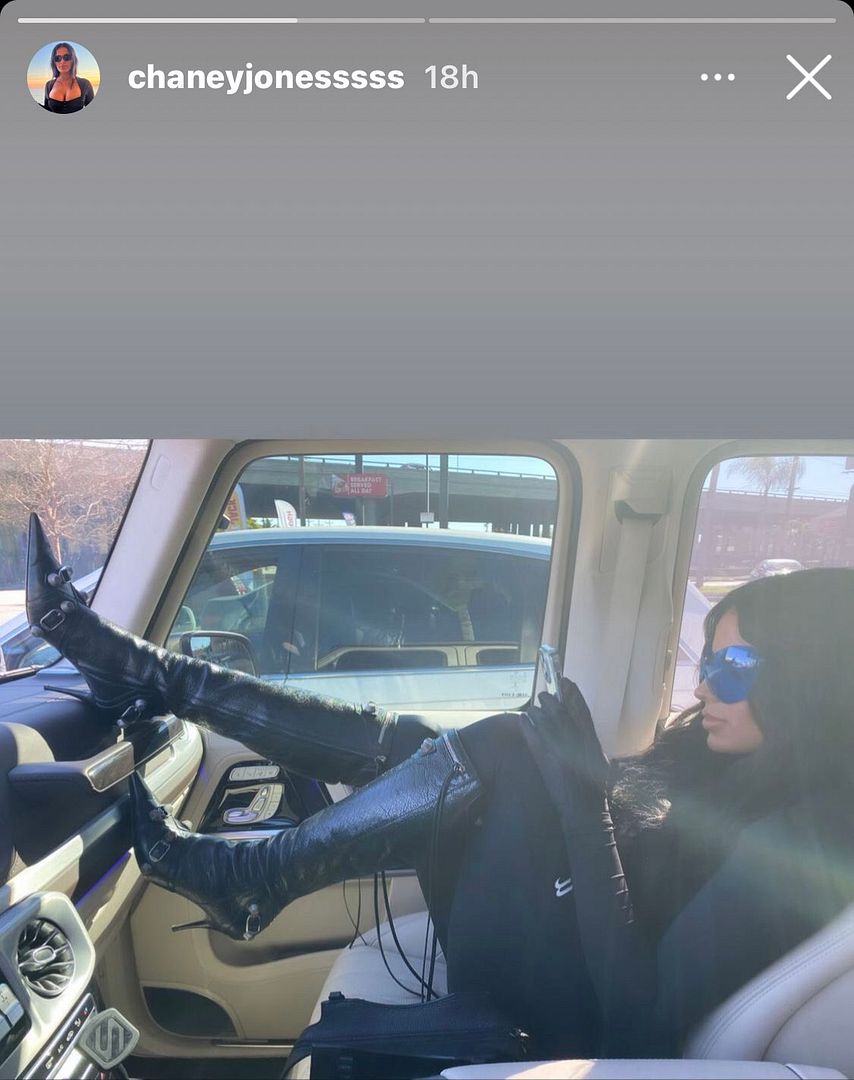 We can only assume his "girlfriend" Julia Fox is cool with Ye doing what he does. She said recently they have an open-stye relationship, and no, she wasn't there at the party.
Rappers Offset and FrenchMontana also joined the crew before they made their way to the Sunny Vodka at celebrity hotspot The Nice Guy in Hollywood.
#KanyeWest wants to know…. https://t.co/uMhfEXAk25pic.twitter.com/1k07QRyckA

— YBF CHIC (@TheYBF) February 4, 2022
Over the last several weeks, a hurt Ye has been wilding out on social media, blasting his estranged wife for allowing their daughter, North West, be on TikTok against his will. His comments ignited a back-and-forth between him and Kim, where he alleged she accused him of putting a hit out on her.
Oop. #KimKardashian responds to estranged husband #KanyeWest over his recent post insinuating she's allowing their daughter North to be on TikTok (on an account she runs and posts with her) "against his will".

Kim says she is the main provider and main… https://t.co/R96BGMWfrFpic.twitter.com/gO86gjOKqF

— YBF CHIC (@TheYBF) February 4, 2022
Chile, #KanyeWest is taking issue with that "main provider" line in #KimKardashian's latest statement as he pops back at his estranged wife. He also claims he had to take a drug test after Chicago's party because she allegedly accused him of stealing and… https://t.co/AY0lA061VDpic.twitter.com/k7kVInjUGb

— YBF CHIC (@TheYBF) February 4, 2022
#KanyeWest returns to his IG to continue airing out his issues with estranged wife #KimKardashian over their conflicting parenting decisions. He claims she accused him of putting out a hit on her. He says they play with black men's lives. He also says he… https://t.co/zOPZNYZUVhpic.twitter.com/RhTAvVCrnS

— YBF CHIC (@TheYBF) February 6, 2022
….#KanyeWesthttps://t.co/vf92P4OrE0pic.twitter.com/OyMkyDaNof

— YBF CHIC (@TheYBF) February 9, 2022
Y'all know he's DEF mad she won't take him back, and this is the quintessential way men who can't have things their way lash out.
We guess Kim is unbothered now that she's finally landed the coveted solo VOGUE cover she has always wanted. All it took was divorcing the man who got her the first one and moving on with Pete Davidson.  We wish they'd both leave us out of their group chat.
Photo: Splash