After that drama between DaBaby and his baby mama DaniLeigh late last year, her brother - BrandonBills - said it was "on sight" whenever he saw the rapper in L.A. Well, they ran into one another and a whole fight broke out between them, as well as folks in DaBaby's camp.
Watch the fight and get details about the police investigating DaBaby for assault with a deadly weapon inside…
All hell broke loose inside of a Los Angeles bowling alley late last night, causing a frenzy on social media as fight videos started going viral.
DaBaby and his crew got into a physical altercation with Brandon Bills, the brother of DaBaby's baby mama, DaniLeigh. You'll recall, after that drama between DaBaby and Dani last November (when he called the cops on her, put her out, and she was charged with assault), Brandon publicly stated whenever he saw DaBaby in L.A. that it was "on-sight" (meaning, they would fight).
In case you forgot, swipe to see the video below:
Well, they ran into one another last night and it went down. It's unclear who said what to who first, or who intentionally pulled up on who, but Brandon did post on IG Stories he was at a bowling alley before DaBaby and his camp arrived.
In the videos circulating social media, the "BOP" rapper is seen seemingly throwing the first punch before folks in his crew jumped in. Everyone was having a hard time standing up during the fight as they were slipping all across the bowling lanes.
Below is the full video of the fight, the aftermath and different angles:
Better footage of Dababy & Danileigh brother fight! pic.twitter.com/uWLeeiEFRr

— Xtraa Mediaa (@xtraamediaa) February 10, 2022
More footage of Da Baby distributing DA BEATS to Danileigh brother pic.twitter.com/MZAsFma2kU

— DJ Akademiks (@Akademiks) February 10, 2022
After the fight, DaniLeigh and her brother posted on social media.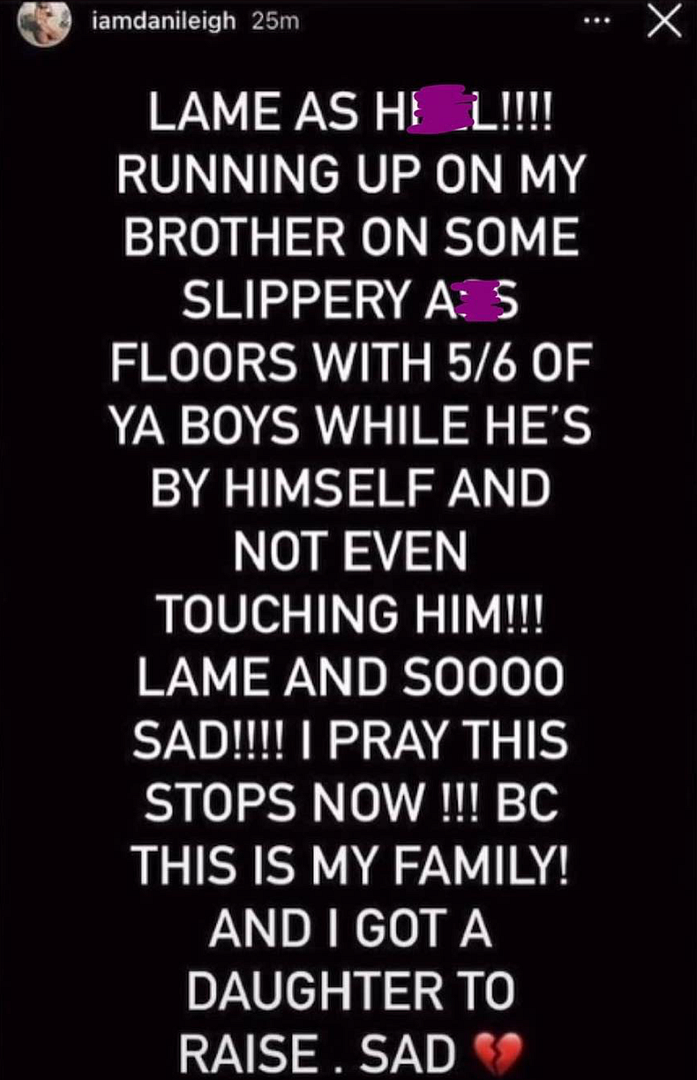 The "Yellow Bone" artist posted (then deleted) a message on her IG Stories, which read, "Lame as hell! Running up on my brother on some slippery a** floors with 5/6 of ya boys while he's by himself and not even touching him!!! Lame soooo sad!!!! I pray this stops now!!! BC this is my family and I got a daughter to raise. Sad [heartbroken emoji]."
By the way, Dani gave birth to her and DaBaby's daughter last August after confirming she was having his baby a month earlier. 
Brandon posted a video after the fight where he said he wanted to talk to DaBaby "like a man", but they jumped him after he slipped. Swipe to the last few slides below:
Now, DaBaby could be in hot water. Law enforcement sources tell TMZ they're now investigating the "Rockstar" rapper for assault with a deadly weapon. They claim it's an AWD case because Brandon was kicked in the head while he was already on the ground.
After the fight, Brandon stuck around and refused medical attention - even though his face was bloody - when police arrived. DaBaby and his crew dipped before the cops got there.
Chile, this is GHETTO. And not completely surprising....
Photos: Instagram