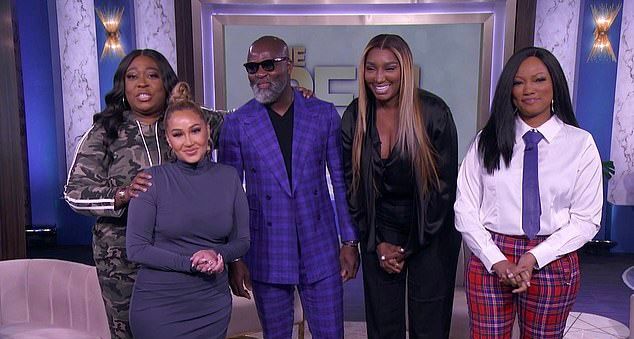 Reality star NeNe Leakes brought her beau Nyonisela Sioh with her during an appearance on "The Real." And sis was happy about it. More inside..
NeNe Leakes is living her best life, seemingly smitten with her boyfriend Nyonisela Sioh. So much so, she's bringing him alone for TV appearances.
Looking happy as ever, NeNe Leakes was all smiles alongside her African couture suit designer, Nyonisela Sioh, during a recent appearance on "The Real." The 54-year-old Bravo star brought him out to help close out the show. And NeNe was overjoyed as she laughed it up standing alongside her man and "The Real" co-hosts.
"I wish you guys had smell-o-vision because Nyoni smells so good!," Adrienne Houghton raved.
'"And please, follow him on IG, he makes the best suits!" Loni Love said.
Check it:
Back in December, NeNe seemingly confirmed her new relationship with her African businessman after he was pictured on his arm during her birthday bash. The self-proclaimed "RHOA" HBIC caught a lot of backlash for it, but sis is trying to find her happiness after losing her husband.
Sadly, NeNe's husband, Gregg Leakes, died at 66 after a battle with cancer back in September. NeNe and Gregg were married for 24 years. They tied the knot 1997, got divorced in 2011, only to remarry two years later in 2013. He had six children, including 22-year-old Brentt, whom he shares with NeNe.
During her conversation on "The Real," NeNe talked about why she sometimes censors her posts, talks about protecting her peace, and questioned why we have to be silent about things that happened to us. Peep the clip below:
There was also "girl talk" about exes, sex and more:
On social media, NeNe has been receiving backlash for "moving on too quickly," while others have come to her defense, saying she's just living her life and moving on. Regardless of what people think, NeNe is seemingly living for herself and we're not mad at it.
Photo: Warner Bros.