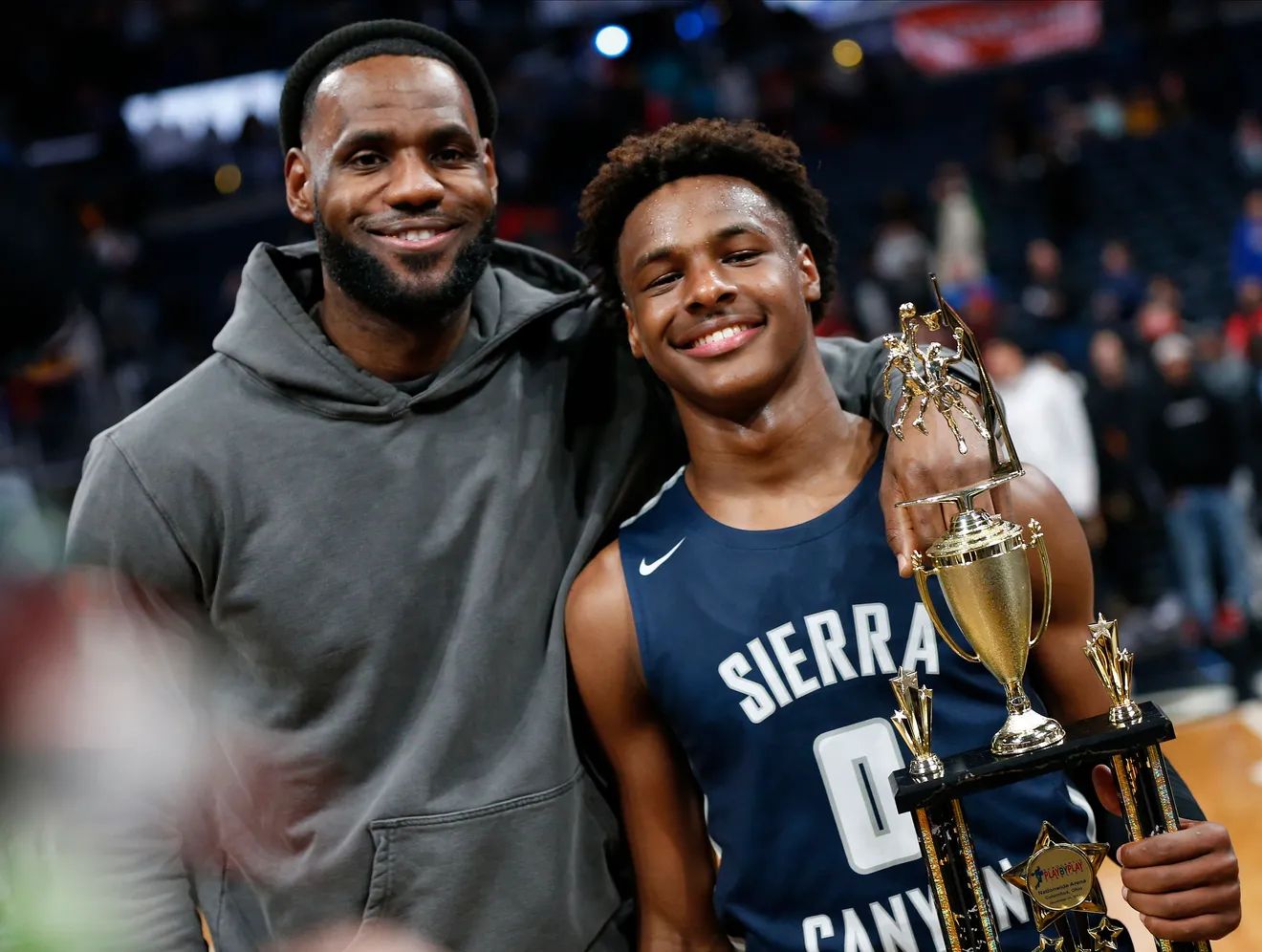 Rumor has it, LeBron James is willing to leave the Los Angeles Lakers to play with his firstborn, Bronny James in the NBA. If he does, the father-son duo will make NBA history. Deets on how they could shake up the entire league inside…
In the NBA, there has never been a father-son duo actively playing together at the same time. The closest may have been Kobe Bryant and his father Joe Bryant. Fours years after Joe retired, Kobe was drafted into the league.
Well, LeBron James and his 17-year-old son LeBron "Bronny" James Jr. could possibly make history as the first playing father-son duo.
At the age of 37 with 19 years in the game under his belt, King James is still playing at an MVP level while showing off his freakish athleticism. Although he's dealing with injuries (he just made his return from a knee injury), he will likely still be able to play at the highest level for a couple of more seasons. It's possible Bronny could make it to the league in a couple of seasons. Fans are excited to see him flourish when he enters the NBA in 2024.
During a recent interview with "Uninterrupted," King James made it known he wants his son to play in the NBA and he wants to be on the court with him.
"I want him to be in the NBA. I am not going to lie. I want to be on the court with him," said LeBron. "I think that will be an unbelievable moment. He's about to be a junior so the years, it could get close, but we should see, but I want him to get to the NBA."
It could def happen and it would be hella interesting to watch. 
LeBron's contract with the Lakers will end after the 2022-23 NBA season, which means his contract will end a year before Bronny will be able to enter the NBA. If LeBron wants to play alongside his son, he would have to leave the Lakers due to the fact that the Lakers will have a small chance of getting a high draft pick to draft Bronny. Also, if the NBA and NBPA change the high school-to-pro rule, Bronny can enter the NBA the same year LeBron's contract expires with the Lakers.
If LeBron and Bronny were to play together in the NBA, they likely wouldn't play for the Lakers.
LeBron's former Lakers teammate Kyle Kuzma (who currently plays for the Washington Wizards) joked about LeBron joining the OKC Thunder to play with his son given all of the draft picks they have for the future. On Twitter, he tweeted Oklahoma City Thunder GM Sam Presti is "about to sell the farm" to acquire LeBron James and Bronny James
Presti about to sell the farm lol https://t.co/pvZpUw0ogO

— kuz (@kylekuzma) February 4, 2022
Ha!
The Lakers are currently 25-28 and 9th in the West.

LeBron: pic.twitter.com/om5qSyFxcm

— Lakers All Day Everyday (@LADEig) February 4, 2022
LeBron James made his big comeback from a knee injury yesterday where the Lakers defeated the New York Knicks in overtime, 122 - 115.
LeBron's back and not skipping a beat

(: ABC) pic.twitter.com/J7aOK7WQ3N

— Los Angeles Lakers (@Lakers) February 6, 2022
After a five-game absence, King James tallied his 103rd career triple-double with 29 points, 13 rebounds and 10 assists during last night's game. The Lakers were down by 21 points at one point in the game, but they were able to make a comeback.
Also…
BAAAAANNNNNNGGGGG *Mike Breen voice!! Big time shot Dylan and helluva set up Amari!! #GoBlazershttps://t.co/0cwQ0n7f53

— LeBron James (@KingJames) February 6, 2022
King James was left in awe by Bronny and his teammates Dylan Metoyer and Amari Bailey when Sierra Canyon clinched the win over Glenbard West (67-64) after Dylan hit the buzzer-beating, game winning three-pointer. Congrats to the team!
Do you think LeBron and Bronny will play together in the NBA?
Also, the 2022 NBA trade deadline is set for February 10th at 3pm EST for players to get with new teams.  It'll be intersting to see how everything shakes out.
Photo: AP/Jay LaPrete