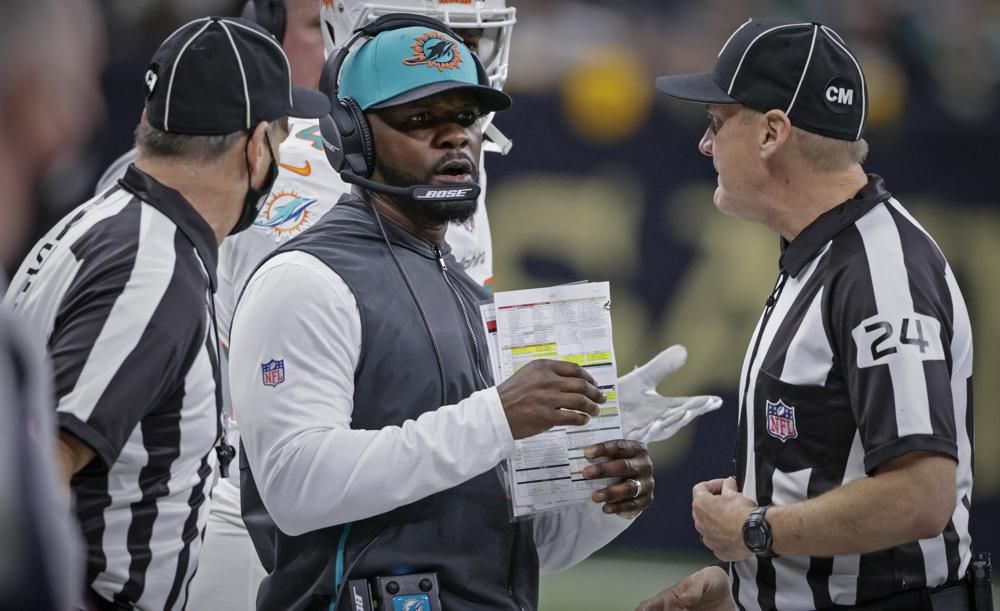 Former Miami Dolphins head coach Brian Flores says he's not dropping his lawsuit against the NFL even if he's hired as a head coach again during the offseason. He pulled the trigger on a lawsuit against the NFL, the New York Giants, the Miami Dolphins, and the Denver Broncos claiming racial discrimination in the league's hiring process for coaches and executives. 
Details inside…
Former Miami Dolphins head coachBrian Flores is ringing the alarm on the NFL allegedly participating in alleged racist practices during the hiring process for coaches and executives.
Last month, the Dolphins fired Brian after leading the team to a 24-25 record over three years. After getting his pink slip, Brian went to interview with the Houston Texans and the New Orleans Saints, who are looking to fill their coaching vacancies.
If either of the teams call, Brian will "listen," but he said he will continue with his lawsuit because the league seriously needs change.
"This is bigger than me ... it was my turn to step up and be an agent for change," says former Miami Dolphins Head Coach Brian Flores. Flores is suing the NFL for alleged racial bias. The NFL says "diversity is core to everything we do," and the suit is "without merit." pic.twitter.com/GKluhJcKfD

— New Day (@NewDay) February 2, 2022
"This is about changing the hiring practices in the National Football League, and that's what this lawsuit is about," Brian said on CNN "I want to coach football that's what I'm called to do."
Peep the clip above.
The former Dolphins coach also appeared on "CBS Mornings" where he talked about how there are others who have similar stories about racism in the league, but aren't willing to speak out.
Check it:
A bombshell lawsuit accuses the NFL of racism in hiring coaches — and now the former coach who filed it is speaking out for the first time on #CBSMornings.

Brian Flores says, "It's hard to speak out…but this is bigger than football. This is bigger than coaching." pic.twitter.com/hI92p8rvEd

— CBS Mornings (@CBSMornings) February 2, 2022
The football world is shook over Brian Flores' lawsuit, which he filed Tuesday in Manhattan federal court. In the paperwork, he names the Miami Dolphins, the Denver Broncos and the New York Giants, along with unidentified individuals, over alleged racist hiring practices for coaches and executives.
In the lawsuit, he alleged the NFL discriminated against him and other black coaches when it came to certain positions.
"In certain critical ways, the NFL is racially segregated and is managed much like a plantation," he said in the lawsuit.
According to The Institute for Diversity and Ethics in Sports, African-Americans accounted for 57.5% of league players and white players comprised 24.9% of NFL rosters in 2020. As of now, the NFL only has one active African-American head coach, which is Pittsburgh Steelers head coach Mike Tomlin, out of 32 teams.
Last season, there were five minority coaches, including Ron Rivera, Mike Tomlin, Brian Flores, David Culler, and RobertSaleh. Houston Texans head coach David Culler lost his job, leaving just one African-American and two minority head coaches in the league.
Brian's lawsuit includes text messages from his former boss, New England Patriots coach Bill Belichick, where Belichick mistakenly sent a congratulations message to another "Brian" for getting hired by the Giants before he even interviewed with the team. He meant to send the text to former Buffalo Bills offensive coordinator Brian Daboll, who was ultimately hired for position. 
Last week, Mr. Flores was reportedly a front-runner for the @Giants head coach position. He thought he had a real shot at it—until he received these texts from @Patriots head coach Bill Belichick just days before his interview, the lawsuit states. pic.twitter.com/2RWTpVeghi

— WigdorLaw (@WigdorLaw) February 1, 2022
Before long, Brian Flores realized he was only being interviewed to comply (well, SEEMINGLY comply) with the NFL's Rooney Rule, which requires teams to interview at least one minority candidate for top coaching and executive positions.  He was never a real candidate for the position.
Also, Brian claims Stephen Ross - the owner of the Miami Dolphins - tried to bribe him with $100,000 for every game he LOST in the 2019 season, so the team could get the first pick in the NFL's Draft. WOW!
Brian Flores' lawsuit is seeking class-action status and unspecified damages from the league, the Dolphins, the Broncos and the Giants, along with unidentified individuals.
The NFL, the Dolphins, the Broncos and the Giants have denied Flores' accusations. In its statement, the NFL said it will defend "against these claims, which are without merit."
NFL statement on Brian Flores' lawsuit: pic.twitter.com/LaJVJuw3gS

— Adam Schefter (@AdamSchefter) February 1, 2022
While he knows this lawsuit could jeopardize his coaching career, he feels like what he's doing is bigger than football and he's fighting for the greater good. He has been dubbed the NFL's Rosa Parks, which he said was a humbling comparison.
"That gives me more confidence that we made the right decision here and that we need to continue to fight for that change," he said.
Sports analyst Jemele Hill weighed in on Brian's accusations that NFL owners are rigging games:
Brian Flores effectively had to end his chances at coaching in the NFL to point out what we already know about discrimination in the hiring process for Head Coaches in the NFL.

— Robert Griffin III (@RGIII) February 1, 2022
Do you think he'll get a head coaching gig?!
EXTRAS:
1. The Washington Football Team has changed the team's name to the Washington Commanders after a two-season process. STORY
Photo: AP Photo/Butch Dill