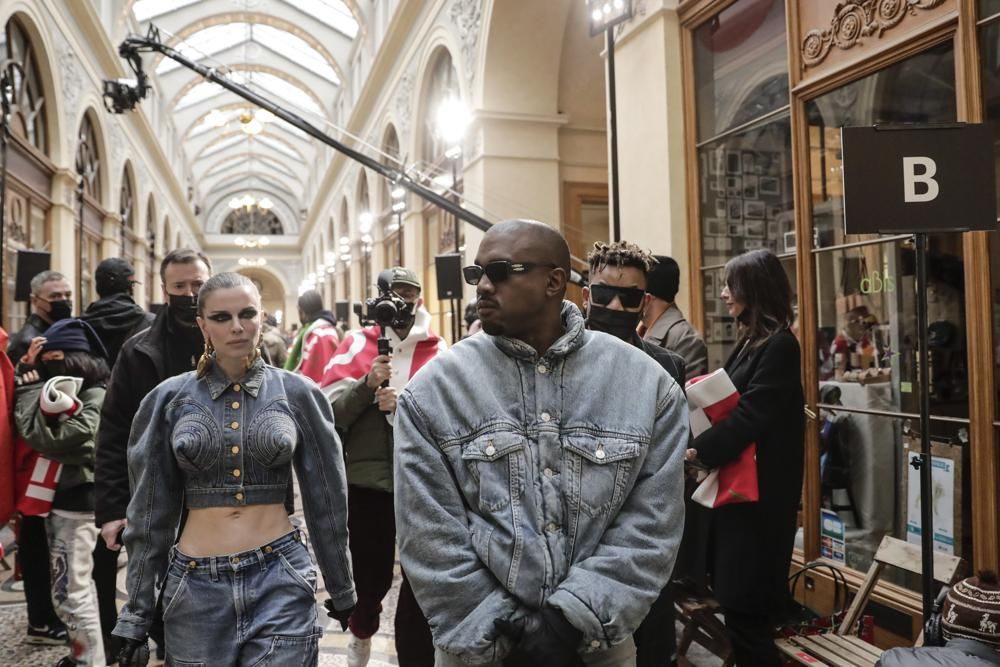 Julia Fox debuts her coupledom name with Kanye "Ye" West - "Juliye" - as they continue their Paris Fashion Week takeover. For their latest outing, the couple stepped out in matching leather 'fits. See the flicks, plus Ye putting his makeup skills to work inside….
After making their Paris Fashion Week debut in denim, Kanye "Ye" Westand his new boo Julia Fox continue making their rounds in matching 'fits.
Ye and Julia Fox at the Schiaparelli show at Paris Fashion Week today (1.24.22) pic.twitter.com/jerWK6XDj3

— Ye Media (@KanyeMedia_) January 24, 2022
Fresh off their red carpet debut as an official couple at the Kenzo show, Ye & Julia got dressed up in head-to-toe black leather ensembles for Daniel Roseberry's Schiaparelli Haute Couture Spring/Summer 2022 show.
Going for another conical bra vibe, the 31-year-old Uncut Gems actress donned a black leather long-sleeved mini dress with structured accents that featured a cone bra like her denim look she wore the day before. Julia paired the Schiaparelli look with black tights, thigh high Schiaparelli boots that featured individual toe pockets, large gold earrings and a gold lock shaped clutch.
Ye and Julia Fox in Paris tonight (1.23.22) pic.twitter.com/CKZ0zA25sY

— Ye Media (@KanyeMedia_) January 23, 2022
Ye seemingly rocked the same leather fit from the night before (seen above). For the show, he added some drama with a black face mask.
It's giving dominatrix without the sex appeal.
On social media, Julia revealed their new "coupledom" name, must like how Ye's estranged wife Kim Kardashian did when they were together.
Julia shared a paparazzi photo of herself and Ye with the the caption, "Juliye." In another post, she shared a blurry picture of her new boo doing her makeup before the event: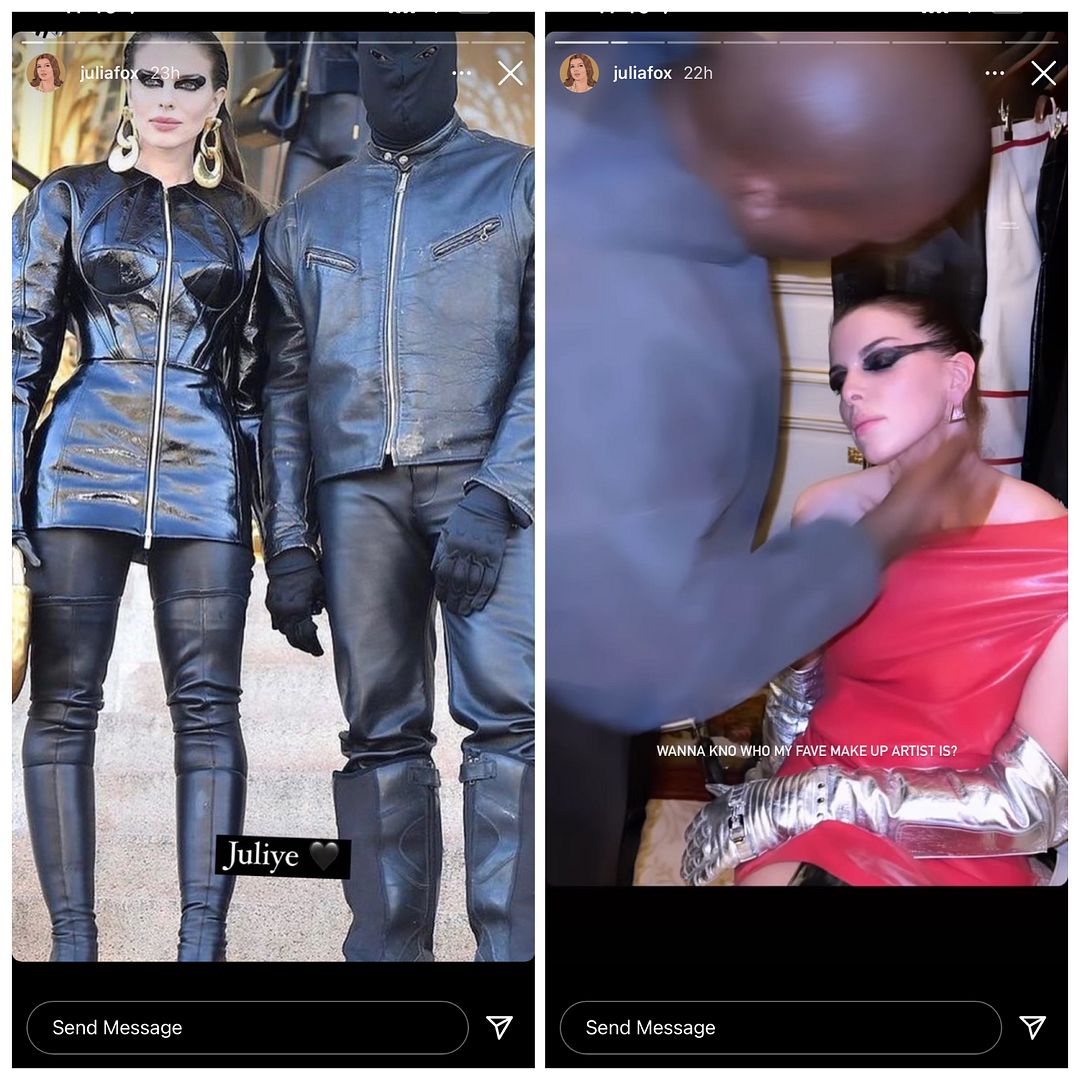 Ye does makeup now?! Who knew?
Missed their denim down look? Click HERE. 
Recently, Julia shared on her "Forbidden Fruits" podcast that she's NOT dating Ye for fame, clout, money or attention. And she claims she doesn't really care about all the new-found fame she has gained since she started dating the Chi-town rapper.
"It's funny cause I'm getting all of this attention, but I really couldn't care," she said on Friday's episode of her "Forbidden Fruits" podcast, adding that she's about creating art and "putting things into the world."
"Watch my movie, read my book," she continued. "That is more thrilling to me now than eyes on me. I couldn't care less."
The Hollywood actress said she's not with Ye for "clout" or "fame" because she has been dating billionaires since she been grown.
"People are like 'Oh, you're only in it for the fame, you're in it for the clout, you're in it for the money.' Honey, I've dated billionaires my entire adult life, let's keep it real."
Mmhmm…we bet.
Photo: AP Photo/Lewis Joly