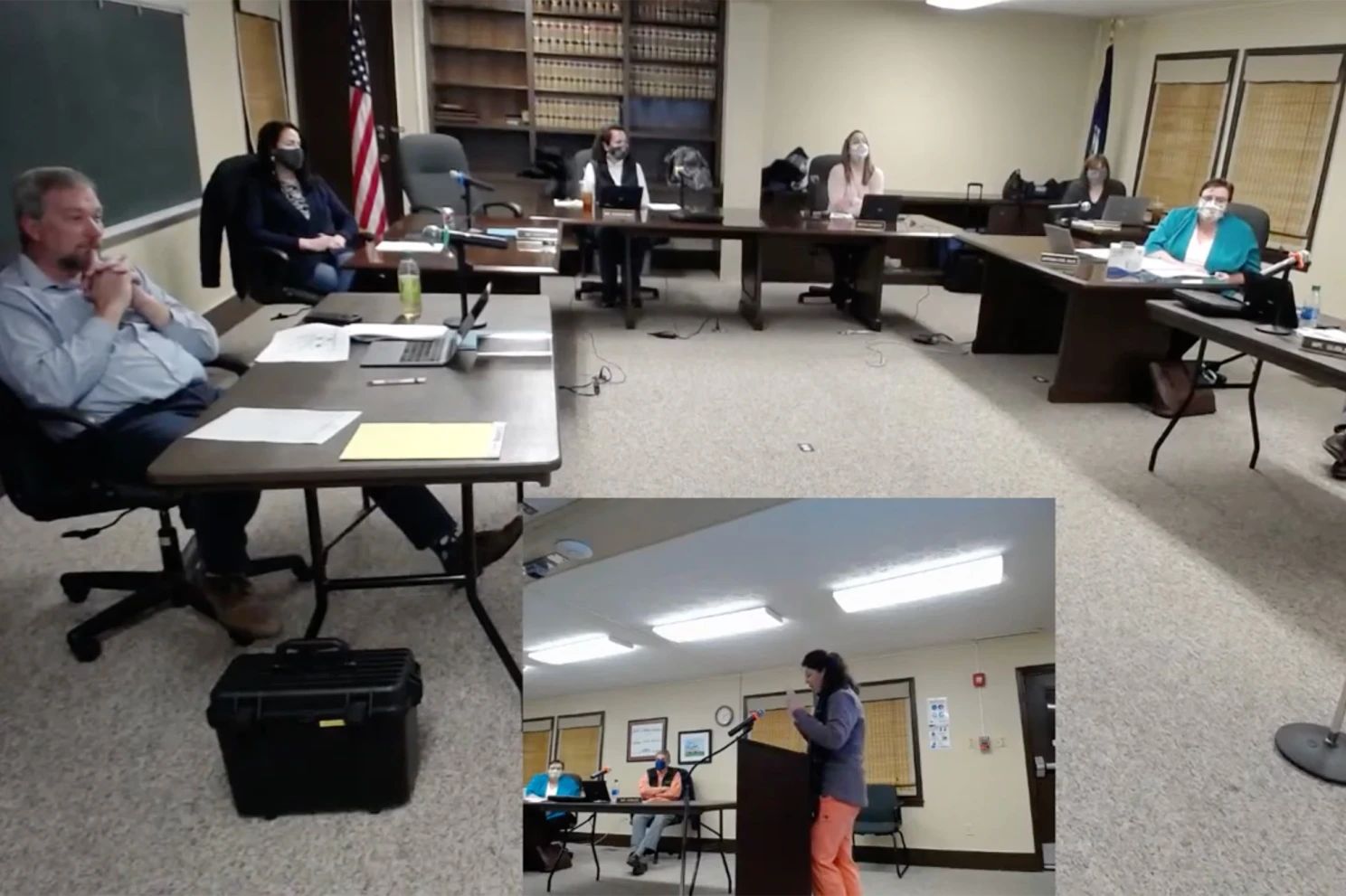 One mom took the mask mandate controversy to the extreme and caught a charge!
Amelia King vowed to bring a "loaded gun" to her kids school on Monday, which is the day Governor Glenn Youngkin's executive order goes into effect. The order states parents can decide whether their children will wear masks in school. Deets on her charges, plus the video of her making the threat inside…
Folks are really out here doing the most over wearing a mask during the pandemic.
A white Virginia woman has been charged for making terroristic threats on school property over the mask mandate because she doesn't want her children being forced to wear a mask in school.
Amelia King, 42, was charged by the Luray Police Department with making an oral threat while on school property Friday, January 21st. She was released her on a $5,000 unsecured bond.
During a school board meeting with Page County Public Schools last Thursday, Amelia took the podium to let everyone know her children will NOT be wearing masks when they return to school Monday (January 24th).
Last week, Republican Governor Glenn Youngkin was sworn into office and his first order of business was to sign an executive order stating parents could decide whether their children had to wear face masks in school as the Omicron wave continues. The order goes into effect Monday, January 24th.
Page County Public Schools held a school board meeting to decide if they would continue to enforce the mask mandate despite Youngkin's executive order.
"Alright. No mask mandates," said Amelia. "My children will not come to school on Monday with a mask on. That's not happening, and I will bring every single gun loaded and ready. I will call every…"
Amelia - who is a dental hygienist at Ruffner Family Dentistry - was then cut off by one of the school board members.
"I'll see y'all on Monday," she responded.
Watch the clip below:
Page County Public Schools in Virginia will increase security on Monday after a woman threatened to bring her loaded guns to school if there is a mask mandate.

When we talk about responsible gun ownership, this isn't it.pic.twitter.com/6lIDXHEidA

— Giffords (@GiffordsCourage) January 21, 2022
You can watch the full meeting here. 
In response to her threats, the school board said they would increase police presence at schools on Friday and Monday.
"Luray Police Chief Bo Cook is investigating the incident and is in communication with the Commonwealth's Attorney, as well as state and federal officials," the statement said.
"I'll see y'all on Monday" sure sounds like a threat of domestic terrorism to us. Just another example of white privilege because we all know if a black parent made these same statments that person would have been arrested immediately. 
However, she claims she was only speaking figuratively.
In an emailed letter, Amelia apologized to the school board and insister she didn't mean she would bring an actual gun to her kids' school.
"I in no way meant to imply all guns loaded as in actual firearms, but rather all resources I can muster to make sure that my children get to attend school without masks," she said in the email. "I would never do such a thing; I was speaking figuratively.""I like to sound educated and when I go off the cuff, I get really passionate," she said. "I'm not always able to say exactly what I want to say in the appropriate way."
Chile….
The school board voted 4-2 vote to support making "masking the choice of the parent." Mask will still be required for all staff in Page County, and anyone on school buses.
We'll just leave this here…
White woman in Virginia named Amelia King charged with "Oral Threat While on School Property" for threatening to bring loaded guns to school — because her kids have to wear masks.

Caucasian to the umpteenth white power. Amelia & husband: pic.twitter.com/ClRzfWBJTq

— COHemPteeOHiN Cem (@cohempteeohin) January 22, 2022
Thoughts?
Photo: Screenshot