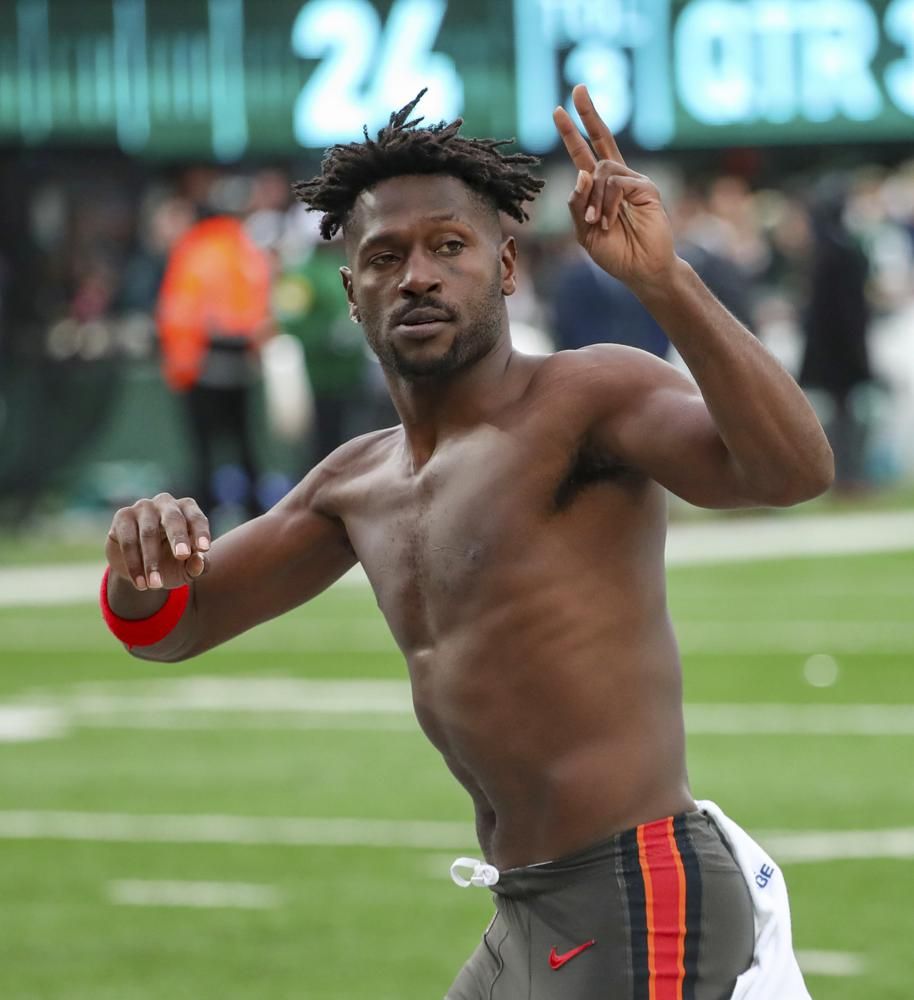 After his headlining fallout with the Tampa Bay Buccaneers, Antonio Brown wants everyone to know there's nothing wrong with his mental health. He believes he had a good reason to exit the game in the manner that he did.
Find out why, plus the DONDA sports brand he's creating with his homie Kanye West inside…
When Antonio Brown stripped off his football equipment and galloped off the field during the third quarter of the Tampa Bay Buccaneers' game at the New York Jets, folks instantly thought he was suffering through mental health issues.
However, the 33-year-old NFL star says that's not the case.
The seven-time Pro Bowler sat down with former Pro Bowl receiver Brandon Marshall to discuss his dramatic exit from a few weeks ago on the "I Am Athlete" podcast, which is set to debut Monday.
Days after his exit from the game, the Bucs officially released from the team. Brandon Marshall tried to give AB advice, telling him it would have been better for AB to simply just stay on the sideline and address his issue with Bucs head coach Bruce Ariansafter the game.
AB feels he handled the situation in the right way considering multiple variables.
"Everyone in the world got a different form of reactions of what happened to me," AB said. "And it's all based upon where you from, how you feel, and no one really gonna know that regardless of who you is," he continued.
"If we all players and we all saying we care about mental health, why every time something happens bad or someone reacts, 'Aw, he's crazy, there's something wrong with his mental health,'" Brown asked. "There's nothing wrong with my mental health. Someone told me, 'Get the f*** out of here.' I'm not passive-aggressive."
After AB's dramatic exit, the Bucs seemingly labeled his outburst as a mental health issue. Meanwhile, AB made claims that his ankle was too injured to perform and that Coach Arians told him to leave…so he did.
"An NFL Super Bowl team coach told a guy on the team who's playing hurt 'get the f*** out of here,'" he said.
Peep the clip below:
Obviously, his 2021 season is over. However, he's keeping busy.
Of course. #KanyeWest#AntonioBrownhttps://t.co/PiPKxTekUIpic.twitter.com/dlJMYqrGhL

— YBF CHIC (@TheYBF) January 11, 2022
In a recent interview with Complex magazine, the professional athlete revealed he's working with his rapper homieKanye "Ye" West on the DONDA sports brand. Apparently, they "randomly" ran into each other at a restaurant in Los Angeles and hit it off.
"It was just by the grace of God," he responded when asked how he and Ye originally linked. "I was at Craig's [restaurant], having dinner in LA with Rich, my guy at Fashion Nova. And I ran into Kanye randomly at Craig's. We got haircuts at Craig's. It was totally out of the blue, and we just started hanging out in LA. We've got a lot of positive things coming. It's just been an amazing week for me. I'm sitting here with Mr. Tim at Amazon Music right now, having a meeting, so I've been grateful for the last 21 days."
"We're just excited about the Donda sports brand, and making this thing a competitive sports brand to the athletes," he continued. "I don't think there's a lot of fashion lines for athletes, wearing fashionable and comfortable clothes, so with a guy like Kanye West, being able to partner with him and work with him to provide more creative, genius ideas for fashion looks for athletes in general… I'm just grateful for the opportunity here soon, to share what we've got with the world. And you guys are hearing it first, we got some exciting things to look forward to this year."
It appears AB will be busy this off-season. You can read the full interview here. 
Photo: Andrew Mills/NJ Advance Media via AP