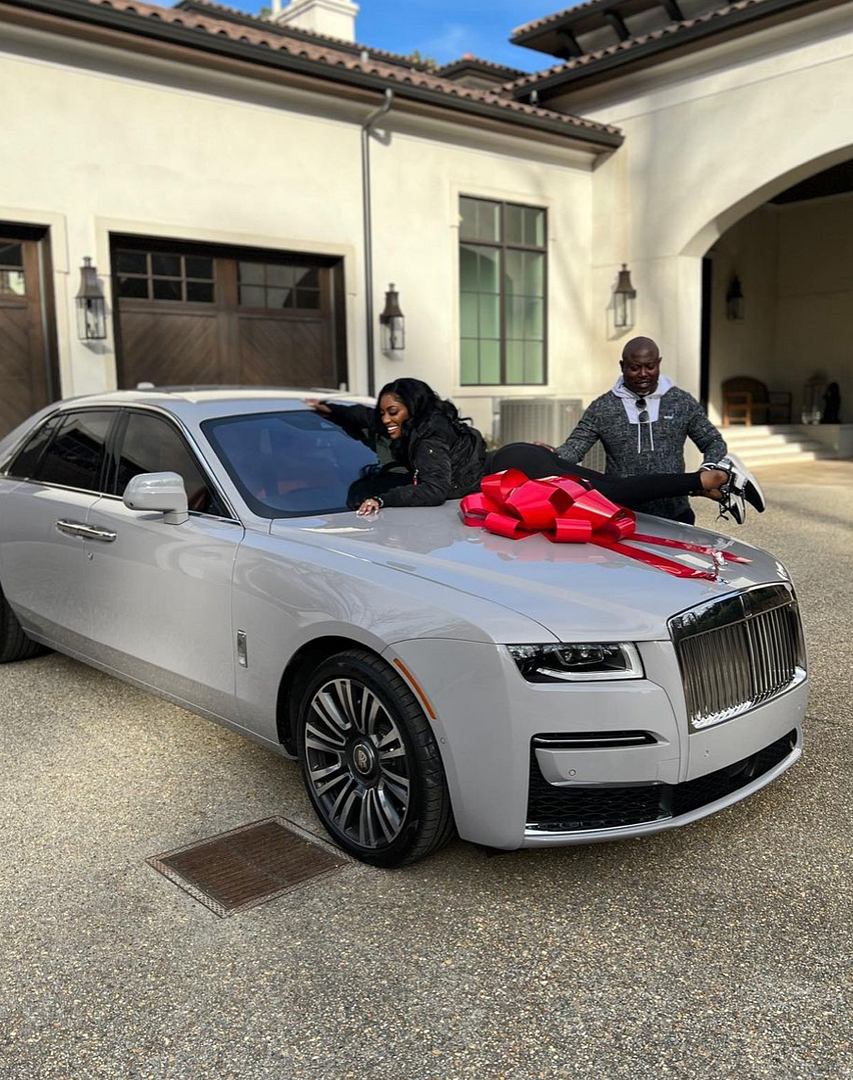 Let's file this in the must be nice files! Reality star Porsha Williams shows off her uber expensive luxury car gifted to her from her fiancé Simon Guobadia. After that explosive fight episode on Porsha's spin-off show, there are rumors she could get the axe and folks are reacting. Everything inside…
It appears Porsha Williams' fiancé, Simon Guobadia, makes BANK! And the former "Real Housewives of Atlanta" star is loving every bit of it.
A "just because" gift is always nice, but it's better when it comes in luxury form. The 40-year-old realty star took to Instagram to show off her new Rolls Royce Ghost - which starts at $300,000 - gifted to her by her future husband.
On IG, Porsha shared pictures of herself all smiles while posing it up inside, outside, and on top of her new luxury whip that was topped with a red bow. Simon even joins her in a few of the pictures. Swipe above to see.
"The only way you win is if I quit," she wrote. "#ThankYouHubby #PhotoDump #LivingLife #ThePursuitOfPorsha #RRGhost."
It didn't take long before fans compared Porsha's new whip to the whip Simon gifted his ex-wife Falynn Pina. In 2020, Simon gifted Falynn a Rolls Royce with orange interior, much like Porsha's.
So who is going to tell Porsha her new gift from Simon looks… familiar? pic.twitter.com/fzr694qHpL

— Anthony Dominic (@alloveranthony) January 19, 2022
OOP!
Episode 7 of "Porsha's Family Matters" aired this past Sunday, leaving folks wondering if it'll get canceled. The last episode was uber dramatic following the family fight scene from the week before. In a nutshell, folks are TIREDT of Porsha and her shenanigans.
damn a grave https://t.co/Q2HB8YWmnn

— Porsha Williams (@Porsha4real) January 18, 2022
After the episode, one viewer tweeted Porsha ruined her career with her erratic behavior on her spin-off.
"Dearly beloved we are gathered here today to say goodbye to Porsha's career," the person tweeted. "She will be remembered as the #RHOA Housewife who made a fool of her self when given an opportunity that could've went to another deserving housewife! She will not be missed. #PorshasFamilyMatters"
The leading lady retweeted the post on Twitter and responded, "damn a grave."
When it was first announced Porsha was getting a spin-off, it was initially presented as a spin-off to show Porsha blending her family with her future husband Simon and her co-parenting relationship with her ex-fiance Dennis McKinney. Porsha and Dennis share 2-year-old, Pilar Jhena McKinley.
After the huge family FIGHT in Mexico between Porsha & Dennis' family, Porsha got into another heated argument on the newest episode. This time, she went up against her cousin, Lonnie. Turns out, Porsha was the reason Lonnie was fired from Dennis' restaurant, but she tried to lie about it. 
Yahoo Entertainment has the deets:
It stemmed from Londie, who previously worked as Williams' assistant, finding out that Williams had her fired from her gig at McKinley's restaurant. During the dispute, Williams blamed Londie for things that didn't pertain to her job, such as not supporting her when she was in an abusive relationship.

Despite not confessing to the firing claims when approached by Londie, Williams later admitted in a confessional that she did have a part in her cousin losing her job.
Social media had plenty to say about Porsha's shady ways: 
Porsha definitely told Dennis to fire her cousin .. look at how she responded to that question.. that girl will lie boi for no reason remind me of one of my cousins.. #PorshasFamilyMatters

— Just My Thoughts I Dont Care What You Think (@Ravvy_b) January 18, 2022
The way Porsha just treated her cousin Londie was a new low. Like seriously? #PorshasFamilyMatterspic.twitter.com/x1J7aYp1zx

— JoJo Smith (@jojeaux87) January 17, 2022
That's right Dennis, take her to court and get joint custody of your child. Porsha out here making decisions about your child and including Simon in those decisions, but not you. #PorshasFamilyMatters

— Ms.COD (@MsCOD16) January 17, 2022
Londie, you never need to apologize for someone's reaction to you telling them HOW they made you feel. #PorshasFamilyMatterspic.twitter.com/h2owhszSlT

— Jeramy (@thejbchat) January 17, 2022
The way we were all Porsha fans and now we are Team Dennis. Chile #PorshasFamilyMatterspic.twitter.com/vQdrm9g4ja

— Tee (@bettawerkbish) January 17, 2022
Will "Porsha's Family Matters" get a season 2 renewal? It's unclear. BRAVO loves drama for ratings and Porsha's spin-off is beating "The Real Housewives of Salt Lake City" in overall ratings. We shall see….
Photo: Porsha's IG