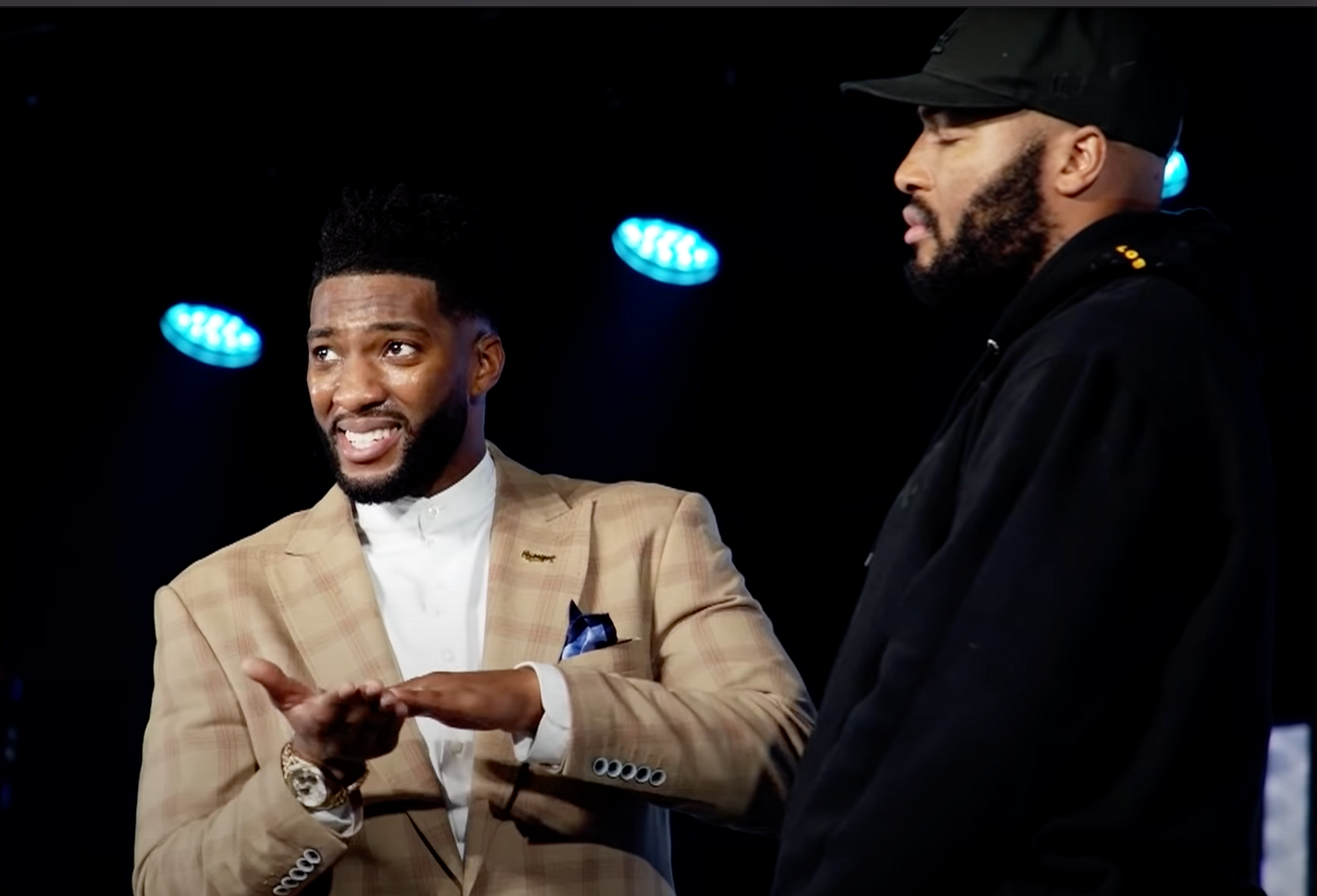 WARNING! If you have a weak stomach - stop reading now.
Megachurch pastor Mike Todd did the unthinkable while demonstrating a lesson before his congregation on Sunday. And it involved bodily fluids being exchanged during a pandemic! Watch the clip (if you can stand it) inside…
UPDATE:
It's never my intention to distract others from God's Word and the message of Jesus… even with illustrations!

I apologize for my example being too extreme and disgusting!

I Love Everybody #REPRESENTpic.twitter.com/YfzFmySCPe

— Michael Todd (@iammiketodd) January 17, 2022
After receiving backlash, Pastor Mike Todd posted a video on social media apologizing for his actions. He said the man in the video is his brother, but he said his actions were too extreme and disgusting. Watch the clip above.
-----------------------------------------------------------
Whose pastor is this?!
A popular megachurch pastor is facing backlash after his disgusting demonstration during a recent sermon.
Pastor Mike Todd - lead pastor at the Transformation Church in Tulsa, OK - has gone viral after coughing up spit into his hand and then rubbing it on the face of one of his congregation members while discussing the topic, "Receiving a vision from God might get nasty." Umm...
While preaching to the congregation, he hawked up phlegm TWICE and held the saliva in his hand before rubbing in on the man's face as his parishioners gasped in disbelief.
"How you just reacted, is how the people in your life will react when God is doing what it takes for the miracle," he said as the audience reacted in disgust. AS THEY SHOULD.
Not only is this disgusting - did he forget we are in the middle of the COVID-19 pandemic with cases steadily rising? Like sir! Why did you ever think this was OK?!
Watch the clip below:
In case you need more context, you can check out more from his sermon, starting at the 39-minute mark, below:
Of course, Black Twitter has been dragging him in disgust:
Had never heard of "Pastor" Mike Todd before today. But I truly understand now why the elders used to frequently tell us that we're in the last days.

— Jemele Hill (@jemelehill) January 17, 2022
That Mike Todd video has so many layers of terribleness wrapped up in it, I don't know even where to start. The audacity. The cult energy. The spiritual and theological abusiveness. The hocking and rubbing and spitting and deflecting. I couldn't believe my eyes. Ain't no way.

— Danté Stewart (Stew) (@stewartdantec) January 17, 2022 
Mike Todd did WHAT to WHAT? pic.twitter.com/C9OoxEPe3m

— Jay K, MBA (@jkennr) January 16, 2022
I knew Mike Todd wasn't shit when he said that Domestic Violence wasn't reason enough to get a divorce pic.twitter.com/kHkJyxxu6Y

— SAW NWH (@HintonsDrew) January 17, 2022
DURING A PANDEMIC MIKE TODD??? During a pandemic?! Gross any time but DURING A PANDEMIC!? pic.twitter.com/JGjIPyH9uv

— Ms. Jackson (@quietlionness) January 16, 2022
Just saw why Mike Todd is trending and I—

God wasn't nowhere in that pic.twitter.com/4EWJNCcqoc

— Shanelle Genai (@shanellegenai) January 17, 2022
A message from Jesus about Mike Todd pic.twitter.com/vG8N12qTW1

— Elizabeth Says Mask Up/Save Lives (@TheHopsbride) January 17, 2022
Just gross.
Building relationship on runways  @kanyewest
.
.#jesusisking#crazyfaith#REpresent#kanyewest#sundayservicepic.twitter.com/sUUS2yUqXi

— Michael Todd (@iammiketodd) November 2, 2019
In 2019, the "Crazy Faith" author linked up with Kanye West where he opened up his church to host one of Ye's Sunday Services:
Thoughts?
Photo: YouTube Screenshot