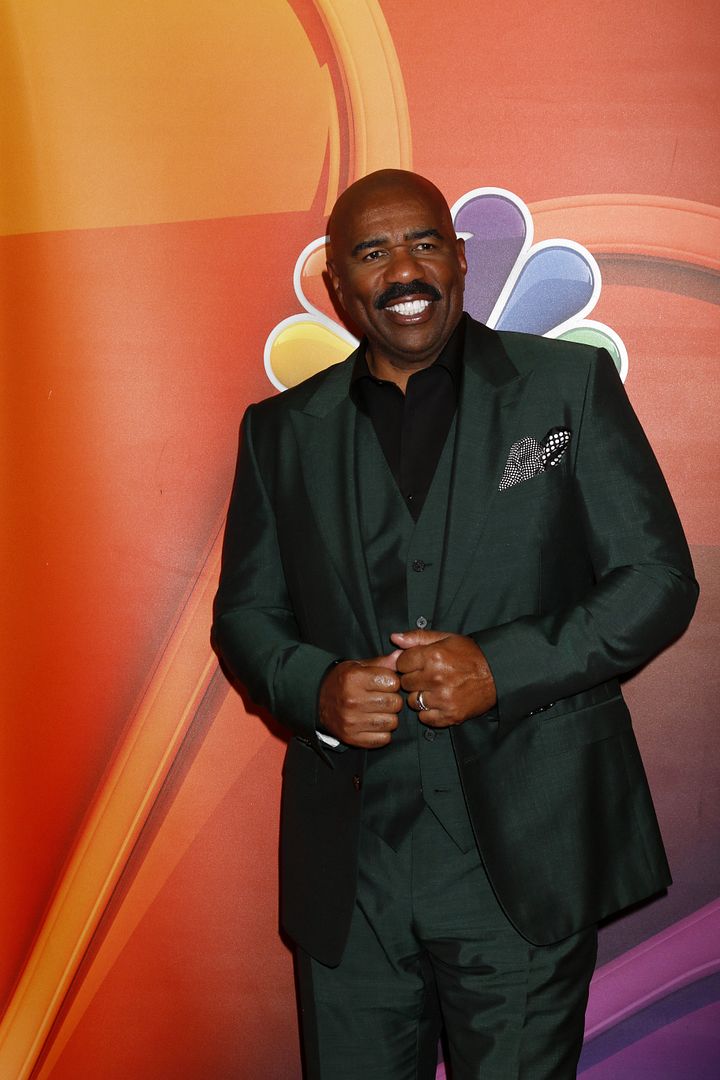 Steve Harvey is FED UP with "cancel culture." So much so, he has decided to no longer do stand-up comedy. He believes there's only one comedian that can say whatever he wants to say on stage. Find out who inside…
At one point in time, comedians could get on stage and say just about anything they wanted to say about anyone or anything. These days, not so much.
"The Original Kings of Comedy" star Steve Harveyis so fed up with "cancel culture," he has decided to quit stand-up comedy all together. 
The comedian-turned-TV host spoke during the TCA panel for his new ABC series "Judge Steve Harvey" where he explained why he has no plans for another stand-up comedy special or tour.
"The only way I can do one more special is if it's at the end of my television career because it will end my television career," the 64-year-old entertainer said.
In this climate, Steve said there's one one comedian who can get away with speaking what's actually on his mind, unlike how he and fellow comedians D.L. Hughley, Cedric the Entertainer, and the late Bernie Mac did in 2000 during their hit stand-up classic comedy film, "The Original Kings of Comedy."
"We're in the cancel culture now. No stand-up [comedian] alive that is sponsor-driven can say anything he wants to. Chris Rock can't. Kevin Hart can't. Cedric the Entertainer can't. D.L. Hughley can't. I can go down the list. The only person that can say what they want to say on stage is Dave Chappelle because he's not sponsor-driven, he's subscription-driven," he continued.
The "Family Feud" host had to put stand-up comedy on the back burner as his TV career took off. He knew he wouldn't be able to do stand-up like he wanted if he wanted to keep his TV gigs coming in.
"One of the reasons I stopped doing stand-up is because my wife told me God was about to do something for me that I didn't know about yet. I didn't know he was going to give me this TV career, but he did. And it turned out to be the best thing that happened to me. But if I had tried to continue as a stand-up, there's no way I could maintain a TV career because political correctness has killed comedy."
When Steve first hit the comedy scene in 1985, he quickly rose to stardom and landed his own television show, "The Steve Harvey Show," in 1996. The show aired for six seasons before wrapping up in 2002. The last time he hit the stage for stand-up was in 2012 during a pay-per-view event.
While the veteran comedian claims to be done with stand-up, he did say he would like to do one more special AFTER he's done with television.
"Every joke you tell now, it hurts somebody's feelings," he said. "But what people don't understand about comedians is that a joke has to be about something and somebody. We can't write jokes about puppies all the time. The joke can't be about bushes all the time. Some of these jokes will have to be about people because that's the most interesting topic. So if I come back, I'll have to wait until I'm done and I'm not done. I want to do one more. I'll probably have to call it, 'Well, this is it.'"
He has a point. Do you agree or disagree?
Watch Steve Harvey serves as the judge, jury and star on "Judge Steve Harvey" every Tuesday at 8pm on ABC and HULU. 
Photo: Kathy Hutchins/Shutterstock