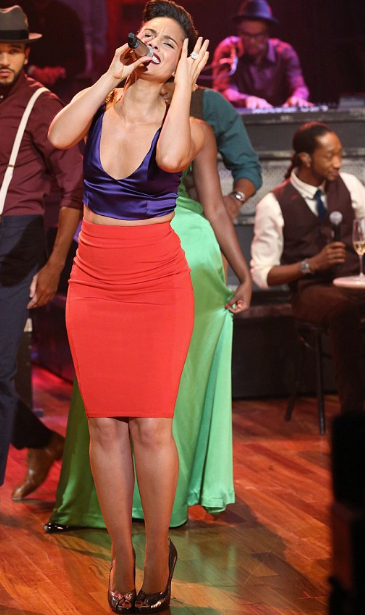 Alicia Keys stopped by "Late Night with Jimmy Fallon" last night where she discussed her Girl On Fire disc and performed a stirring rendition of the theme song from "Adventures of the Gummi Bears." Watch the clips inside and find out what Mashonda had to say about Alicia denying that she and Swizz Beatz carried on an extramarital affair.....
Last night, Alicia Keys chatted with Jimmy Fallon about her latest cd, Girl On Fire and revealed that she took the song's title from a news article she had read.  She said the phrase inspired her because at this point in her life, she really feels like she is on fire (in the creative sense).  
Earlier, Jimmy asked her to perform the theme song to the ""Adventures of the Gummi Bears" cartoon and it led to a spirited discussion about their favorite childhood cartoons including "He-Man," "She-Ra," and "Thundercats."
Alicia went for a sexy look last night showing off her--cleavage--and wearing a body hugging red pencil skirt.  She looked great!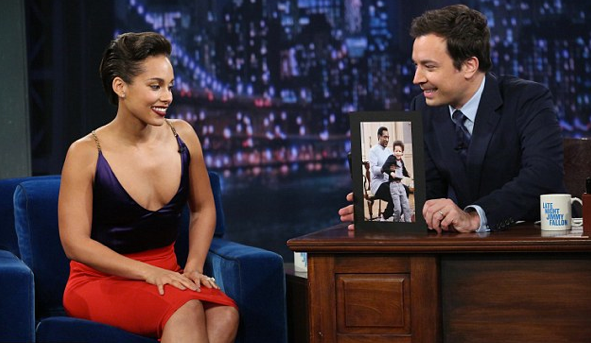 I see that Alicia-was-on-the-Cosby-show bit will never get old.
Watch Alicia's interview here:
And watch the "Girl On Fire" chick sing the theme to "Adventures of the Gummi Bears":
And in response to Alicia's recent JET cover story.........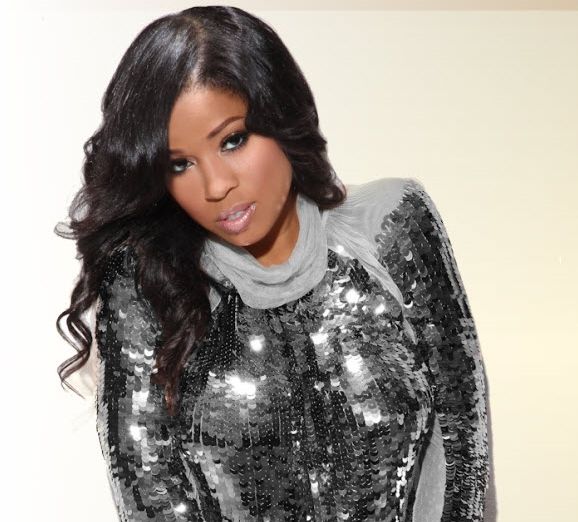 Swizz Beatz's ex-wife Mashonda has responded to Alicia's recent cover story in JET where Mrs. Beatz says that she and Swizz didn't get together until AFTER he and Mashonda had split up. Well...we all know that Mashonda has always mantained that the two carried on an extramaritial affair (we've also provided proof he and mashonda were at least somewhat together) and she spoke to Global Grind to address the comments Alicia made in the interview.  Here are the highlights:
What was your initial reaction when you caught wind of Alicia's JET Magazine interview?


Not much surprises me anymore when it comes to this situation. I truly thought that everyone's priority was the well being of the children involved. I don't see the sense in throwing oil on a fire, it just takes us back to point A. The Jet interview just added insult to injury. I can't figure out how this makes us better. How is it a positive, humanitarian gesture? But artists must protect their reputation and I get that.

In the interview Alicia Keys says "…[They] were apart for some time before we ever got together…that doesn't matter to those who take pleasure in trying to knock others down…there's no need to fight what's not true…" Did you feel like this was a indirect stab at your open letter?

There have been many stabs and shots taken, thankfully they don't bother me the way they used to. I've never lied about one thing involving the demise of my marriage. No, we were not "apart" or separated, and that's just a fact that can be proven in many ways. Blessings have a way of disguising themselves. This situation has helped me to understand life and what really matters.

Most people have to deal with their divorces and infidelities in private, but your situation unfolded in front of the public. How has this taken a toll on you?

There is a level of humiliation and criticism that the average person wouldn't be able to conceive, it really altered my life, but gave me a super thick skin. It's been a rollercoaster ride. I've lost weight, gained weight, lost some hair and almost lost hope and mental focus. For months I saw a therapist because I needed someone to assist me in putting the pieces back together. There was a lot of stress and pain, it's been challenging. I've found ways to cope and not get consumed in a dark space. You have to take care of yourself and move forward. In my case, I have a child and live for him. I have a purpose and I won't give up on it.

It's clear now that Alicia, Swizz, their marriage and their child have to be a part of your life, being that you two share a son. Do you think the public/media will ever get over the "triangle" and allow you all to be adults without pointing fingers?

The public/media enjoys sensationalism, they take pleasure in seeing celebrities make dysfunctional choices. People have unrealistic expectations for celebrities and they don't realize that they are only human. They have unresolved pain, scars and they make mistakes. What happened in my "triangle" is an old chapter. I forgave everyone involved and I've been in a great space. It took five years to get here but I made it, I feel like a victor. At the end of the day, no one can tell me about the life I've lived and what I've endured as a wife, mother or human. My divorce was just one lesson of many to come, I've moved on and I've done so in a great way.

Alicia and Swizz are two people in the spotlight, when, if ever, will you be comfortable to sit down with the pair to clear the air?

They are normal people who have been blessed with talents and great opportunities. Being a star in my eyes isn't solely about your success in the business, it's about your success in your personal life, the success of your soul. I'm always ready and willing to sit with the co-parents of my son, that's not even a question. There isn't one doubt in my mind that one day it will all come together the way it's supposed to. We are all a work in progress.
 
It's great to see that Mashonda hasn't let the situation make her bitter or jaded....at least not anymore.  Hard to move on but it's what a chick's gotta do.