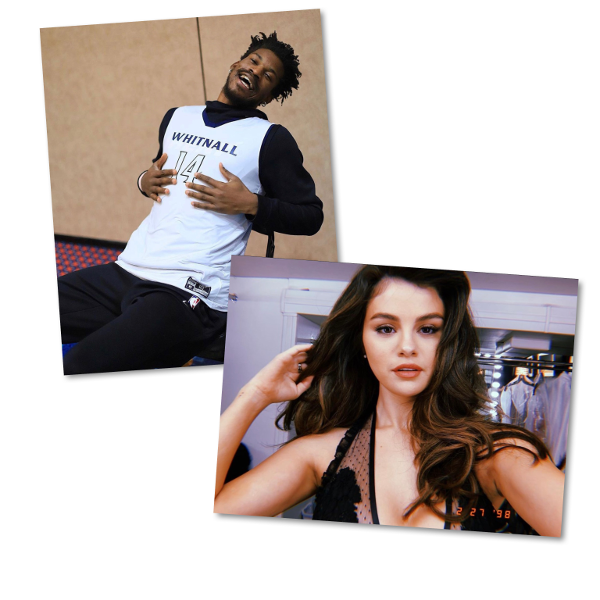 What's cooking up between Miami Heat player Jimmy Butler and singer Selena Gomez? Find out inside…
Another COVID connection? Possibly.
Word on the curb is that Miami Heat baller Jimmy Butler and singer Selena Gomez are dating. The Internet is abuzz with rumors that the 31-year-old athlete and the 28-year-old singer are hooking up, according to rumors on Twitter, the Miami Herald and IG account @Deuxmoi.
Jimmy butler and selena gomez weird couple man
Sources: Dude just trust me

— Chris Piro (@Chrispiro11) November 14, 2020
According to the @Deuxmoi account, a source supposedly overheard that the staff at French bistro Lucien in the East Village were scrambling to accommodate Selena and a bevy of basketball players last month. Turns out, it was just one basketball player in particular, which is Jimmy.
Here are their receipts about their "date":
ok ok i know deuxmoi is very unreliable but i love this selena gomez jimmy butler rumor pic.twitter.com/ZGU1pqQBik

— Natasha Dye (@natashadye) November 15, 2020
Jimmy & Selena have a few things in common. They are both from Texas and they both seemingly have an interest in cooking:
A source told E! News Selena is currently single and that she's "keeping her options open but has been on a few dates with Jimmy and thinks he's a great guy." The source revealed "they hung out a few times while Selena was in New York City. Jimmy asked her to go to dinner and they had a great time," but at the moment "it's very casual and she's open to seeing where things go, but isn't settling down just yet."
In an Apple Music's Beats 1 interview, Selena talked about how everyone in Hollywood pretty much dates the same people.
"Everyone dates everyone. It always seems to be within a little bubble and it's because it's safe, right?," she said.
We've definitely noticed....
Fans were quick to notice Jimmy's daughter's mom/ex Kaitlin Nowak unfollowed Selena on IG. They have been questioning her about it in her IG comments. Oop.
Jimmy and Kaitlin welcomed their one-year-old daughter in 2019. While the NBA was in the Orlando bubble, Kaitlin was seen cheering Jimmy on during his NBA Championship games against the Lakers back in October. So it looks like he's maybe been chillin' with both chicks simultaneously.
Are you here for this coupledom situation…IF they're actually dating?
Photo: Jimmy's IG/Selena's IG