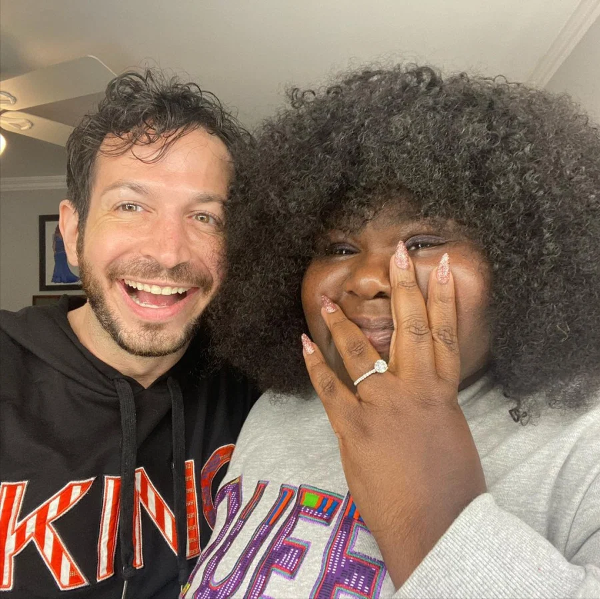 It's engagement season! Oscar nominated actress Gabourey Sidibe, "Glee" alum Amber Riley, and reality star Tiffany "New York" Pollard all said "I Do" and now they're gearing up to get married! Peep their engagement announcements and their rocks inside…
It's the holiday season, which means it's engagement SZN!
Three celebs will be trekking down the aisle to wedding bells after getting proposed to over the Thanksgiving holiday.
Oscar nominated actress Gabourey Sidibe is now engaged to her longtime boyfriend/talent manager Brandon Frankel after he popped the question last week. They have been dating for over a year.
The PRECIOUS and "Empire" star and her beau shared the exciting news with their followers on Instagram. In one video, Gabby is all smiles while flashing her engagement ring.
Gabby & Brandon are huge cat lovers, so he enlisted their pet cat to help him pop the question, sharing a photo of their cat wearing a charm around his neck that read, "Will you marry my daddy?"
In another picture, "Will you marry me?" was spelled out in balloons above a bed topped with rose petals. Swipe through the flicks above.
"I asked my best friend to marry me, and she said 'YES'! So excited to spend the rest of my life with the most amazing, hilarious, beautiful, and inspiring woman I've ever known," Brandon caption his engagement announcement. "I couldn't imagine a life without you. We make the best team, and we make everything fun and memorable."
"It's weird that people think we're already married but I guess our hearts and intentions for each other are just that clear to see," the 37-year-old actress wrote in the caption. "My BFF proposed and now I get to hold him forever. The funniest man I've ever met. The sweetest human to exist."
Aww! Congrats to them!
Also…
"Glee" alum Amber Riley and her fine boyfriend Desean Black are engaged!
Days before Thanksgiving, the 34-year-old singing actress announced she and her future doctor boyfriend are getting married, posting a romantic photo of herself gazing into his eyes while showing off her ring!
"There was a time when I thought I didn't want or deserve this kind of love. I'm looking at a man who changed my mind," she wrote in the caption. "My time by myself, loving on myself, getting comfortable with myself, prepared me for you, and prepared me for this."
"I am so proud to say, I am the future Mrs. Black," she continued. "I love you @deseanblack_official and I thank you for your patience, your friendship, and your partnership!"
Desean also shared the exciting news with his followers while showering his wife-to-be with praise:
"Fellas, when a woman looks at you like this, it's a clear indication that you're doing the right thing," he wrote in the caption. "Now, when she delivers unconditional love that you've never experienced, it's another clear indication that you've found the one. Only a fool would let someone as special as this slip away. So I did what any wise man would do and put a ring on it. I love you to pieces @msamberpriley, or should I say the future Mrs. Black. #happilyengaged A king will always protect his queen."
Y'all know we love some #BlackLove around these parts!
Also…
Reality legend Tiffany "New York" Pollard has finally found love!
The 38-year-old self-proclaimed HBIC revealed she recently got engaged on the "I Love New York" reunion special that aired recently.
"To find love the way I did, I stopped looking for it, and it literally found me, and I'm engaged, just 21 days old," she dished to host Vivica A. Fox. "He's an amazing man, he's a big part of my life," the reality TV icon continued.
No word on who the mystery man is. For now.
Peep her ring – that she said she picked out – above.
New York has been publicly "looking for love" for 14 years making her debut as a "Flavor of Love" contestant. After a few seasons, she copped her own spin-off, "I Love New York," which lasted two seasons (2007 – 2008).
Now, she's about to be a real bride. And we wouldn't be surprised if she films it for TV.  Get that bag, Tiffany.
Congrats!
Photo: Gabby's IG