Activist Jada Pinkett Smith and her daughter Willow were spotted on Capitol Hill yesterday where they attended the launch of the Senate Caucus to End Human Trafficking.  Find out more about Jada's "cause" inside....
Yesterday, actress Jada Pinkett Smith appeared on Capitol Hill and spoke at the launch of the Senate Caucus to End Human Trafficking.  While speaking with Senators Richard Blumenthal (D-Conn.) and Rob Portman (R-Ohio), Jada revealed that she's in town to advocate passage of the Trafficking Victims Protection Reauthorization Act of 2011 which will provide funding to "...enhance measures to combat trafficking in persons, and for other purposes."  And the Hill wasn't her only stop to advocate for trafficking victims as she added,
 "I'm actually going to the White House today to speak to Valerie [Jarrett]. The White House is very passionate about getting involved and figuring out how to tackle this issue.
"As you know, President Obama spoke about human trafficking and the idea of it not being tolerated in this country, and I do plan on sitting down with our president and speaking to him personally about this issue."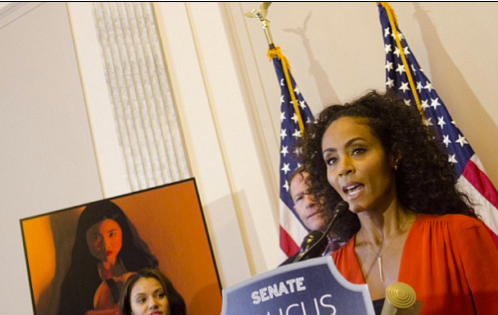 Jada made her speech in a daring silk orange jumpsuit.
She brought along her daughter Willow who actually introduced her to the issue through the viral Kony 2012 video detailing child sex trafficking. After doing some research of her own, Jada decided that this was an issue she wanted to take on.
Jada and her group "Dont' Sell Bodies" have already had success in California with the passing of Prop 35 which seeks to end human trafficking in the state.  Great cause for the Smith ladies!
Photos via Getty