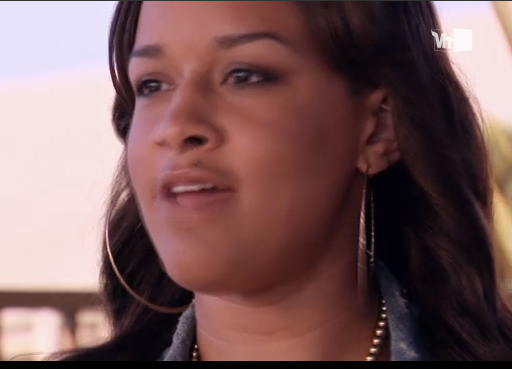 Jackie Christie's daughter Chantel Christie appeared on "BBW LA" last night and dropped a few bombshells that revealed Jackie to be as emotionally abused as Joan Crawford in Mommie Dearest. Watch the clip inside.....
If you weren't a fan of Jackie Christie before last night's episode, the conversation between Laure Govan and Jackie's daughter, Chantel, will put a permanent disdain for her in your mind.  If you believe what her daughter had to say.
Chantel, who has blasted her mother via Twitter in the past, made a number of shocking claims including that she played Chantel ("the light skinny one" like she says her mother called her) and another daughter ("the dark overweight one" also like she said her mother called her other daughter), against each other.  She revealed that Jackie was verbally and emotional abusive and wouldn't allow "the dark one" to pose in family portraits.  
Chantel also said that while her mom was sleeping in a big mansion, she allowed "the dark one" to be homeless for 3 months. And because Jackie pitted the sisters against each other, they went for years without talking.  Sigh.
So Chantel took to Twitter today after the show and defended her actions and also to reach out to Mom Jackie.  Her words:
Not that I owe you viewers any explanation. But I will address this for once and for all. Quote me, right it down, take a picture - I don't give a f-ck.

I was in a bad place in MY life. Was it right? No. Was it "all lies"? No. Was it 4 "publicity"? No. Did I kno where Laura was coming from? NO. Do I regret it? I regret airing my personal life out 2 sm1 who, I now feel, had malicious intent. I regret addressing it publicly, at all. You all can believe WHATEVER you would like to.

I know MY truth. I wake up everyday and I have to live MY life. None of y'all do it for me. Show me a person that has never done something they shouldn't have. And I'll show you an angel. I will not call it a mistake because in THAT moment, it was exactly what I wanted to do. Looking back, it NEVER should've happened.

And I am woman enough to admit that publicly. But to be ridiculed, disrespected, threatened and bashed... Y'all don't know me!! Walk a mile in my shoes, and I guarantee you'll take em off! When all this "reality" shit is over. When the camera cuts, and production wraps... That is still my Mother. And we have, and will continue to, mend our relationship BEHIND CLOSED DOORS, not for a million ppl to watch, dissect and judge.
And she ended with a message to Jackie:
@JackieChristie, I love you. & I'm not sure how, but as a FAMILY, I'm sure we'll get through this. If you're ready, I'm willing. And to those that have said evil, malicious things to me... I'm praying for you. Not even mad at cha. You can only speak on what you see.
Watch the explosive clip that caused the drama below: