Drama in Joseline & Steebie land!  Reality tv star Joseline Hernandez went off on Twitter yesterday with a rant that brought up allegations of drug abuse, unprotected sex and "down low" activities...all directed at her co-star (and sometimes lover) Stevie J.  Is this for attention or for real? See the twitter foolery inside.....
Either Joseline Hernandez and Stevie J are mixing ish up for an explosive storyline for season 2 of "LAHH ATL" or the twosome have really called it quits.  We all watched Joseline break down on the "LAHH ATL" reunion while talking about how Stevie J changed her life, but her recent rant on Twitter may suggest she's done with his drama.  And there's a lot of it.  
First.....Joseline "outed" a "certain" undercover dude she's dealing with....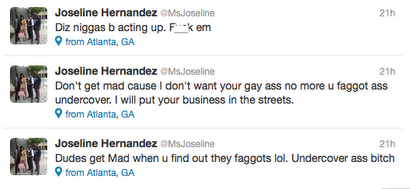 Then come the drug abuse allegations (to which Stevie J acutally responds)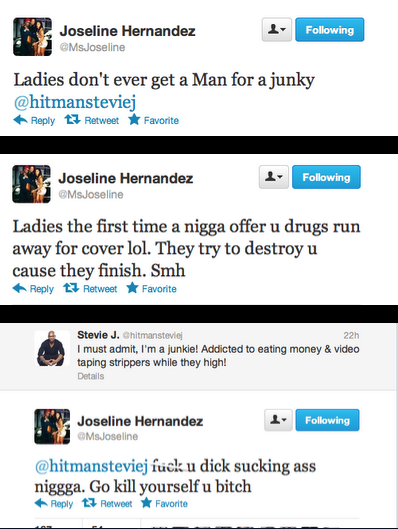 And then there was the insinuation about "unprotected sex" and not caring about one's health...

Ew. Though Joseline came across like she was under Stevie J's spell on LAHH ATL," it SEEMS she chosen to walk away from him...


Monsters?  Something tells us she's NOT talking about the spooky characters kids have nightmares about...
We guess we won't see how this ends until next season hits the airwaves....but we're sure when Mona Scott gets a wind of this she'll have the cameras ready.