WAYMENT! Paul Wharton - a friend of B. Smith's, claims he witnessed the restaurateur's husband Dan Gasby's girlfriend Alex Lerner allegedly abuse. And everyone is an uproar, as they should. Deets inside...
This "modern family" ish has gone too far.
Famed model/restaurant owner B. Smith's husband Dan Gasby has been getting dragged online for the last two months after he revealed he moved his white girlfriend Alex Lerner into the home he shares with his wife, who is battling Alzheimer's. That in itself was shocking. And even more so since he's trying to convince the world why this situationship isn't foul.
However, this new update will make your jaw drop.
TV personality/style expert Paul Wharton - who said he has been friends with B. Smith for years - has spilled details of his first-hand account of when he learned Dan and Alex were an actual couple. While chatting on ABC 7's "Good Morning Washington," he said he first realized Dan and Alex were officially boo'd up while vacationing in the Hamptons. And he brought video receipts that he personally recorded!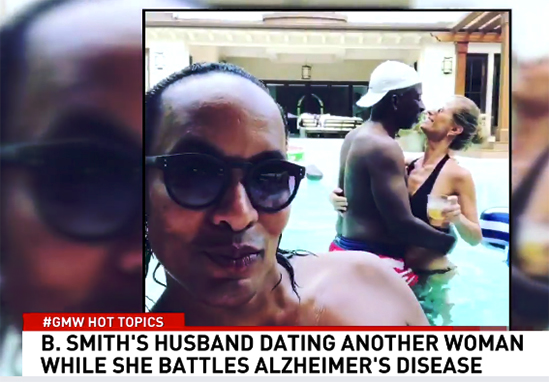 By the way, Dan initially met Alex in the Hamptons.
He said Dan and Alex - who he also knows very well - came to a pool party together, but initially, he thought they came as just friends. Well, he quickly learned the two were MORE than just friends.
"Do you know Dan?," Alex asked Paul. "I said, 'Do YOU know Dan?'"
Paul had his phone out and low key recorded Dan and Alex all hugged up in the pool. He was totally confused by it all. He said the next day, he bumped into Dan, Alex and B. Smith at a winery and they spent some time together. He stated Dan and Alex kept saying B was "like a child."
"But she's not. She's an adult." Paul kept telling them.
Then, he dropped a bomb! He claims Alex HIT B on the hand and chastised. Allegedly. Chile....
"And there was a moment where Alex did chastise B. a bit. She was reaching for something on the table and she smacked her hand. And I grabbed Alex's hand and I said, 'Alex you really can't do that.'"
Glad SOMEONE checked her.
While sitting at the table, Paul also said he saw Alex "smack the heck out his arm" after Dan said B was the kindest, sweetest women he'd ever met.
"She said 'I'm sitting here and you're saying that B is the kindest, sweetest woman you've ever met?' And I said, 'Alex, that's his WIFE!'"
This woman...
Paul went on to explain who he doesn't think Dan and Alex should be B's primary caregivers, especially since Dan has the means to bring in a professional.
"For one thing, they have great resources. And I feel like she should be supported more in terms of her caregiving. And this is just just my opinion. Alex coming into this relationship, although her intentions are good, she's still a woman in a relationship with a man that wants to be loved."
We totally agree. This ish is just wrong, no matter how they try to spin this. Peep clips from his story here.
Again, all of the accusations are all alleged and according to what Paul supposedly witnessed.
Oh, and get this. Dan and Alex have created a podcast, "Thank You Dan and Alex," where they claim to help educate others about Alzheimer's disease. Hmph.
And Dan is still trying to explain to folks his "caregiver" position:
Well, let's take this one step at a time 1. Just because you have kids don't mean they will care or take care of you. 2. How do you know what people will do until it happens Kids kill and abuse their parents all the time 3. You think but you don't really know. https://t.co/ITUeale5P1

— Dan Gasby (@ThankyouDan) February 8, 2019
Also, watch Dan and Alex's "TODAY" show interview they did together recently below: 
In case you missed, catch up on some exclusive details about Alex Lerner's sketchy dating life before she met Dan HERE.
Thoughts?
Photos: Dan's FB