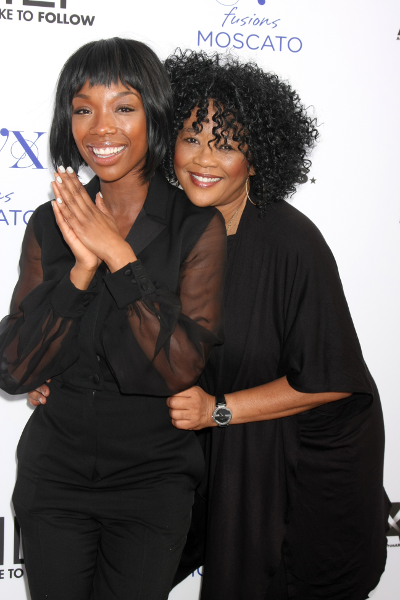 A video went viral with claims that braided up beauty Brandy had bamboozled us all in the 90s. Now, her mom Sonja Norwood and her hair stylist from back in the day are debunking the rumors. More inside
Look, when it comes to 90s hairstyles, braids were THEE go-to style for us black girls. And Brandy was our fearless leader. She made braids mainstream with her TV sitcom "Moesha" and being in the limelight as an R&B singer.
Just a few days ago, a video began circulating online, crushing our childhood memories of Brandy. YouTuber Nneoma posted a video on Instagram with claims that the "I Wanna Be Down" singer was actually rocking a lace front wig all this time.
Wait...whet?!
Peep the clip:
As expected, fans quickly hopped in the comments to share their disappointment of the alleged deception. But it turns out, this was the farthest from the truth.
Brandy's mother Sonja Norwood hopped on Instagram to debunk the rumors that Brandy was wearing a lace front wig as a teen star. She said Brandy's "iconic braids" started a trend and that folks need to stop trying to tear each other down. She also told Nnemoa that she needed to retract. Mrs. Norwood shared a throwback picture of her daughter rocking braids with the caption:
"#Brandy's iconic braids were historical and the beginning of a braid chain. Isn't it gassing for our own to throw smoke of lies to the public when our community should do some heavy lifting to support each other? But when you wake up each morning, cloth yourself, travel to a work space, or stay home, get coffee, sit at your computer to anxiously write lies and attempt to destroy one's (celebrities) character/integrity, get in their personal business-like you dont have any, for likes, ad dollars, and prestige that's deplorable! That is your job description! Words matter but more importantly facts matter- add facts to your morning tea. Sleezy journalism sells and you sold your soul for Judas' 30 pieces of silver. Cheap!! FACT find and use your PEN to lift up, not tear down. Thank you Deedra Cole for straighten out that black history lie!! Nnemoa, your turn to retract!"
Brandy's hairstylist from the 90s also spoke out about the rumor. Deedra Cole, who was responsible for braiding up Brandy's hair for 6 months in 1997, reached out to BET to set the record straight. She said she did Brandy's hair for "Moesha" and the Cinderella movie she starred in.
"The young lady that created that video is absolutely wrong and misinformed," she said. "Unica Scott, who was Brandy's head stylist, called me in as a second stylist to assist her in servicing Brandy because of the length of time it took to complete her hair. I was offended at first when I saw the video because Unica and I worked long hours to create her braids and I do not want the credit to go to people who are manufacturing lace front braided wigs."
She continued, "I just want people to know that Brandy really did make the sacrifice to sit in that chair for long hours to get her hair braided and that I enjoyed working with her."
So, there you have it! Our childhood is back normal again.
Photos: Kathy Hutchins/Shutterstock.com