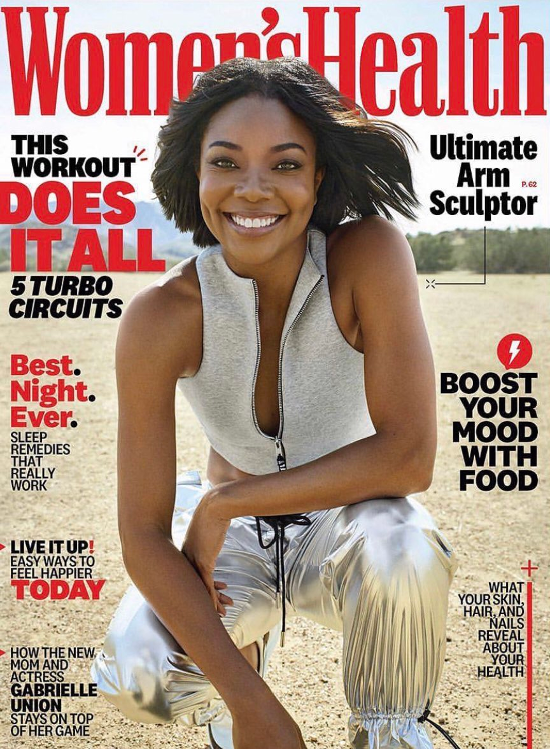 New mom Gabrielle Union shares what she really thought when she realized she had to have a surrogate to become a mother in Women's Health magazine. Find out what she said, get into her self-care routine, and check out model icon Iman's white wet t-shirt cover for InStyle magazine inside...
Gabrielle Union is FIT. FAB. FORTY PLUS. And FIERCELY killing it. We're green with envy, but in a good way.
Three months ago, the "Being Mary Jane" star became afirst-time mom at the age of 46. And she surprised the world because no one knew she and her husband Dwyane Wade were expecting a baby.
It was a long and hard road for Gabby and D. Wade, but her dream of becoming a mother finally came true when her baby girl Kaavia James Union Wade made her arrival.
"There's nothing more that I wanted than to cook my own baby," she tells Women's Health magazine in their March 2019 issue that she fronts.
The Think Like A Man star suffered 8-9 miscarriages and underwent three years of failed IVF treatments, so you can imagine how ecstatic she was when Kaavia finally entered the world.
The YBF actress - who also helps raise D. Wade's sons from other relationships and his nephew - got down to three embryos, so surrogacy seemed like the best option. However, she wasn't really feeling the idea in the beginning.
"The idea of it felt like surrendering to failure," Gabrielle says, when speaking about welcoming a surrogate into their lives. Yet she pushed past those emotions and shifted to focusing on finding the right woman to carry her baby. "Some people care about the race, religion, or food habits of their surrogate. I was like, 'I want a reader.'" When Gabrielle met a potential surrogate who shared her love of books, she knew she'd found the one. "She said, 'I love the smell of the pages,'" remembers Gabrielle. It was the sign she needed.
The Bring It On actress reveals she was terrified over how people would react to her using a surrogate.
"People want to see the bump, hear that you got hemorrhoids—they want to know you're like them. I was like, 'This is going to seem like the most Hollywood sh*t ever. Will I be embraced as a mom?' It's terrifying." But when her baby finally arrived, those feelings were replaced by ones of fierce love, loyalty, and a serious sense of protectiveness. "I was like, 'Oh my god, this is my baby,'" she recalls. "I wanted to fight everybody in that room for various reasons and no reason."
While she has been trying to have a baby for the longest, she says welcoming her baby in her 40s was the perfect time for her.
"Any earlier and the FOMO would have greatly influenced how I parented," she says. "I've seen it. I've done it. I've done it well. I've gotten all the T-shirts. Now I'm in the right mindset and mental space, and I'm open to being the best mom I can be."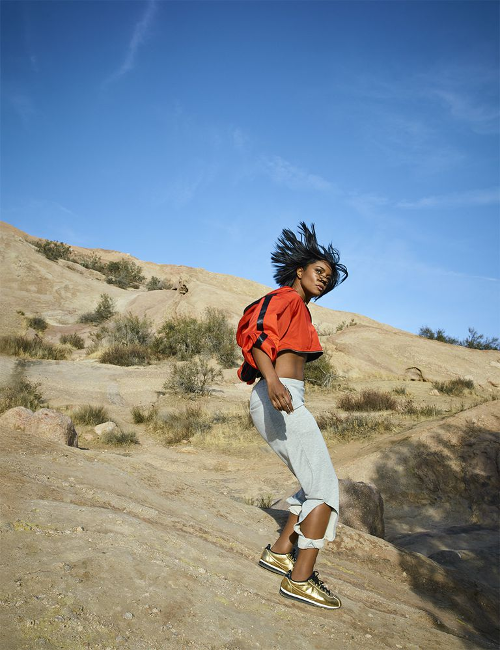 The first-time mom shares how she plans to raise her baby girl:
"I want to let her be free," says Gabrielle, who wrestled with identity issues after moving, at a young age, from a mostly black neighborhood in Nebraska to a primarily white one in Pleasanton, California. "I want to instill in her morals, values. And then I want to give her space to fill in those gaps, fall on her ass, and make mistakes. Get an F because she didn't study. Pick the wrong dude. Pick the wrong friends and figure it out. I don't want to be super judge-y."
After all the squats, ab circles, leg pressdowns, and step ups... I made my way to the cover of @WomensHealthMagpic.twitter.com/AleYMvdqdc

— Gabrielle Union (@itsgabrielleu) February 6, 2019
As for her incredible bod, she reveals she's trying to stay consistent with a healthy eating pattern, she adds 15 to 20 minutes of daily cardio, plus strength training and Pilates. She prefers early morning sweat sessions due to her schedule. It keep her body fit and her head clear.
Gabby - who will star alongside Jessica Alba in the new Bad Boy spin-off television series"L.A.'s Finest" this May - also shares her self-care routine, which includes finding a moment alone to enjoy some quiet time ("I appreciate silence"), reading ("Let me just get a chapter in"), and listening to Affirmation Pod by Josie Ong.
You can read her full interview here.
By the way, the final episode of "Being Mary Jane" premieres April 16th.
Also on the magazine circuit....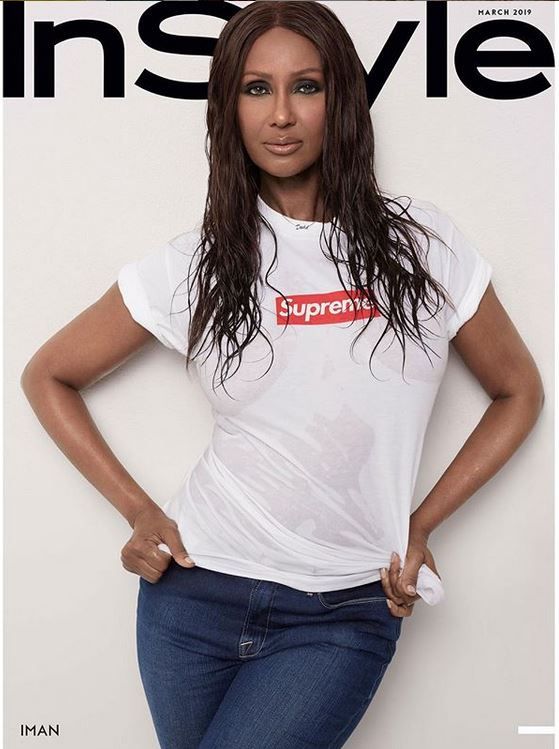 Iman is a LEGEND. There's no denying it. Not only was she killing it during her prime, she's still out here slaying magazine covers. Effortlessly.
Oh, and she isn't afraid to do what needs to be done for a great shot.  Of course she made it sexy AF : 
The making of @InStyle's March issue with @The_Real_IMAN...#UrsieOnHair#InstyleBadAssWomenpic.twitter.com/4hXUoWDJH3

— Ursula Stephen (@UrsulaStephen) February 7, 2019
YOSSSS!  Come on thru legendary baddie!  The 63-year-old legendary model covers InStyle magazine's March 2019 issue in a wet white t-shirt. And guess what? It was totally her idea.
"I'm 63 — why would I have a Supreme T-shirt?" she says. "It's just a boring T-shirt. It's too young and too hip. So I said, jokingly, 'Why don't we get it wet?' And as I said it, everybody said, 'Yeah!' I was like, 'Fuck, now I have to deliver.' "
A true fashion queen indeed. 
The runway stunna chops it up with the magazine about her rise to fame in the fashion industry- which spans over four decades before she retired from the runway in 1989. She shares how she called for a boycott of brands who refused to use models of color back in the day:
"I remember at that time, the most coveted bag was from Céline," she says. "Every girl, black, white, Asian, you name it, they wanted that bag. I've never owned one for the simple reason they didn't use any black girls. They were saying it was for aesthetic reasons, like, velvet is out this season. They didn't even know what they were saying."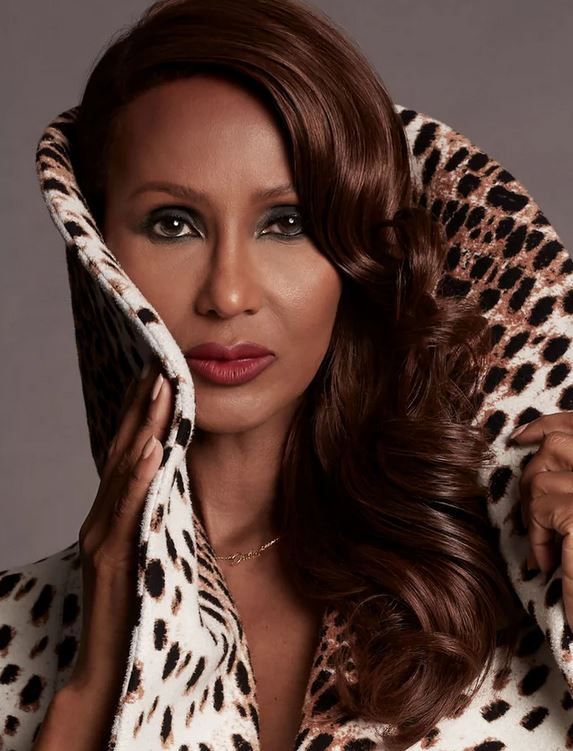 "My plan is just loose," she says. "It's kind of weird, because I've worked all my life, from when I was 14 years old. I mean, I've never planned anything, besides Iman Cosmetics. I've stumbled into things, or things found me. So now I'm at a stage where I'll just see what happens."
Still a BADDIE.
Photos: PEGGY SIROTA via Women's Health/InStyle's IG