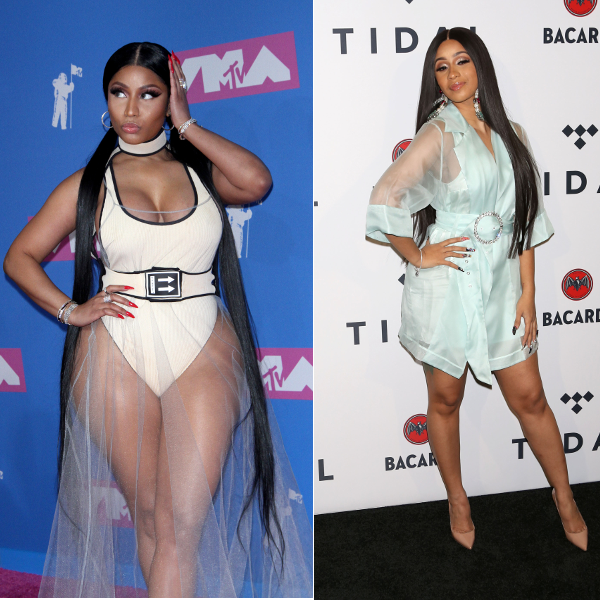 Uh-oh! It appears Blueface's "Thotiana" remix will reignite Nicki Minaj and Cardi B's beef. Speaking of beef, Cardi's husband Offset exchanged fighting words with Chris Brown over 21 Savage. Deets and receipts inside...
Looks like the petty levels - or should we say "pet-tiana" levels - are at an all time high.
Newbie rapper Blueface - who purposely raps offbeat - released a single titled "Thotiana," which has become his biggest hit to date when it hit Billboard's top 100 chart. In November 2018, he signed to Cash Money West, aligning himself with the label's founders Birdman and Wack 100, shortly after being released from jail for his involvement in a California shooting. Lordt.
Wednesday morning (Feb. 6th), Blueface shared a preview of his forthcoming "Thotiana" remix featuring Cardi B via his Instagram Story. 
Take a listen below:
Cardi B is going to be on the "Thotiana" remix. (Via BlueFace's Instagram Story)
pic.twitter.com/3oF82bDV7t

— Cardi B Team (@CardiBTeam) February 6, 2019
Hours later, Cardi's nemesis Nicki Minaj released her own freestyle/rendition of the song titled, "Bust Down Barbiana." Take a listen below:
Coincidence? Possibly. But, someone doesn't think so. 
This seemingly pissed off Blueface's manager, Wack 100, so, he went on social media and fired off subliminals. He never mentions Nicki's name, but it def sounds like he's throwing shots at the "Chun-Li" rapper. Wack 100 posted up a picture of the word "EXCLUSIVE" with the caption, "We support EXCLUSIVE content ONLY. Just because your stalking skills triggered your radar don't make it EXCLUSIVE. EXCLUSIVE #THOTIANA REMIX COMING to @laleakers ..@bluefacebleedem ft @iamcardib & @yg #West"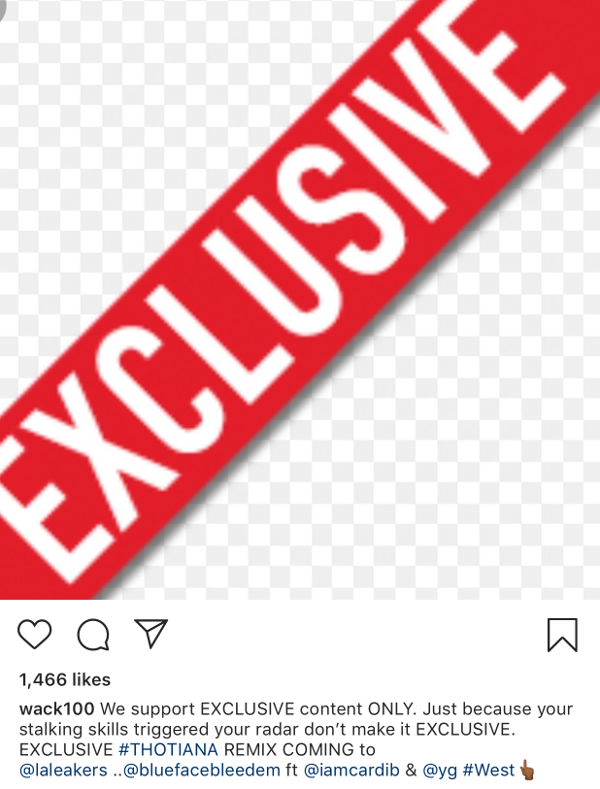 He also shared a video of Bardi in the booth: 
Since Nicki is signed to Young Money/Cash Money, we find it odd that Wack 100 would blast someone who's esstenially on the same team.
By the way, Blueface mentioned Cardi was hopping on the remix during an interview with Power 105's "The Breakfast Club."
As expected, Cardi's fans are dragging Nicki over her petty-iana antics:
So Nicki Minaj made an unofficial remix to Thotiana, released it on an app nobody uses, while the OFFICIAL remix to the same record with Cardi B will be available on iTunes spotify etc. So Nicki doing for free, what Cardi is being paid to do...is this y'all Queen??? pic.twitter.com/9TfNyaWJTs

— LeTroy (@mrLdavis) February 7, 2019
So blue faced said on breakfast club that him and cardi are doing a remix to thotiana and what does Nicki Minaj do? Do a remix of her own and release it before them #petty

— Rosebud (@Myroskiee) February 7, 2019
Did this bitch just beat Cardi to the punch with the Thotiana remix I - .... #NickiMinaj

— jay (@jaayshoww) February 6, 2019
Damn cardi b & Nicki Minaj got a remix on thotiana.. let the games begin

— Lori Harvey on my wishlist pls (@taikinasilver) February 7, 2019
Hmm...do you think it was a coincidence or is Nicki trolling?
BONUS:
Peep this clip from Blueface's "Breakfast Club" interview where he struggles explaining his label situation. Apparently, he doesn't know what type of record deal he signed:
He also explained why he raps off beat:
We can't.
In other Cardi news...
The "Money" rapper's former management has dragged Cardi's sister Hennessy Carolina into his $15 million legal battler. It's reported she's going to be subpoenaed in the case.
The Blast reports:
On February 5, Cardi's lawyer filed court docs as part of her ongoing case with her former manager, Klenord "Shaft" Raphael.

The docs note that both parties have been exchanging discovery in the case, including Cardi turning over 8,400 documents which included text messages. Sony Music, Creative Artists Agency, Atlantic Records and Live Nation have all turned over documents after being served subpoenas about Cardi.

Cardi says she is also in the process of requesting a forensic examination of electronically stored info that may have been deleted by one of her former lawyers connected to the case.

Shaft has informed Cardi that he plans on serving her sister, Hennessy Carolina, with a subpoena this week, demanding she sit for a deposition and hand over key evidence he believes will help his case.
This is getting ugly.
Speaking of beefs...
Cardi's hubby Offset got into it with Chris Brown on social media last night. A few days ago, Breezy posted a 21 Savage meme following his arrest with the caption, "CMON FAM, STOP PLAYING WIT DA MANS DEM."
Check it:
Soon after, the Migos rapper hopped in Breezy's comments section, blasting the "Undecided" singer for the post.
Well, Breezy wanted ALL the smoke. He responded to the "Stir Fry" rapper with an expletive laced clap back: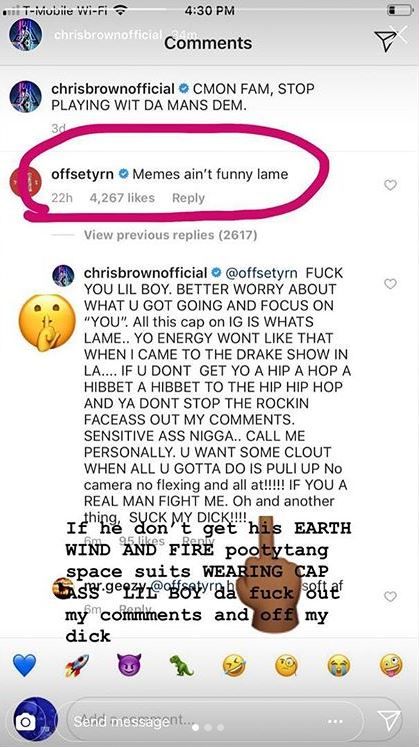 Sheesh! That escalated quickly.
Was it just a misunderstanding? Because it sounds like Breezy and Offset are essentially saying the same thing.
After the "Loyal" singer put up those posts, Offset hopped on Instagram Stories to respond: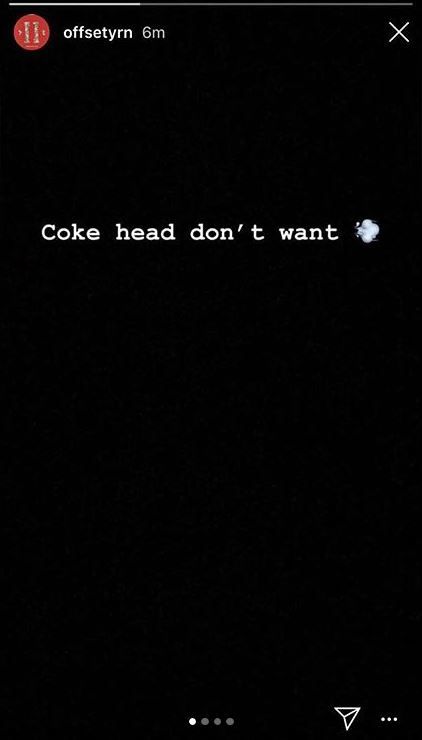 Their showdown ended there.
We noticed, right as all this was happening, Nicki Minaj was posting comments on Chris' IG posts: 
Pet-tiana or nah?
Photos: JStone/Tinseltown/Shutterstock.com/Chris' IG/Offset's IG