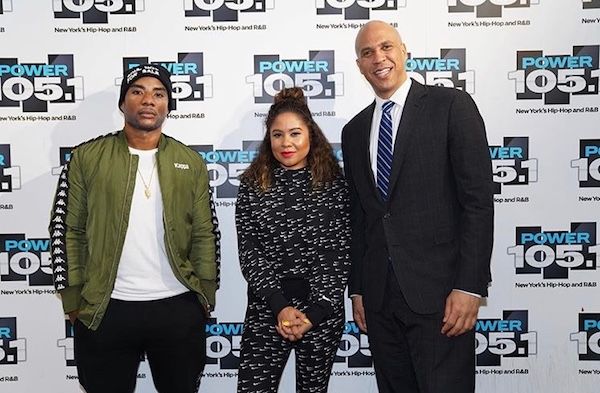 Sen. Cory Booker wants you to know he's not an eligible bachelor. He's all boo'd up. More inside..
After announcing he's running for president in 2020 on the first day of Black History Month, Sen. Cory Booker is speaking to the people! Specifically, the young, black demographic.
The New Jersey Democrat stopped by Power 105's "The Breakfast Club" where he was asked about his bachelordom. Cory's relationship status has often been the topic of discussion, and now he's spilling tea about his love life. His relationship status came up after he mentioned he lives in a basement apartment in Washington.
"Before I declare[d] [for] president, I'm dating somebody that's really special," Booker responded.

"Oh, so Cory Booker's got a boo?" Charlamagne asked.

"I got a boo," Booker said as he laughed. "I'm dating someone [who] is very special."
Almost all presidents elected are married, excluding a handful of single men who served the country, including Thomas Jefferson in 1800, Martin Van Buren in 1836 and James Buchanan in 1857.
Charlamagne addressed how rare it would be to have a president who's not married.
"First of all, there's two more years until I might fulfill this duty," the 49-year-old White House hopeful said. "So give me some time. My girlfriend might listen to this."
Oh? Does that mean he'll be trekking down the aisle soon? Sure sounds like it.
"Would she make a nice first lady, whoever she is?" Charlamagne asked.

"Yes, she would," he responded. "What have I gotten myself into?" he joked. "Out of all the issues we talked about this is the most uncomfortable part of this interview."
Ha!
Mr. Booker never revealed who the special woman on his arm is. But, the rumor mill believes he could possibly be dating actress Rosario Dawson.
Washington, meet Hollywood: Rosario Dawson and Senator Cory Booker are sparking romance rumors after attending #DearEvanHansen together. https://t.co/SGrqMZ1r5lpic.twitter.com/ESpzk4wthp

— E! News (@enews) January 9, 2019
They were spotted attending Broadway's "Dear Even Hansen" together, alongside Dawson's daughter Lola and Booker's niece. Rosario as First Lady? It may happen.
The Senator also addressed crimnal justice reform, how he helped rebuild Newark, NJ as mayor, health care costs, punishing pharmaceutical companies for raising prices, the Super Bowl and Colin Kaepernick, Trump, and more.
Check out the girlfriend talk at the 30-minute mark below:
Continuing his rounds...
Sen. Cory Booker appeared on "The VIew" last week where he had to check co-host Meghan McCain after she tried to belittle him and mocked him with right-wing talk, specifically with the "Spartacus" nickname that remains popular in conservative media.
"I was threatened to be thrown out of the Senate, I told the senator that did that, 'Bring it,' and another senator stood up and said, 'If you're going to throw Cory Booker out, throw me into the pit, as well.' That senator, I looked at them and said, 'Wow, that's like an I am Spartacus moment — he stepped forward to (say) if anything happens to Cory (it) happens to me.'"
He revealed it was U.S. Senator Dick Durbin he was referring to.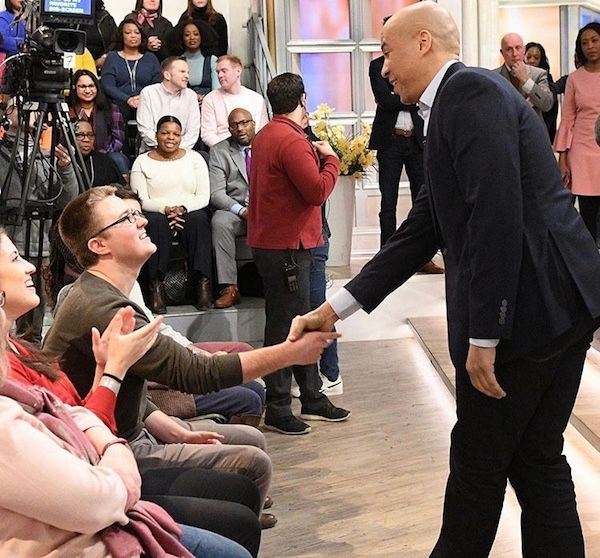 Booker then shamed Meghan for coming for him:
"The problem with our culture, these snippets, we have people getting more and more ratings by tearing down other people," he said. "If you're tired of that bitterness, that trash talking, that trolling, that politics that is a race to the bottom in our country, then don't support me, because I'm not in this race to tear people down. I'm in this race try to build our nation up."
Let. HER. KNOW.
Peep their exchange at the 3:35-minute mark below:
We love classy, intelligent and thoughtful shade.
More clips from his daytime interview below: 
Photos: Angela's IG/The View's IG