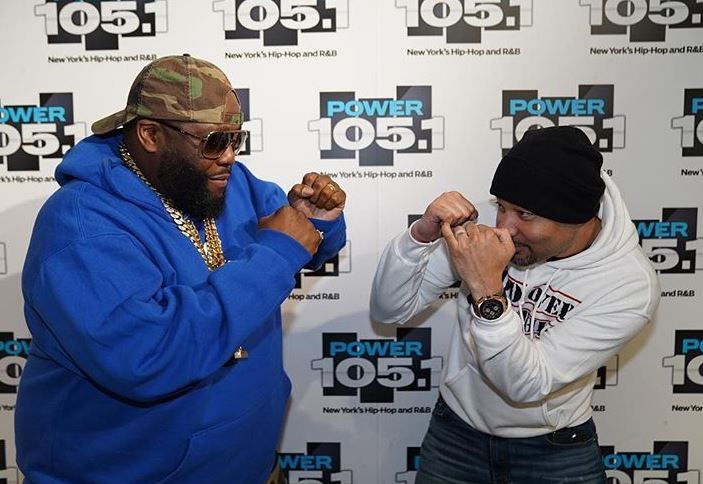 Emotions erupted when Killer Mike and DJ Envy debated over how black people should educate their children. And the conversation was something we all needed to hear. More inside...
Rapper/activist Killer Mike caused quite a stir on Power 105's "The Breakfast Club" with his forward thinking. The Hip Hop artist stopped by the studio to promote his new Netflix series, "Trigger Warning," where he explores issues in America that affect the black community, including drugs, gangs, religion, and poverty.
A heated discussion erupted, which Envy dubbed an "intellectual sparring, when Killer Mike and DJ Envy shared their unique views on public vs. private school education for young, black children.
The social advocate/Grammy winner argued that black children should be surrounded by other black children and teachers in school up until a certain age.
"I was talking about us sending our children to suburban schools," he began. "What I like to tell black people is, honestly in my heart of hearts, I feel like in places that are hostile to black people, you should not send your children to school with white children until they are 13 years old. If you look at other ethnic communities they keep the child isolated until they are about 13/14 then they have a ceremony and send them off."
Killer Mike said he went to all-black schools as a kid and that helped build his self-esteem, self-respect, and self-identity as a young, black man. He said he had black people around him that built him up, so by the time he met a white person, they couldn't tell him anything bad about being black.
"I don't care if I was a C student, I had a sense of pride that most black children didn't have because they were not in a circle of pride," Mike shared. "The community was black. My teachers were black. So, by the time I met white children, I was an equal. I was already prepared and what I wasn't was unconfident."
Envy then chimed in with his perspective, which was totally opposite of Killer Mike's. He argued private education afforded him opportunities that other kids just didn't get. He said his education gave him opportunities to care for his children that he wouldn't have had if he attended public schools.
"I have my daughter in a private school who goes one of the top private schools in New Jersey. Her education is like none other. My son is a little different because he goes to private school, but he's also in the 'hood doing other things, he's playing football and basketball in Newark, so he gets that. But that education that he gets in those schools are unlike anything I've ever got in my life. Which gives him that advantage that most kids don't get."

"Well, first, I said 'if you are in an area where your children are being treated hostile," Killer Mike responded. "You a rich n*gga. You got white folk's money, so you're not going to endure the same hostilities that a working class black parent is," Mike stated.

"No, my kids have been called n*ggas. It's been hostile," Envy responded.

"Being called n***a when your dad got a Ferrari just don't hurt as much," Mike popped back cleverly.
Both Killer Mike and Envy got amped up as they argued their points and it was interesting, exciting, and insightful conversation.
Check it at the 32:00 minute mark below:
Thoughts?
By the way, there are no feelings between Killer Mike and Envy. They respect each other's differences and it's still all love:
Loves it!
"Trigger Warning" is currently streaming on Netflix.
Photos: Envy's IG