There's been breaks in the case of actor Jussie Smollett's brutal attack on the cold Chicago streets. More inside...
There are reportedly more than a dozen detectives assigned to Jussie's case, and looking through hours of hours of surveillance video - which is readily available in the Near Northside/Streeterville neighborhood where Jussie told the police the horrific attack occurred.
Police revealed that in one of the videos, Jussie can be seen walking into a friend's apartment building with the noose still around his neck.  He says he walked himself to the nearby Northwestern Hospital, also with the noose still around his neck. He reportedly used an alias when checking in.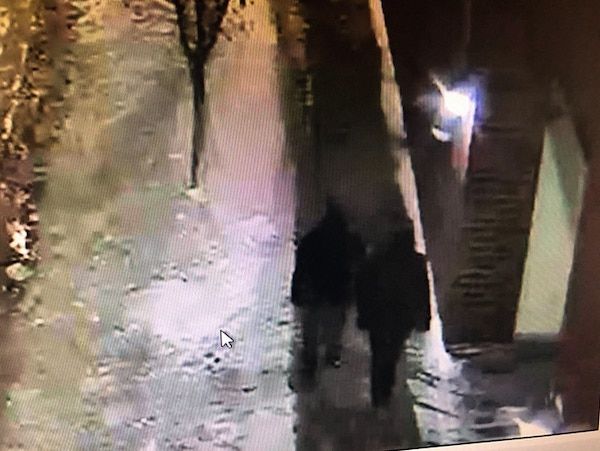 After cops said yesterday there was no photo or video evidence yet of the attack, there's been a new break in the case.  Chicago Police Department released a press release and shadowy images (above) of two people who they said they are looking for to bring in for questioning.
A local Chicago reporter just released a description of the non-released surveillance camera that he had access to.  TMZ states:
According to local reporter, Rob Elgas, Smollett was seen on surveillance camera walking on the opposite side of the street at the two persons of interest. Elgas claims both Smollett and the unidentified people then walk off camera (on different cameras). Smollett is unaccounted for on camera for about 60 seconds. He then reappears on surveillance entering a condo building with what appears to be street salt on his sweater and the rope around his neck. Jussie arrives at a friend's place where police arrive to take a report.

We've confirmed with law enforcement sources that Smollett refused to turn his cellphone over to authorities after telling them he was on the phone with his manager during the incident.
Jussie stated in his police report that he walked to a neighborhood Subway for food around 2AM after landing back in Chicago Monday night.  He says two men approached him, yelling homophobic & racial slurs.  The verbal attack then became physical battery as the offenders beat him in the face, poured a chemical substance on him (reportedly bleach), and put a noose around his neck. The video does show two men walking the street during the time Jussie said:
Cops say the two people in the image were walking on New Street near the intersection with E. Illinois Street between 1:30 AM and 1:45 AM. They're about a block from the Subway restaurant Jussie had gone to Tuesday morning ... and roughly halfway between the restaurant and Jussie's home.
There's been an overwhelming outpouring of support for Jussie on social media from celebs and fans.  Now, his "Empire" co-stars, particularly his on-screen mother and father - are speaking out.
Jussie Smollett's "Empire" co-star @terrencehoward on alleged attack: "Today, no one was caught sleeping." https://t.co/ey4LrdAZPUpic.twitter.com/odmVNtJbPB

— Good Morning America (@GMA) January 30, 2019
Terrence Howard told "Good Morning America":
"I heard he's getting better.  You  know he's angry. But I know Jussie.  Jussie's angry will dissipate and he will forgive these people for what they did."

"When we learned there had been letters that had been sent to Fox as threats about the potential about something like this, then we became much  more frightened."
Taraji said today:
It's interesting that Fox didn't tell the entire cast about the previous death threats.  They did tell Jussie himself though - the main target of the letters - and he reportedly turned down an offer of off-set security:
We're told Fox made the call to beef up security for everyone on set and wanted to give Jussie additional protection around the clock ... but, he declined. Our sources say he made the decision to not have extra security during off-hours because it was an intrusive way of living.
Get well soon Jussie!
Photo: Shutterstock.com